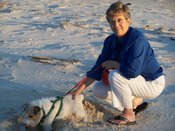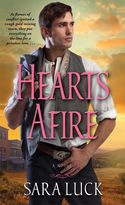 This past weekend, my husband and I, along with a few thousand other people, have enjoyed the reenactment of the Battle of Mobile Bay and the Siege of Fort Morgan, Alabama. It was particularly meaningful to us, because our house is a little over a mile from the fort.
I cannot tell you how many times I have been to the fort over the fourteen years that we have lived here—but in all those times I never really got the full impact of what happened there. Seeing the re-enactors in their wool pants in the heat of an August day, or watching the soldiers garrisoned in the fort as they made their beds on straw pallets and ate their cabbage soup, or even watching the grass catch fire from the bombardment, I was transported in time, back to 1864. But then while I was walking through, I heard a cell phone ring, and one of the soldiers opened his knapsack and the moment was lost. The same thing happened to my husband when he saw powder charges wrapped in aluminum foil—those were surly anachronistic.
And then I thought about my job as a writer of historical romance. I am a re-enactor as well. I think it is my obligation to put my readers into a place and time with as many authentic details as I can.
My latest book is HEARTS AFIRE. The primary setting is Cripple Creek, Colorado in 1894, and it is the story of Tori Drumm and Link Buchannan. Tori is running away from a brilliant New York stage career and an ill-fated love affair with a married man. Link is driven to succeed in competition with his boyhood friends, Speck Penrose and Charles Tutt, to prove that he is worthy of his father's respect.
In a romance, it is a given that Tori and Link will fall in love and live happily ever after. Isn't that the real reason we all love romances? But for me, I feel cheated if in a historical romance, a date is given like 1894, but there is nothing to indicate that the story couldn't have been set in 1884 or 1874 or some other random date.
I try very hard (some would say I am obsessed) to ground my books with the factual history of the time. I do extensive research to avoid anachronisms, introducing nothing in the story that would compare to a ringing cellphone in a Confederate soldier's knapsack. It is almost an eternal term paper. Grover Cleveland was President in 1894, and the Financial Panic of 1893 set up the events that drive this story. Miners were working for $3.00 a day, a grievance that Tori's brother was helping to correct, while the privileged people like Link and his friends, were amassing great fortunes.
I try to sprinkle as many real people and places into my stories as possible. Many, at least in Colorado Springs and Cripple Creek, will recognize the names of Spenser Penrose and Charles Tutt, or the bordello madam Pearl de Vere and her red-wheeled phaeton. Few will know that Pearl's true love, Charles Flynn, ran a lumber yard, or that Elliott Barnet was the manager of The Antlers Hotel. James Parker was president of the Cripple Creek Chamber of Commerce, and Frank Atherton lived in the Union Block over Jackson's Drug Store.
One of the first things a writer learns is the difference between truth and fact. A novel, though fiction, can be true if it is faithful to the times, people and events. And by including these real people, places, and events, even though they are interacting with characters of my own invention, Hearts Afire is, by the above definition, a true story.
In the end, a romance reader knows that Tori Drumm will fall in love with Link Buchannan, just as we know that Confederate General Richard Page surrendered to Union Admiral David Farragut at the Battle of Mobile Bay. It didn't alter the outcome that the men ate cabbage soup, or that the grass caught on fire. Just as Tori and Link's relationship doesn't hinge on knowing that Clara Lipman starred in The Laughing Girl that toured the West in January of '94, or that Frank Atherton lived in the Union Block over Jackson's Drug Store. None of these actual historical details are important to anyone, but they help me build a world that is as truthful as I can make it.
The two pictures above, are of civil war batteries. Both are true, but only the photo on the left is an authentic period photograph.  The one on the right is of the re-enactors.
I hope you enjoy HEARTS AFIRE.  Look for A FAMILY FOR MADDIE in December.
Thank you for reading – Sara Luck