1–What's the name of your latest release? 
2–What is it about? 
Three sisters who have grown apart travel back to Juniper Springs, Colorado to spend Christmas with their beloved Aunt Sassy–who has been estranged from the family for years. Spending time together at the Juniper Springs Inn brings the memories of their childhood back to life, and the sisters reclaim the bond that once held them together. As they navigate the different life transitions they're facing, including romances, heartbreaks, and dreams for their futures, the sisters end up discovering what it is they really want this Christmas.  
3–What word best describes your main character(s)? 
Each sister definitely needs her own word!
Dahlia: Organized
Magnolia: Independent
Rose: Creative
4–What makes your story relatable? 
It's definitely the characters who make the story relatable. Dally, Mags, and Rose are all facing different heartaches in their lives and for a long time they've carried those burdens alone, trying to be seen as strong, independent women. But, in coming together, they realize how much they need each other and how much stronger they are together.  
5–Who are the people your main characters turn to when they need help? 
A theme in this story is learning how to be vulnerable, and the sisters find strength in turning to each other and to their Aunt Sassy for support.
6–What do you love about the setting of your book? 
There is no place like the Colorado Rockies at Christmastime! Juniper Springs is a fictional small mountain town tucked into a valley between towering peaks. The snow is falling, the Christmas decorations are twinkling, and everyone in the community is feeling festive and generous. I get all the feels just picturing myself walking down Main Street with a cup of hot chocolate while I admire the boughs of holly, wreaths, and magical light displays all over town.
7–Are you a plotter (follow an outline) or a pantster (write by the seat of your pants)?
Plotter all the way! I do love my character profiles and outlines. Until I get a few chapters into the book…then my plan usually blows up and I become a pantser. 🙂
8–What is an ideal writing day for you? 
My ideal writing day involves escaping from my house and going into seclusion somewhere in the mountains nearby. Separating myself from the daily demands of life gives me the chance to enter my story world and helps me find that complete focus I need to tell the story.
9–Do you listen to music while you write, need total silence, or do you have the TV on?
I tend to talk a lot out loud while I'm writing, so I like as much quiet around me as possible. Total silence is almost impossible in my world with two kids and two dogs and a husband who also works at home. Hence the reason I sometimes have to escape!
10– How do you approach research? 
Research is one of my favorite perks of this gig! I have kind of an obsession with learning and love to read everything I can get my hands on about different topics relating to the books I'm writing. I love to travel to different mountain towns around Colorado to get a feel for small-town life in the mountains. I also feel it's important to talk with people who have the same professions as my characters. I was trained as a journalist, so uncovering great sources of information comes naturally for me.
11–What is your publishing journey story? 
It's a long one! As I mentioned, I earned a master's degree in journalism and did a lot of PR/business writing early in my career. I had always wanted to write a novel, and when my first son was born, I decided to quit my job to write full time. The thing was, as a journalist I had been trained to write very cut and dry. No frills, no feelings. The editors I contacted loved my writing but said the stories weren't emotive enough. So that's what I focused on–learning how to infuse a story with relatable emotion. I wrote five novels in seven years before one of them finally got a contract. And I wouldn't trade that learning process for anything!
12–Do you have critique partners/writing groups you want to give a shout-out to? 
My wonderful editor is my best critique partner. 🙂 But I am so blessed with some dear writer friends who understand the ins and outs of this business and who have taught me and supported me.
13–What're the most frustrating things about being an author? 
I can't write as fast I want to. Especially at this stage in my life with a 14-year-old and a 12-year-old who are incredibly active in sports and school. I have so many ideas and just not as much time as I want to write. But I also wouldn't trade these years with my kids for anything. I'm fully committed to going to all of their activities and supporting them as they chase their dreams just like they've done for me. I know I'll miss the craziness in a few years. (And I'll probably write five books a year!)
14–What's your favorite scent?
Cinnamon. Specifically these amazing gingersnaps I make. (I go way overboard with the cinnamon.)
15–What movie will you watch no matter what if it's on TV? 
I love the movie Hitch. Is there anything better than Will Smith and Kevin James teaming up for a romantic comedy? The dancing scene gets me every time.
16–Do you like breakfast, lunch, or dinner best? 
Breakfast all the way! Ask anyone who knows me, I am always on the hunt for the best brunch spot. I'm also always trying out new breakfast recipes and recently made what I call "the stack" – four huge pancakes layered with Nutella and strawberries in between them and cut like pieces of pie.
17–What's one thing you wish you knew more about? 
I wish I knew more about playing an instrument. I took piano lessons years ago, but don't remember much. Right now I'm trying to learn the ukulele, but it's not going well.
18–What's the silliest thing you've recently done?
Well, that's a tough question. We do silly things daily in my house. Yesterday, my son got a text from a girl he hadn't heard from in a while and it started out exactly like that Adele song. So, naturally my husband and I both broke out into a robust rendition. . .  Hello. . . it's me. I was wondering if after all this time you'd want to meet. .  . The hubs does a mean Adele impression! Typically all the silly things we do involve attempts to embarrass our amazing children.
19–What can readers expect from you next? 
I'm so excited to announce that Home for the Holidays will have a sequel! The Summer Sisters (releasing July 2021) will continue to follow the Buchanan sisters as they reinvent themselves and help their mom and Aunt Sassy reconcile after years of silence. I also have the second book in my Silverado Lake series releasing in March 2021. One Night with a Cowboy is about a headstrong cowboy and an independent widow who have to work together for a good cause.
20–How can readers reach you?
I love to connect with readers on social media! I spend most of my time on Instagram (@sararichardsonbooks) and Facebook (@sararichardsonbooks)–and make an occasional appearance on Twitter (@SaraR_Books). Readers can also visit my website for fun videos and links: www.sararichardson.com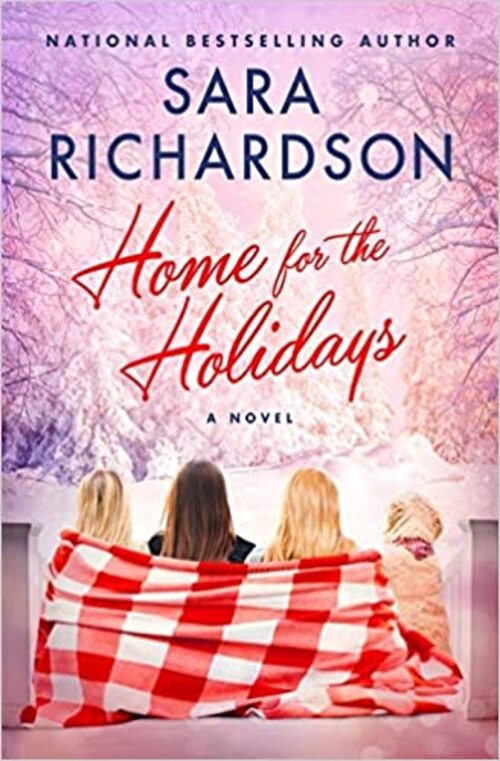 The Buchanan sisters all share special childhood memories of their Aunt Sassy's beloved Juniper Inn. There, they frolicked in the snow, baked sugar cookies, and celebrated the town's annual Christmas extravaganza. They haven't been back to Colorado in nearly fifteen years, but when their aunt invites them for one last Christmas, they can't say no . . .
With her ex-husband whisking her children away for the holiday, Dahlia decides it's time to do something for herself. Juniper Springs is just as beautiful as she remembers, but it's also full of surprises — including the town's handsome doctor, who makes her feel like herself again for the first time in years.
To the outside world, baker Magnolia has the ideal marriage. Only the pain and sorrow of infertility have strained her relationship with her husband, perhaps beyond repair. But a holiday miracle is about to change her life.
After a whirlwind romance, youngest sister Rose is about to be married, but as the wedding draws near, she's unsettled by her fiancé's expectations that she become a society wife. Spending Christmas with her family could be a necessary reality check — or the beginning of a brand-new happily ever after.
Thanks to the strength of their sisterhood, some mistletoe, and the love of their Aunt Sassy, the Buchanan sisters will discover what it is they truly want this Christmas.
Holiday | Fiction [Forever, On Sale: September 22, 2020, Paperback / e-Book, ISBN: 9781538718216 / eISBN: 9781538718223]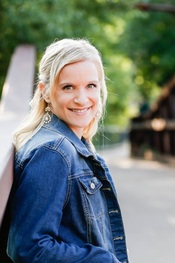 Sara Richardson grew up chasing adventure in Colorado's rugged mountains. She's climbed to the top of a 14,000-foot peak at midnight, swam through Class IV rapids, completed her wilderness first-aid certification, and spent seven days at a time tromping through the wilderness with a thirty-pound backpack strapped to her shoulders.
Eventually, Sara did the responsible thing and got an education in writing and journalism. After a brief stint in the corporate writing world, she stopped ignoring the voices in her head and started writing fiction. Now, she uses her experience as a mountain adventure guide to write stories that incorporate adventure with romance. Still indulging her adventurous spirit, Sara lives and plays in Colorado with her saint of a husband and two young sons.