We've all heard of these. Magic buttons, or at least spots that can lead to magic. And while they're a bit of a cliché, there's also some science behind them. Even better, for those of us who like to be amused, there's some side notes science forgot. And here they are.
Ear nibbles. Shivery and delicious, right? But equally awesome are sweet nothings, such as "You're beautiful" and "I'll load the dishwasher tonight." There's also nothing wrong with "Do you mind if I clean the entire house" and "I'll take the kids for the day so you can do absolutely nothing." (If there are any men reading this, let me assure you those last two are next level erogenous. You're welcome.)
Better known as the nape of your neck, though I'm not sure where the other napes are. People just like to specify, I guess. Anyway, there are a bunch of nerve endings there that are supposed to make nape touches amazing, and that's probably why accidentally pulling hair out with a pony tail holder hurts so much. Which brings me to this: hair pulling should be done by the fistful. Which should be an erogenous zone by itself. A huge, amazing, ERMAGERD erogenous zone. (Either than, or she'll hurt you back. My bad.)
Inner Thighs. This is a bit of a no brainer, but it's not JUST a no-brainer. I mean, the inner thighs are the gateway to the grand finale, but there's just something about a subtle brush of the finger tips that will make you care nothing of whether you've missed a spot with the razor. Caveman gotta have you now sex is amazing, but taking a few minutes to delight in the mundane-seeming, deceptively erotic inner thighs will melt your soul. (Or tickle. Good luck with that.)
Lower back. Yes, you want a massage, but go ahead and grab the oils and make it a good one because it'll do more than put you in the mood. A lower back rub is supposed to relax the pelvis, which in turn is supposed to make sex better. I'm sure there's some guy out there who will argue that massaging the V-zone will have an even more direct effect on the pelvis, but he's wrong, and you know he's wrong when you have the V-zone and he's looking all kinds of thirsty. Back rubs are the way to go.
So, there you have it. Unconventional erogeny (is that even a word?) in a nutshell. It is my sincerest wish that you now have some playing to do, but if not, I invite you to erogenate (also not a word, I'm betting) with Jagger, who can be in your hot little hands in a click if you pick up a copy of THE MILLIONAIRE'S GAMBLE. (He doesn't do dishes, but he does have a hot tub. And a private jet. And a tongue that makes all zones erogenous. Loopholes for the win!)
Wealth has a price. Everyone wants something from you. For one woman, that something was my DNA. One minute, she was kissing me like we were going to strip it down and go at it. And the next, she was ripping out my hair for a paternity test—and threatening to torpedo my latest deal. I don't play these kind of games. And that damnably sexy woman with the alluring eyes and mistaken agenda is about to learn that the hard way…
Millionaire scion Jagger Hamilton didn't father Kennedy Price's nephew. That doesn't mean he can't use the situation to his advantage. She wants him to take a paternity test. He wants her in his bed.
He shouldn't.
She's blackmailing him, and she's playing dirty. He could try to use the famous Hamilton charm to turn her into a powerful ally… But she makes him feel… Way. Too. Much.
Kennedy Price isn't asking much. Just for the powerful, sinfully hot, and notorious playboy to be a decent human being. But he's used to using that filthy, sensual mouth for getting what he wants.
And he wants her.
She's determined not to fall for him. But there's no avoiding his charisma, or his bed, where she threatens to lose more than the standoff between them. She just might lose her heart.
Romance Contemporary [Entangled Indulgence, On Sale: July 11, 2016, e-Book, ISBN: 9781633756755 / ]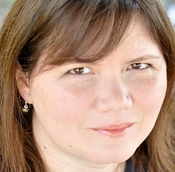 Sarah and her husband of what he calls "many long, long years" live on the mid-Atlantic coast with their six young children, all of whom are perfectly adorable when they're asleep. She never dreamed of becoming an author, but as a homeschooling mom, she often jokes she writes fiction because if she wants anyone to listen to her, she has to make them up. As it turns out, her characters aren't much better than the kids, but nevertheless, you'll find her writing sexy contemporary romance for Entangled Publishing until they throw her out.