1–What's the name of your latest release? 
Red Letter Days
2–What is it about? 
Two American women escape the Hollywood blacklist for England, where they are able to continue working and remain free, but find that they still aren't as safe as they hope. It's also very much about love, passion for work, resilience, friendship, and maintaining a sense of self and humour in the face of adversity.
3–What word best describes your main character(s)? 
Plucky.
4–What makes your story relatable? 
To my vexation, it is getting more relatable by the day, what with accusations of "communist", right-wing attacks on the arts, and attempts to purge anyone who doesn't tow the party line from the government. Also attempts to sequester passports from citizens, deny citizenship – you get the idea. But what matters is that then, as now, more people are pushing back and standing up for what is right.
The political parallels aside, the story will also speak to anyone who has had a passion and pursued it; or found themselves alone and reached out to find friends they might not have expected to become part of their lives. And anyone who has ever fallen in love and found it to be exhilarating and a bit confusing.
5–Who are the people your main characters turn to when they need help? 
At different points, they each turn to each other. They also have romantic partners and other friends who are very much there to help in the fight against The Man.
6–What do you love about the setting of your book? 
I love everything about 1950s New York except the racism, sexism, push for conformity, and persecution of suspected communists. There's a lot to love about 1950s London too, except for the bombed-out buildings, struggling economy, and rationing that didn't end until 1954. And the racism and sexism. But what both cities have in this era, especially in the artistic community, is a fierce, burning energy to foment real change and progress, and the desire to forge a new future that won't repeat the mistakes of the past.
7–Are you a plotter (follow an outline) or a pantster (write by the seat of your pants)?
Would a bit of both be a plant? When I'm first developing characters, I just write and let them start to come into their own. I often write thousands of words that end up being chucked. Once I have a sense of who these people are and what they want, then I make an outline and start writing properly. Which isn't to say that I don't go skidding off in other directions as the work takes shape, but that's half the fun.
8–What is an ideal writing day for you? 
Getting words on the page that I feel 90% sure I won't delete.
9–Do you listen to music while you write, need total silence, or do you have the TV on?
I love total silence when I can get it. But I do like to listen to some music of the period before I get down to work to help set the mood.
10– How do you approach research? 
With a pith helmet and hope. Actually, as a recovering historian, I love research. I always start with the library – I'm very old-fashioned that way. Which isn't to say that I might not do an online search using a library computer, but even still. What I love about working in the library is it's a great way to find things I might not have thought of, because of all the other books that will be near the one I'm after on the shelf. It's precisely why I wrote a scene of a character searching for books along a stack in a library. There is a lot to be discovered that can help give texture to the story. At some point, though, I have to force myself to put it all aside and actually get on with writing – it is all too easy to get lost in a research-spiral and forget that I've got work to do.
11–What is your publishing journey story? 
The capsule version for my most recent works is that my agent approached an editor who knew of me with a manuscript that was liked but felt wouldn't be a runner. The editor instead hoped I might be able to bring my historical knowledge to bear and write a book centred around women in the early 20th century. I came to find Hilda Matheson, first Director of Talks of the BBC, and knew this was it. I was extraordinarily lucky to sell Radio Girls on a partial and very pleased to see it do well. I've had people involved in radio tell me how accurate it is, and more than one woman say how grateful they are to come to know Hilda, realising that in many ways, she is responsible for their job. Radio Five here in the UK started a Hilda Matheson scheme to help aspiring young women get into radio, all because someone there read Radio Girls. It's incredibly gratifying.
When I sold Radio Girls to the fine people at Berkley (at the time it was New American Library), I was delighted to receive a two-book deal and so Red Letter Days came about. I am hopeful many readers find it, read it, and love it.
12–Do you have critique partners/writing groups you want to give a shout-out to? 
I still lived in New York when I wrote Radio Girls and was a member of Paragraph Workspace for Writers. It was a terrific community and several writer friends gave me a lot of feedback and criticism that was vital to the revision. I don't yet have quite the same group in London, but my boyfriend is never short of an opinion.
13–What're the most frustrating things about being an author? 
Mostly it's that I'm always thinking, always wondering about characters, stories, and possibilities. It's fun, but can get a bit exhausting. Also occasionally I get asked by well-meaning folk as to when I'm going to get a real job.
14–What's your favorite scent?
Fear. It helps propel me along and meet deadlines. Also hot toast slathered in butter, which has the same effect.
15–What movie will you watch no matter what if it's on TV? 
Monty Python and the Holy Grail. Or Life of Brian. The fact that I have both on DVD is utterly immaterial.
16–Do you like breakfast, lunch, or dinner best? 
Yes, please, all of the above and also elevenses and afternoon tea.
17–What's one thing you wish you knew more about? 
A bit of everything, so I can be more of a Renaissance woman. Also I'd like to learn to play the lute.
18–What's the silliest thing you've recently done?
I've happy agreed to go axe-throwing for my second anniversary with my boyfriend; I'm developing a serious Carcassonne addiction; I'm trying to learn medieval cooking…I seem to do a lot of silly things.
19–What can readers expect from you next? 
Without getting into specifics, it seems likely to be another fun historical work featuring smart, strong women.
20–How can readers reach you?
Dealer's choice! My email is on my website, www.sarahjanestratford.com, and I'm always delighted to be in touch. I'm also on Twitter: @stratfordsj; Instagram: @sarahjanestratford; and Facebook: SarahJaneStratfordAuthor.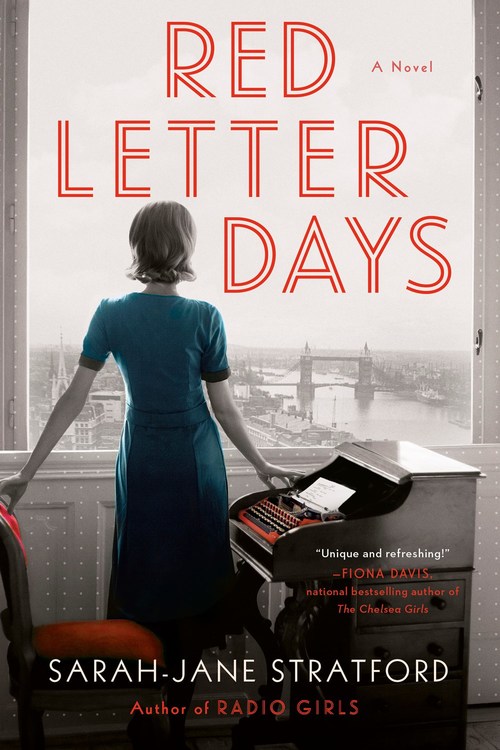 When two brave women flee from the Communist Red Scare, they soon discover that no future is free from the past.

Amid the glitz and glamour of 1950s New York, Phoebe Adler pursues her dream of screenwriting. A dream that turns into a living nightmare when she is blacklisted—caught in the Red Menace that is shattering the lives of suspected Communists. Desperate to work, she escapes to London, determined to keep her dream alive and clear her good name.
There, Phoebe befriends fellow American exile Hannah Wolfson, who has defied the odds to build a career as a successful television producer in England. Hannah is a woman who has it all, and is now gambling everything in a very dangerous game—the game of hiring blacklisted writers.
Neither woman suspects that danger still looms . . . and their fight is only just beginning.
Women's Fiction Historical | Historical [Berkley, On Sale: February 25, 2020, Trade Size / e-Book, ISBN: 9780451475572 / eISBN: 9780698195301]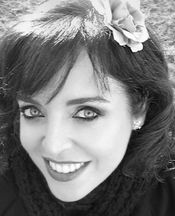 Sarah-Jane Stratford grew up in Los Angeles with a deep love of theatre and literature. After earning a bachelor's degree in history at UC Santa Cruz, she then obtained a master's degree in medieval history at the University of York in Britain, where she wrote a thesis about women in the manorial court system which gave her a new appreciation for the modern era.
Sarah-Jane has written articles and essays for a range of publications, including The Guardian, The Boston Globe, The Los Angeles Review of Books, Marie-Claire, Bitch, Slate, Salon, Guernica, Bustle, and BOMB.
In 2017, Sarah-Jane was awarded a Tier One Highly Talented visa by the Arts Council in Britain, granting her leave to live and write in the UK for five years. She now lives in London, where she attends a lot of theatre, knits, and explores.