As authors write, we get the opportunity to include any number of details. Some are vital to the plot of the story, some give us insight into the characters, some simply give us a sense of time and place, and some make us laugh, or cry. But some details are just for the author themselves. So I thought I'd share a hidden theme that runs through all four of my Second Circle stories, including the latest, THE DARKEST LINK, that releases today.
To explain, I need to go back a few years and start with this…I LOVE STEPHEN KING! I started reading horror in high school when it was the cool thing to do. I began with a dog-eared copy of THE RATS by James Herbert, and quickly devoured (pun intended if you've read the stories) LAIR and DOMAIN. I'd meet up with school friends every morning, and we'd swap books before the school bell rang. One day I received a very beaten up copy of Stephen King's PET SEMATARY (…yes, that's the correct spelling of the book), and from the very first chapter, I was hooked. I worked my way through as many books as I could get my hands on. IT, MISERY, CHRISTINE, CUJO. I never really enjoyed watching horror movies, but books I could read all day. Somewhere along the way, I found romance, and my allegiance switched. Today I don't read anywhere near as much horror as I used to, but I'll always make time for Mr. King.
So back to the Second Circle Tattoos series. Every book contains at least one reference to Stephen King's horror stories. In THE STRONGEST STEEL, Trent loves horror stories while Harper hates them, and Trent is responsible for giving the hero of book two a tattered copy of CUJO. In THE FRACTURED HEART, Brody Matthews, the hero of the story, is nicknamed Cujo after an unfortunate incident after reading the book of the same name. In THE PUREST HOOK, Dred and Pixie watch THE SHINING together after their first date in Toronto. And in THE DARKEST LINK, Lia's car is a red and white Plymouth Fury that she purchased after watching the movie version of CHRISTINE, which featured a demonic car of the same name.
Those details don't really change the story. Trent could have loved rock biographies, Cujo could have been nicknamed just about anything. Dred and Pixie could have watched a chick-flick, and Lia could have purchased any car she wanted (although it would still have been red). The truth is, those details were simply important to me, and a little nod to an author who inspired me to read voraciously.
Which author (one name only) has inspired you? Who do you quote frequently? Or reread when you are having a crappy day? Pop your answer below, and one winner will be picked at random to win a complete set of all four e-books in the Second Circle Tattoos Series.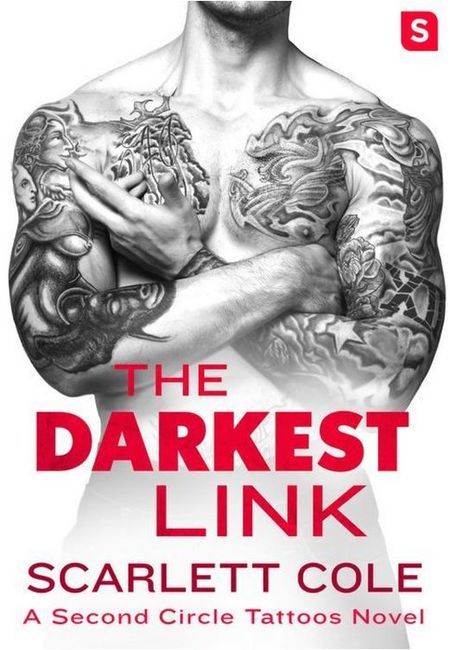 When her car breaks down off the side of a lonely highway far from her sunny Miami home, tattoo artist Lia never expected her very own white knight to ride up on the back of a barely street-legal motorcycle…and she never expected to fall for her dark savior. After a string of failed relationships and a bruised heart Lia is not looking for forever, and the hot mechanic, with his sexy scruff and shaggy hair, is simply impossible to resist. He's the perfect candidate for a mind-blowingly-perfect, no-strings-attached one-night stand.
Reid left his life in Chicago far behind him and hasn't been back, but he's never been able to escape the guilt he feels about his own painful role in inviting a monster into his baby sister's life. A monster who almost destroyed her. Being with Lia is an unexpected gift, one he doesn't feel he deserves, and their one night together has him wanting more than he should. When he surprises her at her tattoo studio, Second Circle Tattoos, in Miami, he's in for a shock—and a fist to the face—when his past and present collide.
With secrets coming to the surface, Reid and Lia are thrown into a world of betray and lies that threatens to pull them under, and the last link to his former life may be the darkest of them all.
Romance Suspense [Swerve, On Sale: August 30, 2016, e-Book, ISBN: 9781250122070 / eISBN: 9781250122070]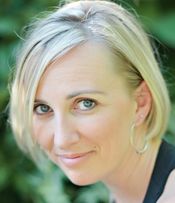 Scarlett Cole is a writer of contemporary romance and a two-time RITA finalist. Her debut, THE STRONGEST STEEL, has already become an Amazon best seller in romantic suspense, was a Best Debut Goodreads Author Finalist 2015, and Authors On The Air Global Radio Network Contemporary Romance Pick of 2015. The FRACTURED HEART and THE PUREST HOOK were released in early 2016. Look for THE DARKEST LINK, book four of THE SECOND CIRCLE TATTOOS series out August 30th.
When Scarlett isn't writing, she spends her time reading, hoarding mason jars, and working out to off-set an epic sour candy habit. She likes hot men, cold beer, and expensive shoes.
Having travelled the world for work and fun, Scarlett is a citizen of both Britain and Canada. A true city-dweller, she considers Toronto and Manchester home and likes to set her books in vibrant locations such as Miami and Los Angeles.
Second Circle Tattoos