We're kicking off our Susan Elizabeth Phillips Read-Along this week with BREATHING ROOM, and Loretta
Chase is here to discuss why she loves this particular SEP title. Welcome,
Loretta!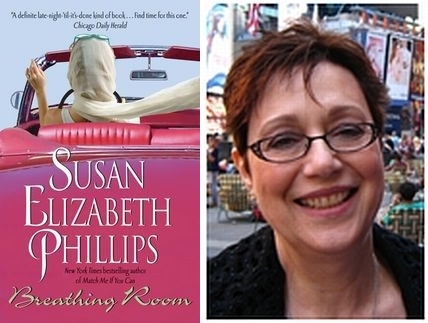 1. The pristine beauty and simplicity of the first line, and the
anticipation it
awakens:
Isabel Favor prized neatness.
I could not possibly say another word about this. It's perfect.
2. Enter the hero:
Lorenzo Gage was viciously handsome.
You know, killer gorgeous. Which is what he is, in the movies. Sometimes a
serial killer, sometimes not, but but always bad, bad, bad.
"And sadism has made me famous."
3. Also, he's Italian. Be still my heart.
4. Fifi.
5. The Four Cornerstones and the various Rules, like "the Healthy
Relationship
Rules of Fair Combat, not one of which advocated yelling 'shut up.'"
6. Dialogue, dialogue, dialogue. The gift of the screwball comedy snappy
comeback muse:
Sparks of happiness rushed through her. "Watching me eat this is turning you
on."

He looked irritated. "I've been a little sex-deprived lately, so it doesn't
take much."

"Sure. It's been, what? Five days?"
7. Tuscany. You can see it and smell it and hear it. And taste it.
Especially
the gelato.
8. The subplot–no, not the locals and their mysterious doings, but the
family
that descends upon the villa, in all their distressed messiness and hilarity,
like invading Mongol hordes. One of the elements I look forward to in a SEP
story: Family comes into it, sooner or later—disruptive, infuriating,
aggravating, and ultimately, healing.
9. Which brings us to one of the great scenes of romance literature: the
Potty
Training. Heroism at its finest and most unexpected.
10. The number of passages I want to quote. But I won't. If by any
chance you
haven't yet read BREATHING
ROOM, I want you to have the fun of learning all the lessons by yourself.
Join the conversation! Comment below on why you love BREATHING ROOM, and learn
more about our SEP read-along here! Everything leads up to
the release of HEROES ARE MY
WEAKNESS on August 26!
Deepest winter.
An isolated island off the coast of Maine.
A man.
A woman.
Puppets. (Yes, puppets…)
And…
A mysterious house looming over the sea . . .
He's a reclusive writer whose imagination creates chilling horror novels. She's
a down-on-her-luck actress reduced to staging kids' puppet shows. He knows a
dozen ways to kill his characters with his bare hands. She knows a dozen ways to
kill an audience with laughs. But she's not laughing now.
Annie Hewitt has arrived on Peregrine Island in the middle of a snowstorm and at
the end of her resources. She's broke, dispirited, but not quite ready to give
up. Her red suitcases hold the puppets she uses to make her living: sensible
Dilly, spunky Scamp, and Leo, the baddest of bad guys. Her puppets, the romantic
novels she loves, and a little bit of courage are all she has left.
Annie couldn't be more ill prepared for what she finds when she reaches
Moonraker Cottage or for the man who dwells in Harp House, the mysterious
mansion that hovers above the cottage from a windblown cliff. When she was a
teenager, he betrayed her in a way she can never forget or forgive. Now they're
trapped together on a frozen island along with a lonely widow, a mute little
girl, and townspeople who don't know how to mind their own business.
Is he the villain she remembers or has he changed? Her head says no. Her heart
says yes.
It's going to be a long, hot winter.