1–What's the name of your latest release?
(Im)perfectly Happy 
2–What is it about?
(Im)perfectly Happy tells the story of four friends who formed an accountability group to follow their dreams in college. However, ten years later, they can't help wondering what happened to the hopeful, confident, driven women they used to be. Now, they are determined to get them back. Kara, Nikki, Raina, and Sienna: a wine expert, musician, radiotherapist, and an attorney have distinctly different dreams and issues to resolve. One is a mother, two are married and one…well, she's avoiding the whole love and marriage thing. If you're a fan of romance, friendship, and happy endings, I would be so pleased to share my book with you.
3–What word best describes your heroine?
There are four of them. Kara is cautious, Sienna is a sweetheart, Nikki is spunky, and Raina is sarcastic.
4–What makes your hero irresistible?
The focus of this book is on the heroines.
5–Who are the people your main characters turn to when they need help?
They are friends and turn to each other.
6–What do you love about the setting of your book?
It's set in Atlanta which is where I live. It's fun to think about the different aspects of the city and place my characters where I think they would prefer to live. For instance, Raina is moving to the suburbs of Atlanta, away from the city and it makes her uncomfortable because it's not just a change in location, it's a "status" change because she's able to afford to live in a larger house.
7–Are you a plotter (follow an outline) or a pantster (write by the seat of your pants)?
I'm definitely a plotter but I give myself leeway to pivot if the scene isn't working.
8–What is an ideal writing day for you?
In my home office, a lit candle, coffee or tea, and music.
9–Do you listen to music while you write, need total silence, or do you have the TV on?
I can do both, but I prefer music. I usually create a soundtrack for each book.
10–How do you approach research?
Online and I like to interview people–for instance I interviewed a sommelier and watched documentaries to understand the life of a wine expert.
11–What is your publishing journey story?
I started in a small press under Crimson Romance. After it was acquired, the press was eventually dissolved. Then, I had the opportunity to work with my dream editor Esi Sogh at Kensignton. I've been published since 2016.
12–Do you have critique partners/writing groups you want to give a shout-out to?
Yes! Pamela Varnado, Ison Hill, Connie Gillam, and Mary Marvella.
13–What're the most frustrating things about being an author?
The publishing industry can feel very slow-moving. Of course, when you put your heart and soul into a book you want to publish it like yesterday, but in reality, it may take up to a year and a half.
14–What's your favorite scent?
Tie between Vanilla and Lavender.
15–What movie will you watch no matter what if it's on TV?
Coming to America and Dirty Dancing.
16–Do you like breakfast, lunch, or dinner best? 
Breakfast/Brunch.
17–What's one thing you wish you knew more about?
Sewing. My son's teddy bear is missing a button and I don't know how to sew!
18–What's the silliest thing you've recently done?
I'm teaching my son some dance moves. He's two and it's fun but you know, he's not exactly coordinated. What can I say? I'm bored right now.
19–What can readers expect from you next? 
In the late fall, I'll be releasing Judge's Girls. The patriarch in a family dies and leaves the house to his adult daughter, but with the stipulation that his second-wife stays as long as she lives. The daughter and stepmother do not get along. It's a women's fiction with strong romantic elements.
20–How can readers reach you?
Twitter: @SharinaWrites
Instagram: @SharinaWrites
Facebook: https://www.facebook.com/AuthorSharinaHarris/
Goodreads: www.goodreads.com/SharinaWrites
Website: www.SharinaHarris.com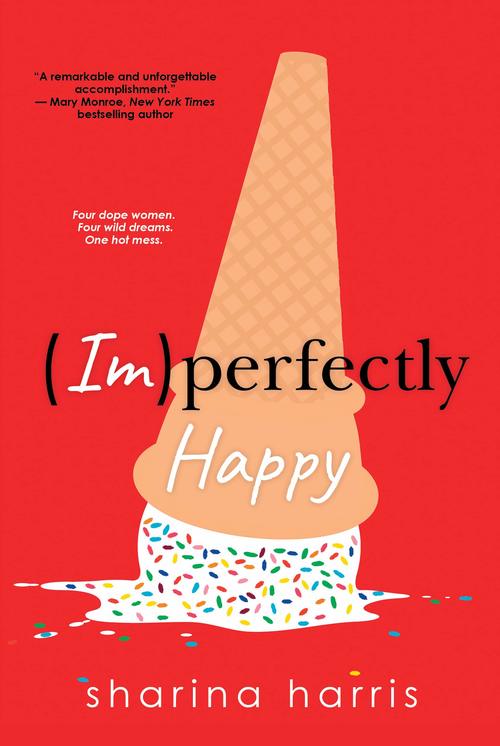 When four college friends formed the Brown Sugarettes Mastermind Group, they had very different goals–but matched each other in ambition. Yet ten years later they can't help wondering what happened to the hopeful, confident, driven women they used to be–and how to get them back . . .
Radio personality Raina, known as "the black Delilah," hates the wholesome persona that's made her a success. Doling out syrupy versions of her grandma's wisdom feels worlds away from the sarcastic, tell-it-like-it-is woman Raina really is.
Kara Jones was sure she'd be a master sommelier by thirty. Life and loss interfered with that plan. Now she has one more chance–but it's taking a toll on her self-esteem and her marriage.
Nikki Grayson hardly recognizes the stay-at-home mom she's become. When her band signed a record deal, she swapped the limelight for a minivan and a sensible 'do. Now she's wishing she had followed her heart. Instead, she's drowning her regret in alcohol.
Public defender Sienna Njeri willingly put her city council aspirations aside to support her fiance's bid for office–and now she's wondering if her loyalty is misplaced.
Longing for the support, advice, and tough love they once shared, all four resolve to start meeting up again. After all, their dreams may still be within reach. But are they worth the price they'll pay to achieve them?
Romance Contemporary | Multicultural African-American [Kensington, On Sale: April 28, 2020, Paperback / e-Book, ISBN: 9781496725639 / ]
Sharina Harris earned her Bachelor of Arts degree from Georgia State University. After college, she pursued a career in digital marketing and public relations. Although her profession required writing, she decided to pursue a career in writing in 2012.
When Sharina's not writing, she can be found with her head stuck in a book, rooting for her favorite NBA teams, and spending time with friends and family.