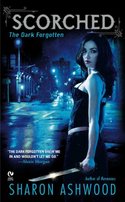 December 1 is the launch of Scorched, the second installment of my Dark Forgotten series. Without giving away too many details, the action picks up about a year after Ravenous ends. It's a stand-alone story, but most of the characters from book one return. Those interested in the fate of Fairview's police detective, Conall "Mac" Macmillan, will have all their questions answered.
Mac is a delightful character to work with: smart, gorgeous, down-to-earth, sense of humor, and basically an all-around good guy. Nevertheless, the agreement between the International Union of Fictional Characters (Paranormal Romance Division) and the Fellowship of Twisted Authors, Inc. gave me a free hand to make his life metaphorical and literal hell. That's part of the deal that brings you, the readers, the best possible stories. The fellowship stands behind their Tortured Hero Guarantee
To read more of CELEBRATE WITH A SCORCHING GOOD TIME and to comment for a chance to win a copy of Scorched please click here.