Sharon's Cozy Corner
All about the cozy mysteries: interviews, reviews, books
The holiday spirits are warm, but the winter weather is as chilling as the mysteries on tap as we venture into December.
With Christmas upon us, I thought we'd take a look at the lineup of cozy mysteries with a holiday theme to them. Nether snow, ice, or murder weapons of choice will keep the following authors from dishing up an exciting batch of cozy mysteries sure to entertain us this festive season.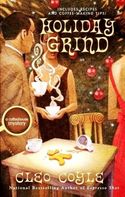 I mentioned Cleo Coyle's HOLIDAY GRIND: A Coffeehouse Mystery (Berkley Prime Crime, Nov. 3rd) last month, and I include it here again because it is just a delightful holiday offering. The mouthwatering recipes alone makes this novel worth reading, but Coyle also delivers a delicious thriller with a side order of romance that will warm reader's hearts while it tickles their minds and appetites.
The holidays are coming and that means more than just eggnog lattes and gingerbread biscotti to Clare Cosi, owner of the Village Blend coffeehouse. But when she finds her friend Alfred Glockner, the part-time comic and genuinely jolly charity Santa, brutally gunned down in a nearby alley, a few subtle clues convince Clare that Alfred's death was something more than the tragic result of a random mugging. Much to Clare's boyfriend Detective Mike Quinn's chagrin, Clare decides to find out who made the naughty list when they knocked off ol' St. Nick.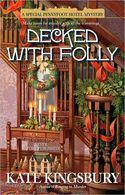 In Kate Kingbury's latest mystery, DECKED WITH FOLLY: A SPECIAL PENNYFOOT HOTEL MYSTERY, her 17th installment in the wonderful pre-World War I series, readers will be transported back to pre-World War I England in a pleasant mystery that is thrilling to the very last page.
Despite Cecily's prayers, the busy Christmas season is disrupted when the body of Ian Rossiter is found floating in the pond. A former employee of the hotel, Ian had been lurking around, trying to have a word with Gertie McBride, the mother of his twin children, but no one was a witness to his watery demise. It's up to Cecily, her good friend Madeline, and the staff of The Pennyfoot to set out to clear Gertie's name, and find out who really murdered Ian.
DECKED WITH FOLLY is Kingbury's fifth holiday-themed mystery set at the Pennyfoot. Other titles include NO CLUE AT THE INN, SLAY BELLS, SHROUDS OF HOLLY, and RINGING IN MURDER.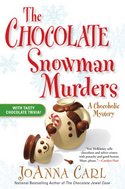 Chocolate and Christmas just go hand in and, and apparently JoAnna Carl agreed when she penned THE CHOCOLATE SNOWMAN MURDERS: A CHOCOHOLIC MYSTERY, (Obsidian Mystery, 2008) her 8th installment of her fan-favorite chocolate series. Although this book came out last year, it is still readily available and is a charming mystery to enjoy during the holidays. (Note: Carl's latest book in this series, the Valentine themed THE CHOCOLATE CUPID KILLINGS, came out this past October just in time for Halloween – you got me, I don't know why…)
The much anticipated Winter Arts Festival is about to begin in Warner Pier, Michigan, and as treasurer of the event, chocolate shop owner Lee McKinney Woodyard is up to her elbows in mix-ups behind the scenes. When the art show's guest juror shows up drunk, Lee lets him sleep it off at his motel, only to find out later that someone's put the visiting dignitary into a permanent state of repose. Since Lee and her husband, Joe, were the last people spotted with the deceased, it's up to Lee to put her sleuthing talents to work to find the real killer before someone else comes to a bitter end.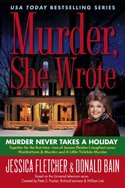 Readers will get double their murder mystery fun with the two mystery tales found in MURDER SHE WROTE: MURDER NEVER TAKES A HOLIDAY. (Obsidian Mystery, Nov. 09)
Legendary and much beloved mystery author and sleuth Jessica Fletcher finds that the holidays are prime mystery-solving opportunities in two Christmas-themed stories guaranteed to delight her legions of fans.
In Manhattans & Murder, Jessica's new book tour brings her to New York for Christmas, where she sees notorious Cabot Cove crook Waldo Morse dressed as a sidewalk Santa. She agrees to meet with Waldo, but ends up witnessing a murder. With the police slow on their feet, and the victim's wife on the run, Jessica decides to do whatever it takes to stop a killer from spoiling the season.
And in A Little Yuletide Murder, Cabot Cove local Rory Brent is found shot to death on his farm, and everyone assumes the culprit is Brent's longtime enemy, Jake Walther, the meanest man in town. But Jessica thinks otherwise, and she's determined to deliver the real killer before Christmas. The trouble is, the next sound she hears this silent night may be her own screams!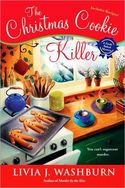 Christmas means lots of holiday goodies, and cookies are right up there with some of the most anticipated treats of the season. But a cookie contest turns deadly in Livia J. Washburn's latest Fresh Baked Mystery, THE CHRISTMAS COOKIE KILLER.
Retired teacher cum amateur sleuth Phyllis Newsom is more than ready for her unlucky year to be over. But she won't be hanging up her apron just yet—because this year's Christmas bake-off is going to be cutthroat.
Phyllis would like to think she's entering the Christmas cookie contest for the fun of it—but that's not exactly true. She can't imagine anyone beating her snowflake-shaped lime sugar cookies. Then, during her annual Christmas cookie exchange, Phyllis heads over to the elderly Mrs. Simmons's home and finds her dead, in a pile of lime sugar cookies. But with a number of names on Santa's naughty list, this case may be a hard cookie to crumble.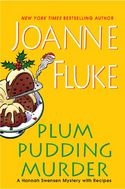 I always look forward to Joanne Fluke's Hannah Swensen Mystery series, but there is always something special about her cozy mystery tales when they are set during the Christmas Season. Her latest book, PLUM PUDDING MURDER, (Kensington Mystery, Sept. 09) does not disappoint! As usual, Fluke includes a bevy of wonderful recipes, with a complete holiday dinner included this time around.
The Cookie Jar's busiest time of the year also happens to be the most wonderful time…for Christmas cookies, Hannah's own special plum pudding—and romance! Holiday orders are high, and Hannah's slated to provide dessert at the Reverend Knudsen's upcoming wedding. She's busy as can be and loving it. She also gets a kick out of "Lunatic Larry Jaeger's Crazy Elf Christmas Tree Lot," a kitschy carnival taking place smack-dab in the middle of the village green.
Larry thinks he's crazy like a fox with his wild business schemes, but this time, the entrepreneur may have bitten off more than he can chew. Rumor has it that Larry's in the red—an idea that takes a sinister turn when Hannah discovers the man himself dead as a doornail in his own office. It seems quite a few people would have liked to fill Larry's stocking with coal and then bash him with it. With the twelve days of Christmas ticking away, Hannah's running out of time to nab a murderous Scrooge who doesn't want her to see the New Year.
A few other Christmas-themed mysteries worth checking out include: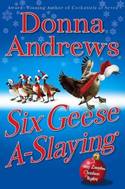 SIX GEESE A-SLAYING: A Meg Langslow Mystery by Donna Andrews (MacMillian Books)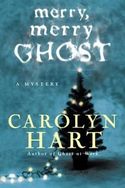 MERRY, MERRY GHOST: A Bailey Ruth Raeburn Mystery by Carolyn Hart (Wm. Morrow Books)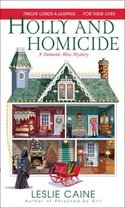 HOLLY AND HOMICIDE: A Domestic Bliss Mystery by Leslie Caine (Dell Books)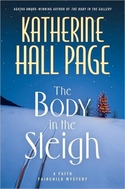 THE BODY IN THE SLEIGH: A Faith Fairchild Mystery by Katherine Hall Page (Wm. Morrow Books)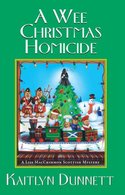 A WEE CHRISTMAS HOMICIDE: A Liss Maccrimmon Mystery by Kaitlyn Dunnett (Kensington Books)
So, there you go! A list of just a few of the great cozy mysteries to make your holiday's merry and bright. Take a few minutes from the hectic pace that surrounds the season and enjoy a good book and a nice cup of spiced cider – A Christmas treat for yourself!
I hope that you come back by on December 15th, when I'll be interviewing Joanne Fluke, author of the Hannah Swensen Mystery series.
Until then, cozy reading everyone!
---
Sharon Chance has been a freelance entertainment journalist for the past fourteen years. As a regular contributor to the Wichita Falls Times Record News, she has written well over 1,600 articles covering everything from concert and movie reviews to museum openings to interviewing some of the top musicians performing today, including members of Bon Jovi and Guns and Roses.
But her true love lies in the world of books. A voracious reader from a young age, Sharon began reviewing books at the urging of her sister-in-law, who was a big fan of the Oprah Winfrey Book Club. What began as a simple fun attempt at sharing her views of books she enjoyed has developed into a work of passion for Sharon. In addition to being a senior book reviewer for the Times Record News, Sharon is also a regular guest contributor for the Las Vegas Review Journal's Book Nook, as well as having written for several other publications.
A distant relative of the great Edgar Allan Poe, Sharon has a fondness for mysteries, especially those of the cozy kind. In her new column, Sharon's Cozy Corner, Sharon hopes to bring news of the latest in the cozy mystery genre, as well as insightful interviews with the authors who write them.
Read more of Sharon's Cozy Corner