Junior! Don't chain your uncle in his coffin again!
The Dark Forgotten series is about a lot of things: passion, adventure, mystery, and learning to live with a world that's gone in an utterly unexpected direction. It's also about families, whether we're talking blood relatives, vampire clans, or a pile of hellhound puppies.
At the centre of the stories is the Carver family. They're witches who have served the people of Fairview for hundreds of years, but tragedy has scattered the current generation. One of the themes of the series is how the Carvers reunite and heal. Of course, every family member does this on their own unique terms, and you wouldn't believe who some of them bring home to dinner. Kids these days!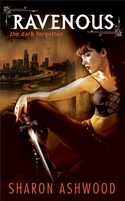 At the beginning of Ravenous, Holly Carver is the one left running the family ghostbusting agency. Her parents were killed in a car accident, and her sister, Ashe, has gone to live in Spain. Holly's grandmother, though still full of spit and vinegar, is in a seniors' residence. It's up to Holly—and her scrumptious vampire partner, Alessandro Caravelli—to save the day when a portal to another dimension starts spewing demons, hellhounds, and other surprises into their quiet, Pacific Northwest university town. (And people thought the casino ruined the neighbourhood. They had another thing coming.)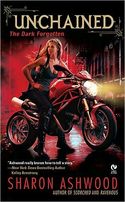 Unchained is Ashe's book. She was the one who tore the Carver family apart, and hers is the biggest debt to pay. Now a widow, she's come home to Fairview with her ten-year-old daughter, determined to make peace with her sister. Ashe's been working as a slayer for years, but she hangs up her stakes and takes a job at the library in hopes of a fresh start.
At first, all goes well. Ashe even starts to get along with Holly's fangy beau. The problem is that monster-hunting isn't a job one can exactly quit. There's always a ghoul hiding under somebody's bed.
Then a last chance at happiness comes in the form of Captain Reynard, a dashing immortal guardsman. He's hunting for the thief who took his soul and needs Ashe's expertise. With so much tragedy in her past, Ashe is afraid to risk the safety of her family—but refusal means Reynard will die. All Ashe can do is pray that she doesn't fail everyone yet again.
Choices are everything.
Ashe and Holly's half-brother, Brendan, has chosen to deny his magic and live a completely human life. But will that hold up when his own children start showing signs of the gift? Holly is following in her grandmother's footsteps and living as a witch in all but one respect: she's not going to marry one of the nice boys from a good witch family. She'll live with one foot on the dark side. Ashe's choice is between her roles as a mother and as a hunter. She destroyed her own magical gifts long ago, but her daughter is on the cusp of getting her own powers. What Ashe decides will profoundly impact her child's future.
They say we can't pick our relatives. That might be true, but we do choose whom we call family. Does it really matter if your brother-in-law is Undead, as long as he treats your sister right? So what if the best man was a fire demon? The Carvers' journey is about learning what matters most: Love.
Although it is a little weird holding the family barbeque after dark. I'm just saying.
What is your favorite family tradition?
Watch a video from UNCHAINED
Click to read an excerpt
Click to comment and for a chance to win your own copy of UNCHAINED.