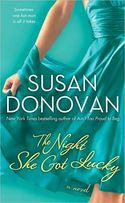 Dog Walker #2
June 2010
On Sale: May 25, 2010
Featuring:
Lucio "Lucky" Montevez; Ginger Garrison
352 pages
ISBN: 0312366051
EAN: 9780312366056
Mass Market Paperback
$7.99
Romance
Buy at Amazon.com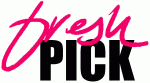 The Night She Got Lucky
by Susan Donovan
Members of a dog-walking group vow to find happiness without men in their lives-who needs a reckless man when you have the love of a loyal dog? But when Giner Hanson meets a sexy photographer, all bets are off!
Her marriage is over. Her newspaper career went belly up. And it won't be long before her two teenage sons are off to college…and then what? Sometimes it seems like the only thing Ginger Garrison can count on is her beloved Bichon Frisé and the loyal women in her dog-walking group. But her luck is about to take a wild turn. . .
A diplomatic snafu has sidelined the globe-trotting nature photographer Lucio "Lucky" Montevez, a man known as much for his wild personal life as his wildlife images. Now stuck in the States and forced to shoot pet portraits for a living, his prospects look downright tame…until Ginger enters his world (along with her boys, her spoiled pooch, and her egomaniacal ex-husband). Lucky's always been a love-her-and-leave-her kind of guy, but something about the spirited, sensual Ginger makes him want to stick around. But will Lucky's playboy past end up costing him the only woman he's ever really loved?
Excerpt
Technically, Ginger Garrison wasn't the first bridesmaid to faint into the arms of Lucio Montevez. That had occurred nearly twenty years earlier in Las Alpujarras, at Lucio's own wedding, when his young bride's best friend went into an apoplectic fit of jealousy. The girl managed to call Lucio a hairy wild boar and pound her fists on his chest before she collapsed, which added some levity to the ill-fated event. Sadly, the last time Lucio returned to Spain, he'd encountered the onetime bridesmaid on the main street of his village. He said hello. She spat in the dirt near his feet and continued walking.
Ah, romance.
Lucio propped the most recent fainting bridesmaid against his chest, then reached up under a resplendent amount of green chiffon fabric until he found the back of her knees. He lifted her, pulled her close Read More…