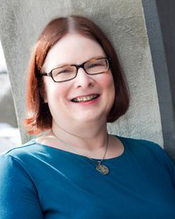 Lá Fhéile Pádraig s ona daoibh go léir!
Before you think I'm babbling, that means "Happy Saint Patrick's Day" in Irish.  The first book in my new County Cork Mysteries, BURIED IN A BOG, came out last month and I've been astounded by the response.  It debuted at #14 on the New York Times Paperback Bestseller list, which was great, but more important, I can't tell you how many people have written to say that they love the Ireland I describe and are ready to plan a trip there.
BURIED IN A BOG is about Maura Donovan's introduction to Ireland.  She was raised in Boston by her grandmother, and her Gran's last wish was that Maura visit the country Gran had left decades earlier.  Maura grudgingly goes to the small town of Leap on the south coast of Ireland, with no expectations—she plans a short trip before returning to Boston to figure out what she's going to do with her life.  Instead she finds a warm welcome from an extended family she never knew she had.  She's both an outsider and an insider; all the local people seem to know everything about her, but she knows little about them. And there are two murders, one old, one new—and both have a family connection, and Maura has a hand in solving them both.  It should be no surprise that Maura ends up staying in Ireland and running a pub.
This book had a long road to follow before it made it to print.  To go all the way back to the beginning, my father's parents were both born in Ireland, and met in New York.  My mother hated her in-laws (particularly after one of my father's aunt's told her they'd hoped their Johnny would become a priest), and they were none too fond of her, so I never knew them. It was only when I had a child of my own (and she was old enough to travel well) that I decided I should learn more about the Irish half of my heritage.
At the heart of BURIED IN A BOG is the second book I ever wrote, more than tens years ago, originally called Sullivan's Pub. Once I had found a publisher (for a different series), I pitched it to them, but they passed on it.  While publishing three other series over the years, I rewrote and rewrote my Irish series, changed the main characters and the plot—but never the place.  The pub, the small town, the Wild West of Cork, and of course, the people were always the most important elements, and they never changed. So I waited a few years and then I pitched it again—and this time the publisher took it.
I write cozy mysteries, and the great majority of cozies are set in small towns.  Ireland is like one giant small town, where everyone knows everyone else, and their grandparents, and the name of their dog.  With a total population of less than five million people, it's not as hard as you might think.  And a pub is the perfect place to solve mystery, because that's where information is shared.  Pubs aren't so much for the drinking ast for the talk and the companionship. (I should disclose that the town I write about, Leap in County Cork, actually has four pubs to serve its population of 200.)
I had to persuade my editor, who spent a year in Dublin, that rural Ireland is not like the city.  It's an interesting mix of the old and the new. And people still look out for each other.  Everybody is related to everybody else (something that I included in the book)—there are a lot of honorary "cousins" in any area, and I'm happy to be one of them. Yes, I have met relatives there, mostly by happy accident.
From the start I wanted more than anything to avoid making the story "cute." There are no leprechauns, and nobody lurches around saying "faith and begorrah" (unless there's a tourist in the room, and then it's said with a wink). Luckily people were more than willing to talk to me, even the police (gardaí).  How often do they get someone like me walking into the station and asking, "now, if you found a body on the lawn of the manor house, what would you do?"  By the way, the murder rate in County Cork is extremely low, and I apologized to the very helpful sergeant for doubling it in my series.  Most crimes there are solved because the gardaí usually know the suspect, his girlfriend, his parents…no need to look far.
I have been so pleased by the warmth of the response from readers.  One early reviewer said that my love for Ireland shines through.  It's true:  I fell in love with the place the first time I saw it, and I've been back four times since.  The people are welcoming, the scenery is beautiful, the weather…well, if it's raining, wait a few minutes, and you're pretty sure to get a rainbow, or two, or even three at once (I've seen it happen).  There are bookstores everywhere, even in the smallest villages, and the food is so much better than it used to be.
Clearly I need to go back to do more research.  Often!
Photos from Ireland



Tell me if you've ever been to Ireland or County Cork or what you'd like to see if you went. One person will win a copy of BURIED IN A BOG
To comment on Sheila Connolly's blog please click here.