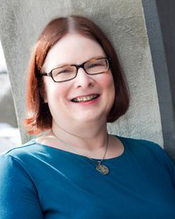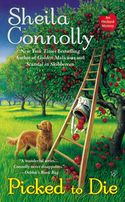 People think I'm crazy because I write three cozy mystery series. Yes, one book per year for each series (for as long as my publisher lets me!). And there are other books I've published through a small independent publisher. Can you guess that I like to write?
The first question most people ask is, "How do you keep them all straight?" The simplest answer is that they all are based in real places that I know well: western Massachusetts, Philadelphia, and most recently West Cork in Ireland. I don't know how I could manage if I had to make up a town and keep all the details consistent.
Of course the main characters are different people, although at least two of the characters reflect a little bit of me. Or maybe more than a little bit. Write what you know, right? Meg Corey in the Orchard Mysteries has been blindsided by losing her boyfriend, her home and her job all at once, but she's got generations of New England ancestors (I borrow a lot of my family tree) to pass on their backbone to her, so over the course of that series she's learned how to manage an orchard and make a living at it. She's also made friends, and met someone who is more than a friend. And, since this is a mystery series, she solves a few crimes along the way. But it's important to me to give her a personal reason for getting involved with each crime, and to make it clear that she believes that finding justice is important.
In the Museum Mysteries, Nell Pratt runs an historical museum/library in a big city, not a typical cozy small town. But what many people don't realize is that there are always small communities within big cities, and Nell is part of the cultural community, where everyone knows everyone else—and who has the money to donate to struggling museums. Since I was a fundraiser at an historical museum/library in Philadelphia, I know how real that is. Sometimes it seems odd that the cultural community can spawn so much crime, but it has been known to happen! Nell can provide a wealth of inside information about the people involved, which makes her a real asset to the FBI when they're involved in solving cases.
Finally there's Maura Donovan, a young American woman from Boston who finds herself running a pub in a small town in Ireland, much to her own surprise. She's the biggest stretch for me: Maura grew up in a blue-collar neighborhood, has a limited education, and is wary of involvement with anyone. That's not me at all. But I had Irish grandparents and I love the country, particularly West Cork, so I'm letting Ireland work its magic slowly on Maura. It's fun for me to watch her find herself as she settles in. The challenge of writing that series is that the crime rate in Ireland, particularly for violent crime and homicide, is very low, so introducing a crime to be solved isn't easy.
I love doing the research for all of these. And it's easy. I visit each place one or more times a year, and I watch and listen. I'm amazed at the ideas and details that just fall into my lap that way (I think people are tickled by the idea of being in a book, even if disguised), like the alpaca farm in Massachusetts, or the deep pit in the basement of the museum (which is real and will show up in the next book), or the revival of a lapsed musical tradition at the pub in Ireland (also real). I'm a believer in serendipity.
What is surprising to me is that people in these places know me. Actually, I've had friends in Philadelphia for a while, but when I began writing about the other locations I had to introduce myself to "Granford" and Leap in Ireland. Now people recognize me (including the Irish fish seller, who I'd met exactly once a year ago, who greeted me this year with "oh, yer the author, right?").
I did have a plan for all this: I write about places I love, and I wanted to give myself an excuse to return to them regularly. But there's more to it than that. Cozies are also about people, who are connected in any number of ways, and who help each other out. I've found places in the "real" world where that's true, and it's a pleasure to write about them.