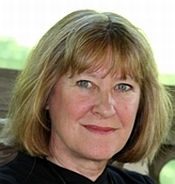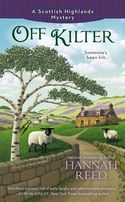 OFF KILTER is the first book in the Highlands Mystery Series. It was great fun to write. I especially loved my research in the Highlands. All that local color – men in kilts, that wonderful lilting Scottish accent, the quick wit and infectious sense of humor displayed by the Scots. Did I mention men in kilts? And the setting was spectacular! Munros, lochs, sheep dotting the hillsides, whitewashed cottages, each tiny village with its own central meeting place – the pub, of course.  I must admit I lifted a few pints, learned to sing the national anthem, and sampled a smorgasbord of Scottish delectable, including the (in)famous haggis.
My trip was much like my amateur sleuth's.
Eden Elliott arrives in the small village of Glenkillen on the same mission – to research for a series she's been contracted to write. Only hers is a romance novel, not a mystery. But instead of practicing the fine art of flirtation with those hunky Scottish lads, Eden discovers the sheep shearer's body. And he's been clipped with his own shears. Nothing like a murder to cool a woman's ardor. Worse, if Eden doesn't figure this one out, she'll find herself on the receiving end of more shear terror.
I hope you enjoy your romp through the 'blades' of the Highland slippery slopes. I know I did.
For more information about the story or about my other tales, visit me at my website.
Praise for OFF KILTER:
"Hannah Reed's new series will please Scotophiles everywhere…" ~ Miranda James, New York Times bestselling author of the Cat in the Stacks Mysteries.
"A brilliant mystery, rich in charming characters set against lush depictions of the Scottish village of Glenkillen." ~ Jenn McKinlay, New York Times bestselling author of the Cupcake Bakery Mysteries and the Library Lover's Mystery.