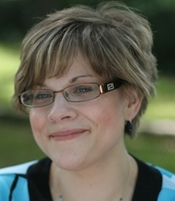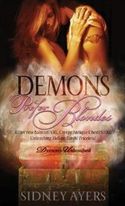 A while ago, I ran into an old friend while at the gas station. When he asked how I'd been, I told him my good news. It was a couple weeks after I sold the Demons Unleashed series, so I was excited beyond words. Then he asked me what the books were about. I'm not someone who's ashamed at what I write, so I told him it was a series of paranormal romances.
"Oh like Twilight?" he asked.
"Not really my hero is a demon," I replied. "And the characters are adult."
I gave him a rather brief synopsis of what DEMONS PREFER BLONDES was about. As I was preparing my coffee, he came back over and said, "I feel sorry for you."
What? Sorry for me? I was confused to say the least. "Why?" I asked against my better judgment.
"All you romance authors write about love and you're as lonely as ever."
News flash, now no longer friend of mine. Not all romance authors are single. Most of my close friends who write are very happily married. I might be single, but it's a choice I've made. I haven't met someone I want to share my life with yet. Oh, and believe me, I'm not waiting for Rhett Butler or Edward Cullen to sweep me off my feet. Despite my romantic tendencies, I'm still a realist.
Yes, I like the idea of love and romance, of course, or I wouldn't write it. The idea that two people can be thrust together in tough situations and come out with a stronger relationship isn't that unrealistic, is it? You see it in more than romance novels. You can see it in any TV show or action movie, too.
Then there are people who would liken reading romances to watching porn, and blame someone's "romance novel" addiction to failing marriages across the country. Sure some romance has sex and intimacies, but it isn't porn. There's character growth and a plot. There's more than sex. Porn is just sex for the sake of having sex and there's no relationship between the characters. Romance novel sex is there for the sake of showing character growth. People fail marriages, not the books they read.
There's nothing wrong with writing romances. There's nothing wrong with reading them. It's a great escape when life gets a little rough. I wish more men would read romances so they could see what a great romance novel has to offer.
DEMONS PREFER BLONDES BY SIDNEY AYERS – IN STORES JUNE 2011
A Bad Day For A Demon
Rafe Deleon is a senior demon and he resents like hell his assignment to Earth to retrieve the Chest of the Damned before it falls into the wrong hands. But then he meets beautiful, intriguing succubus Lucy Gregory, and she's just unleashed a whole load of trouble…
Really Sucks For A Succubus
Lucy's chic suburban beauty salon has suddenly become the Underworld's center of mass chaos and destruction. The only good thing in a day going rapidly down the tubes is the arrival of a gorgeous demon who's adamant that he can help her…
But Lucy has quite a few deeply unpleasant—not to mention deadly and hateful—surprises ahead of her, and surely there's never been a worse time to try out a new boyfriend…
ABOUT THE AUTHOR
Sidney Ayers writes light paranormal and erotic romance. Her manuscripts have won or placed in the MORWA Gateway to the Best, the Valley of the Sun Hot Prospects, the Passionate Ink Stroke of Midnight, the Heart of Denver Molly, and the Finally a Bride contests. She lives in Michigan where she is working on the next book in the Demons Unleashed series, DEMONS LIKE IT HOT—in stores December 2011. For more information, please visit http://www.sidneyayers.com/
Tell us your thoughts about romance: realistic or unrealistic? Two commenters will win a copy of DEMONS PREFER BLONDES
To comment on Sidney Ayers's blog please click here