Hello Fresh Fiction fans!
I'm thrilled to be here today celebrating the latest installment of the Tarnished Heroes series, a romantic suspense series with sexy spies and equally kick-butt chicks. Traitor Games is the third book in this series, and I probably shouldn't say it, but this book might be my favorite of the series! It might have something to do with actually getting to travel to the UK while writing it.
Since the internet and Google came along, research is so much easier.
How many stops are on which line of the London Underground?
Google it!
What's the speed limit inside the London city center?
I bet it's on the internet!
The internet is fantastic for finding out details, facts and making sure you get things just right. But what if you never knew you needed to know something?
That was what I ran into writing Traitor Games. I knew before our trip where I needed the characters to go and how the story went. It was my goal to visit some of these places on our journey, and boy am I glad I did!
Case in point?
When our hero and heroine first arrive in London they have to travel to a different part of Heathrow to lose a tail. It never occurred to me how they'd get around the airport. But after having to navigate the airport myself I knew just how tricky this was going to be for our protagonists!
There's also no substitute for getting to experience things before you write about them. The feel of a cool, London rain. I know it's rain and we have rain here in Texas at least part of the year, but there's a different, softer quality to it. The air smells different. And it's those little details I get to add to my stories because I got the chance to actually go and experience those things for myself.
Want to see where the Tarnished Heroes series all began? Grab a complimentary copy of the short story Once Upon a Time in Mukdahan to see another place I got to visit and write about. (https://dl.bookfunnel.com/qiqridflgo)
It can never be said that NYT & USA Today Bestselling author Sidney Bristol has had a 'normal' life.  She is a recovering roller derby queen, former missionary, tattoo addict and board game enthusiast. She grew up in a motor-home on the US highways (with an occasional jaunt into Canada and Mexico), traveling the rodeo circuit with her parents. Sidney has lived abroad in both Russia and Thailand, working with children and teenagers. She now lives in Texas where she spends her time writing, reading, playing board games and catering to her furry overlords, aka the cats.
For more information please visit www.SidneyBristol.com
Keep reading for an excerpt from Traitor Games!
Lillian locked her front door and made a circuit of the living room, closing the blinds and pulling the curtains, shutting out the rest of the world. Sometimes she wished she could tune out, stop being involved, hide, but that would solve nothing.
Her stomach twisted and growled like a living thing.
Had she eaten today?
Cooking was out of the question. She was worn out, and still had so much to do, so something microwaveable it was.
Lillian unbuttoned her jacket and laid it over the back of the closest dining chair. She needed to check over the plans for work before her sister, Camilla, called, and after that chat Lillian could begin really working. If she got to bed before two it would be a good night.
She pulled the freezer door open and stared at the options.
"That pesto pasta thing is pretty good."
The sound of a voice, a male voice at that, in her home when she should be alone sent a surge of panic coursing through her veins. Lillian gasped and whirled, clutching the first dinner she could grasp to her chest.
A pair of blue eyes twinkled at her. The light glinted in his blond hair. He sat on the bar stool across from her, as though she'd walked past him and hadn't seen him. She was certain he hadn't been there a moment ago. Then again, Noah White did take great pleasure in being a pain in her ass. Kind of like the boys in grade school who used to pull her hair.
"Jesus. What are you doing here?" Lillian slammed the freezer door shut, equally angry with him and frustrated with herself. How had Jesse missed a whole person?
"Laundry. My washer is busted." A dimple creased his cheek on one side of his mouth. His very kissable mouth. The same one he used to say things that made her want to slap him. Most days she wanted to do both.
"That's what a Laundromat is for." She ripped the package open, taking her irritation out on the cardboard.
"But then I wouldn't get to see your pretty face."
His smile put her at ease, even when she knew she shouldn't allow him to lull her into a false sense of safety. It grated on her nerves, but she had to give him credit. He was damn good at his job if he could get her to trust him when she knew better. She dealt with liars on a daily basis. "You could just google me if that's what you wanted," she grumbled and crossed her arms over her chest.
"Nothing like seeing the real thing." He winked at her and damn if she didn't want to chuckle. He was good.
"Why are you here?" she asked again.
"I wanted to catch up. See what's going on." He spread his hands. "I'm totally out of the loop here."
Lillian stared at him.
He pointed at the microwave. "You know you have to press the 'start' button, right?"
She pivoted and jabbed the numbers. And pressed start.
She braced her hand on the counter and stared at him. "I'll ask you again—why are you here?"
He shrugged and leaned on the bar. "There are a lot of jobs coming down the pipeline. Curious what everyone is doing."
She returned his smile. "I don't know what you're talking about."
Noah wasn't on her roster. Yes, he'd helped save her best friend's life, but he wasn't part of their team. His call. She had offered. And that left her with questions.
He slid off the stool. "What kind of music do you like?"
"Noah."
He crossed into the living room. "I couldn't help but notice this really cool sound system you've got here. I'd love to give it a go."
She followed him as far as the arch. "I do not want you here, do you understand?"
More accurately, he would be a distraction. He'd tease her. She'd end up laughing even though she knew better.
"I've developed a real appreciation for dubstep. You listen to the stuff?"
She followed him across the living room. "Dub—what?"
"Dubstep." Noah grinned and mashed the buttons on the remote.
A throbbing beat set against the trilling sounds of an electronic synthesizer blared from the speakers.
Lillian clapped her hands over his ears. She growled her frustration at him, but the sound was drowned out by the godawful stuff he called music. How could he be so obnoxious, dangerous, and charming? It wasn't fair.
She tried to snatch the remote, but Noah grasped her wrist and stepped in close. The jovial smile was gone. He stared at her with all the feeling of a statue. Those sparkling eyes of his were bitterly cold, his fingers so tight they made her wrist ache and her little finger throb.
She froze, suddenly feeling like the rabbit caught in a trap. Noah was dangerous. She could never forget that.
"My handler wants me to kill you," he said just loud enough for her to hear over the music.
(C) Sidney Bristol, 2019
Tarnished Heroes #3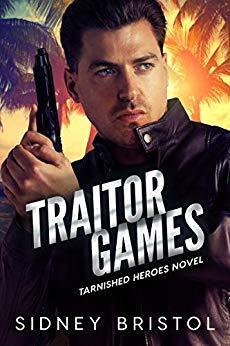 The latest installment in the Tarnished Heroes series from New York Times bestselling author Sidney Bristol.
Noah White has done a lot of bad things for the CIA, but this time they've crossed the line. He knows the kill order he's been given is a set-up and the intended target is another covert agent. They've finally found a line Noah won't cross. Not with her.
Lillian Matthews is living in the crosshairs and she knows it. While her friends are spread out over the globe gathering intelligence on a rogue covert agency, it's her job to keep them all connected. Only now she's the target. And her unlikely ally is the last man she'd expect.
Lillian will have to make the biggest sacrifice of her life, because Noah will stop at nothing to protect her.
Romance Military | Romance Suspense [Entangled: Amara, On Sale: July 22, 2019, e-Book, ISBN: 9781640637269 / eISBN: 9781640637269]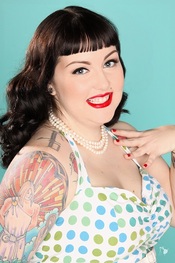 It can never be said that Sidney Bristol has had a 'normal' life. She is a recovering roller derby queen, former missionary, and tattoo addict. She grew up in a motor-home on the US highways (with an occasional jaunt into Canada and Mexico), traveling the rodeo circuit with her parents. Sidney has lived abroad in both Russia and Thailand, working with children and teenagers. She now lives in Texas where she splits her time between a job she loves, writing, reading and belly dancing.