By Debbie Wiley, Fresh Fiction Senior Reviewer 
I have been fascinated with crafts since my great aunt gave me a wooden knitting board and a macramé kit many years ago. Admittedly, I've never considered myself exceptionally talented, but the mere process of loom knitting can be very soothing, almost as soothing as reading a good book. There are a lot of great cozy mysteries out there about various crafts, anything from a custom teddy bear shop such as in BEAR WITNESS TO MURDER by Meg Macy, to glassmaking (including glass beads!) in Cheryl Holland's DOWN IN FLAMES. There's a little something for everyone when it comes to crafty cozy mysteries, but the ones featuring the fiber arts like knitting, crocheting, embroidery, and quilting appeal to me the most. Here are a couple great series to get you started!
KNOT ON HER LIFE, the latest in Mary Marks' Quilting Mystery series, makes me wish I had a quilting circle near me with people as patient with newcomers as the characters in the book. Martha Rose jumps in to help a neighbor with her foster child and finds herself in the middle of a murder investigation. Mary Marks gives quilting tips in every book and explains quite a bit about both the art and the history of quilting. She does a marvelous job of showing us how quilting unites generations of mainly women across time.
In that same vein, Sally Goldenbaum's Queen Bees Quilt Shop series focuses on a group of quilters who have developed a friendship through their craft. A THREAD OF DARKNESS features Po Paltrow and Kate Simpson as they try to help a friend accused of murdering his wife. Sally Goldenbaum also shows us how quilting can create bonds between diverse personalities. However, my favorite aspect is how we see quilting as art with a story to tell, and Sally Goldenbaum does this well. The Queen Bees Quilt Shop isn't Sally Goldenbaum's only fiber arts-related series, either, as she also writes the Seaside Knitters series that currently sits on my TBR pile.
Lea Wait tackles the art of embroidery in her Mainly Needlepoint series. The first book, TWISTED THREADS, focuses on Angie Curtis' homecoming and her introduction to her grandmother's needlepoint business. The business is in trouble when Angie first arrives, and I'm excited about the prospect of glomming this series. TWISTED THREADS starts each chapter with a historical snippet about embroidery and sewing, varying from quotes on samplers to historical facts to something from a Charles Dickens book. THREAD ON ARRIVAL just recently released, and the ninth book, THREAD AND BURIED, comes out in December so I've got some catching up to do!
DEATH BY DESIGN is Paula Darnell's second book in the DIY Diva Mystery series and begins with a pillow class. Laurel MacMillan teaches a class on various sewing and embroidery techniques for pillows and finds herself in the middle of a murder investigation when someone is smothered by one of the pillows created in her class. DEATH BY DESIGN is a little different from the other books in that it incorporates the sewing into a practical, albeit potentially beautiful, project. A pillow project is included with DEATH BY DESIGN.
Holly Quinn's A CRAFTER HOOKS A KILLER focuses on any crafter's dream store, Community Craft. Sammy Kane is running the store now, keeping her best friend's dream alive of a crafting community where people can shop, craft, or just drop in and chat about their various crafting pursuits. Various themed crafting events, including a Nancy Drew theme, are discussed and I wish such a place existed near me as I would love to visit such a welcoming environment. Sammy has a mystery to solve in the midst of everything, and I love how Holly Quinn pulls all the pieces together.
Many other cozy mysteries focus on crafts as I've only mentioned a few here. What are some of your favorites?
BOOKS MENTIONED IN THIS ARTICLE: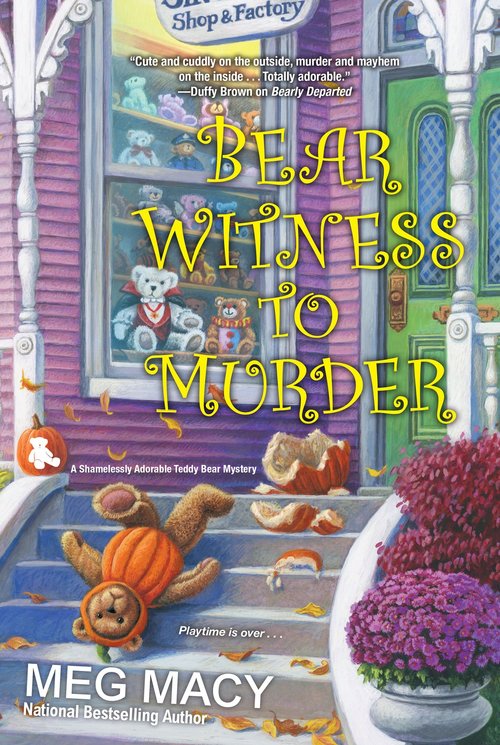 As autumn air settles into the quaint small town of Silver Hollow, there's nothing more popular than Sasha's teddy bears—and murder in cold blood . . .
Silver Bear Shop and Factory manager Sasha Silverman is cozying up to the fall season by hosting Silver Hollow's Cranbeary Tea Party, the opening event of the village's Oktobear Fest—a too-cute celebration themed around teddy bears. She barely has a moment to agonize over the return of her former high school rival, Holly Parker, whose new toy and bookstore in town could spell big trouble for the Silver Bear Shop and her cousin's small bookstore . . .
But when Sasha discovers Holly's shop assistant dead with a knife plunged in her body, the unpleasant woman suddenly looks like a real backstabber. So does Sasha's ex-husband, rumored to have rekindled the fiery extramarital affair he once had with the victim. Now, before a gruesome homicide case takes the fun out of both the Fest and her personal life, Sasha must identify the true culprit from a daunting suspect list—or risk becoming as lifeless as one of her stuffed bears . . .
Mystery Cozy [Kensington, On Sale: May 29, 2018, Paperback / e-Book, ISBN: 9781496709653 / eISBN: 9781496709653]

Teddy bears, murder, and a whole host of suspects!