In the Second Chance Cat mysteries Sarah Grayson owns a re-purpose shop, Second Chance. Sarah likes finding treasures for her store, sometimes giving things a whole new life. That's something we have in common. I like thrift stores, flea markets, second hand shops and consignment stores. And it's not just about saving money, although I am known for being well…frugal. For me, it really is like going on a treasure hunt. I never know what I'm going to find. And to make it more likely I'll end up with a treasure and not a lump of coal I have some rules I try to follow.
If it can't be washed, don't buy it.
Anything that can't go in my washing machine or my basement sink with lots of hot water and soap stays at the store. My art table (solid top, solid legs) was wiped off before it went in the trunk of my car and stayed in the back yard until it could be scrubbed top to bottom. (Did I mention I'm a little germaphobic?)
Check everything.
Look over every seam for tears, every hem, cuff and collar for wear. Make sure the zipper works. Check for pills and holes in the fabric. It's nice if a shirt or sweater has all of its buttons but not essential. Buttons can be replaced very inexpensively. I bought a shirt once just to get the flower buttons to put on something else.
If the legs on a table are loose can they be glued or tightened? Are there any chips around the lip of a mug or a casserole dish? Is the glass cracked in that picture frame? A quick check in the store can save a lot of frustration later.
Carry a measuring tape
Will that table fit in your trunk or make it down the basement stairs? I missed the first art table I saw because I wasn't sure it would fit in the corner in my office.
Not every thrift store has changing rooms and you may not want to try something on before you've washed it. Plus a size 10 by one manufacturer may not be the same as a size 10 from another. Measure your best fitting pieces of clothing—pants, skirt, shirt—and use those measurements as a guide when you're shopping.
Know your dirt.
It would be nice if everyone made sure what is set out for a yard sale or sent to a thrift shop is freshly washed. And most people do. But sometimes you'll find just what you want is a little grubby. Take a close look at the dirt. Is it just dirt? Not something greasy? Plain dirt is easy to deal with. My first line of attack is generally an old-fashioned scrub brush and some elbow grease.
I do know several thrifters who use everything from spray stain removers, to dish washer detergent, to a bar of yellow laundry soap with at least some success on clothes.
Give back.
Think about your local Salvation Army store, Goodwill, church or charity next time you have a pile of things you're not using. Please make sure everything is clean and works. Clothing should be gently worn. That means those yoga pants with the baggy knees and the paint stains go in the garbage, but the green sweater you never wore because it makes you look like your liver is failing might look great on someone else. Someone like me.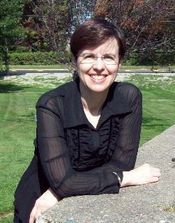 Sofie Ryan is the pseudonym of young adult writer and mixed-media artist, Darlene Ryan. Sofie/Darlene lives on the east coast with her husband and daughter. In her spare time she practices Wu style tai chi and likes to prowl around thrift stores. And she admits to having a small crush on Matt Lauer.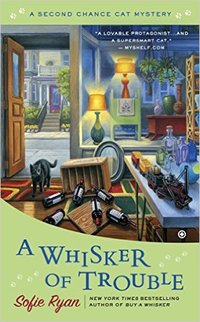 Spring has come to charming North Harbor, Maine, and with the new season comes a new haul for Second Chance, the shop where Sarah Grayson sells lovingly refurbished and repurposed items. Sarah is turning her keen eye to the estate of collector Edison Hall, hoping for fabulous finds for Second Chance—but when her rescue cat Elvis discovers a body in the kitchen, everything goes paws up.
The body belongs to an appraiser who had been hired to check out Edison's wine collection. When Edison's sister shows up at Second Chance, she hires Sarah's friends—the kooky and charismatic trio of ladies who call themselves Charlotte's Angels and work out of the shop—to solve the murder, Sarah knows she and Elvis are only going to get deeper into the case. But as it becomes a cat and mouse game of lies, cons, cheats, and family squabbles, can Elvis and Sarah claw their way to the truth before the killer slinks away forever?