REDEMPTION.
The dictionary defines it as "atonement for guilt; deliverance from sin."  That somehow seems an appropriate way to describe Jesse Bradford's challenge in STRONGER THAN SIN.
Can Jesse redeem himself for his past actions?  Is love powerful enough motivation for Jesse to become a better man?
In STRONGER THAN SIN, Jesse's sinful ways came about as a result of his losing his way to the cult of celebrity after becoming a superstar football player.  Sadly, this is something with which we can all identify since it seems that all too often we hear a news report about a professional athlete who has gotten in trouble.
Despite his faults, however, Jesse is a man capable of great love who just needs to find the hero within him once more.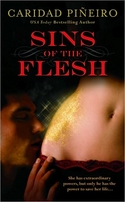 From the moment that Mick's sister, Dr. Liliana Carrera, walked onto the scene in SINS OF THE FLESH, I knew she had to get her own story. I fell in love with her caring, loyalty to her brother and her inner strength. There was no doubt in my mind that any story where she was the heroine would be emotionally compelling and filled with passion.  And there was no doubt in my mind she was the perfect woman for Jesse.
Thanks to Liliana's compassion, strength and love, Jesse is able to become a better man.  An honorable, loving man who cherishes family and respects women.  A man who redeems himself by his willingness to sacrifice himself for his family and Liliana, the woman he has come to love.
It was a treat for me to create this story of redemption in STRONGER THAN SIN and I hope you will love Jesse and Liliana as much as I did.