2013—Not Just Another Year
by NYT Bestseller Dianna Love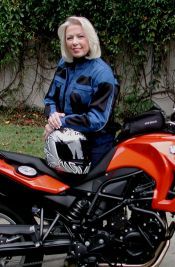 Do you start a new year anticipating big things, changes or new directions only to find by the end that you've just checked off another year with nothing remarkable that happened for you personally?
Some years back, I decided that it shouldn't have to be that way, and came up with a method to keep myself focused and move those changes I was after from dreams to reality.  As an example,  I'll share what I did to make 2013 different.
I'm constantly in motion, so my world moves along quickly because of me more than anything else, because I like to be busy and productive.  But I wanted to do even more in 2012.  In particular, I wanted to write more.  That meant I had to make changes in my schedule since I tend to be on the road a LOT every year.
Change doesn't happen by accident, especially when we have busy lives.  We have to be willing to give up something to get what we want.
To write more and to spend time with my very supportive husband, I had to say "no" to speaking invitations, even when I very much wanted to attend those events.  I love to meet readers and new writers, and am flattered to be invited, but traveling takes a toll on my energy.  I missed attending some conferences and events I would've really enjoyed, but the result of spending much of 2012 at home was surprising.
I made two motorcycle trips with my husband.  Seeing dust on my motorcycle inspired me to get it out of the garage, and the rides really fed my muse.  It gave my mind and creativity room to breathe and sparked all kinds of new ideas, plus it was great for research, since we rode through several of the spots where my books are set.
I got back in the gym – one hour every other day that is all mine.
I saw friends I'd missed seeing for a while.
I wrote. Boy, did I write.  I have four romantic thrillers coming out in 9 months . The first one – LAST CHANCE TO RUN – came out in Dec 2012 and the next one – NOWHERE SAFE – is coming out in Feb 2013 as the first Slye Temp book.
I also got to focus on a fun new collaboration– a new mainstream thriller series  – co-written with former NBC anchor Wes Sarginson.
Wes and I had been working on this idea for a couple of years, but because of my crazy schedule, we weren't able to get it ready for release.  As a result of cutting back on my travel, I was able to put time into finishing the first book. In fact, the series launches this month.  JUSTIFIABLE, book one of the Riley Walker Novels was officially released on January 3rd.
Because I book my schedule so far in advance, I started planning these life and schedule changes back in 2011, which allowed me to meet goals for 2012 that will make my 2013 different.   I'm really excited as I begin this year and now, I'll be going back out on the road a little more.  I'll be attending a lot of reader events this year, starting in February and running through November when Sherrilyn Kenyon and I return to one of my all time favorite events – Fresh Fiction's Readers & 'ritas in Allen, Texas (Dallas).  For my entire schedule, visit my Appearances Page at www.AuthorDiannaLove.com or sign up for my newsletter that I send out quarterly with updates.
You can do it, too.  You can make 2013 a year to remember by deciding on at least one thing you want to do for YOU and carving out the time to do it. Look at your schedule and ask yourself, "What is not as important as this one thing that means a lot to me?" Figure out that one thing you want to do and make the change.   Don't let this year fly by without grabbing something special for yourself.
Join me in making 2013 the best year ever—the year we go after what we want.
What is one thing that you would enjoy doing this year for an hour, a day, a week…whenever?