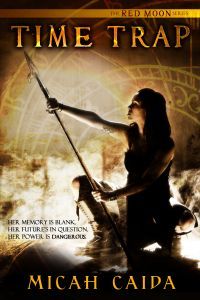 Red Moon #1
Silver Hawk Press
February 2013
On Sale: January 23, 2013
332 pages
ISBN: 098860793X
EAN: 9780988607934
Kindle: B00B4IZATS
Paperback / e-Book
Is Déjà vu real or not?
Have you ever experienced déjà vu?  It's a French expression that translates as "already seen."
If you're not familiar with the term, it's when you suddenly have that sense that,  "holy smokes, this has happened before, exactly like this."When it happens, it always throws me off kilter.
I have this recurring vision where I'm standing on the street corner in Chicago back in the 1930s.
In this vision, I'm about 22 or 23, and I can see my short hair and the clothes and hat I'm wearing.I have the feeling I was on the way to work in a light brown gabardine dress, the shirt type that buttoned up the front and had a belt. My hat was a similar color and I wore it canted just off center.This vision has come to me many times.  It's always left me with the strong sense that I was close to the end of my life at that time.  Like maybe I would die or be killed soon after that.
Some people say déjà vu is a memory from a past life. Could that be what this is?
Related to this, I remember that as a young child, cars had never mattered to me one way or the other.  They were just a way of getting around.  But even as a little girl, I was always drawn to Dodges and Chryslers from the 1930s.  I had no idea what era those cars were from, but any time I saw an antique car from that time, I was drawn to it.
My mom told me I once described a place near where she grew up—an area that I had never visited and she'd never told me about.  She'd forgotten about it over the years, but when I described it, she immediately recognized the location.
I think my mom accepted the strange things that happened around me much better than anyone else in the family.  I was always talking about things before they happened…until I realized the people around me were looking at me as if I'd dropped out of an alien spaceship.
Other people say déjà vu is an experience you will have—but have not had yet—from the future.
When I first heard the idea that we could "experience" something from the future—something that has not happened yet–that was the seed of the idea for the Red Moon series.
I wondered what it would be like to wake up in present day, but for it to be strange– at times familiar and at times completely foreign.  That's what happens to Rayen when she comes awake in TIME TRAP, rolling forward in the middle of a desert where she doesn't know who she is or why a shape-shifting beast is chasing her.
Time Trap is book one in my new young adult series.  Early readers had one similar comment about the story.  They said, "This is like nothing I've ever read before."
Have you ever experienced Déjà vu?
What do you think it is?  A moment where the brain hesitates—basically a glitch in the human mind and experience (that's what scientists say).
Or do you think it's something more?  A memory from the past? A foretelling of the future?
TIME TRAP is available now in e-book and print.  To read an excerpt, go to http://www.MicahCaida.com
Leave a comment.  Tell me what you think of my story, and about Déjà vu.