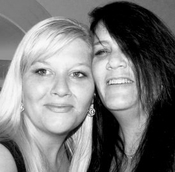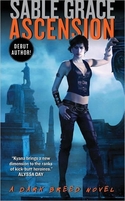 With her "different and unique perspective" (Romantic Times May 2011), debut author Sable Grace takes the paranormal/urban fantasy world by storm in ASCENSION. In the same vein as Jeaniene Frost, Grace delivers a fierce heroine who is called upon to save the world from an evil force. In ASCENSION, Dark Breeds war with mortals, a colossal battle rages between the gods, and two proud beings ache for each other.
For two hundred years–since her nightmare days in a Sultan's harem, Kyana has straddled two worlds. Mercifully "turned" by a stranger, she's half-Vampyre, half-Lychen–the last of her kind–with no love for the mortal race that once imprisoned her. But the Order of the Ancients fears humanity's annihilation is at hand, and entrusts Kyana with a mission: find the mythical key that will seal the realm of Hades for eternity…whatever the cost.
Kyana is furious to learn her mission comes with an escort: Ryker, a demigod and fierce warrior who long ago found a way under her skin and stayed there. In a shaky alliance, they discover an ancient cult with dangerous motives and a god who seeks to destroy all others. As Kyana begins to feel the heat that threatens to bind her to Ryker, she resists. For it could only mean the undoing of them both now that a traitor walks among the gods.
"Kyana brings a new dimension to the ranks of kick-ass heroines; she's a tough girl with humor and heart, and I'm looking forward to more of her adventures."
— Alyssa Day, New York Times bestselling author
ABOUT THE AUTHOR
Sable Grace is the writing team of Heather Waters & Laura Barone, long time critique partners and friends who came together by fluke to discover their voices fit together quite nicely during a writing experiment. The story became far too interesting to put down and Sable Grace was born. Both Heather and Laura reside in Florida, are happily married to their real life heroes, and are, well, complete opposites. Still, there's enough common ground for them to weave their words together in the voice of Sable Grace. You can reach them both at [email protected] or visit their website at www.sablegrace.com