Shhh… Don't tell anyone, but writing has not been a life-long dream of mine. Oh sure, I wrote some in high school and loved it, but that was high school and I was pretty much forced to do it. No one really encouraged me to continue. But one day, not too many years ago, I began to wonder if I could write my own book. The following authors not only inspired me to try, they taught me a lot just by reading their awesome books.
1) Stephenie Meyer. Without her Twilight series (which I read four times!), I don't know if I'd be writing today. Heck, I didn't even know paranormal romance existed before that. Good vampires? It was crazy talk. But my daughter gave me that first book and I was hooked. Hooked so badly, I finally got over my fear and started to write my own paranormal romance. I not only found my passion in life, a new career was born.
2) Lynsay Sands. Once you discover one paranormal romance author, you tend to search for more. My search led me to Lynsay Sands and the Argeneau Vampire series. I love the humor and try my best to put a little bit of that in my own books.
3) J.R. Ward. My daughter also introduced me to her books. Since I was "late" to the paranormal romance craze, I think there were already six books out in the Black Dagger Brotherhood series before I was handed the first one. And then I blew through those first six books in no time flat. I love the writing. I love the world. She motivates me to create a world just as great.
4) Meg Gardiner. She doesn't write paranormal or romance, but man, are her books addicting. You just can't put them down, the pacing is madness! And it's something I strive for. Funny way I found her, though. Stephen King (another favorite author of mine) raved about one of her books in an article in Entertainment Weekly. I recognized her name because I went to high school with a Meg Gardiner, but surely she was a different person. Color me shocked when I discovered they were one and the same! I may have bought her first book because of that connection, but I bought the rest because I just love them so much.
5) Allison Brennan. Meeting her at RWA Nationals in 2011 was the highlight of the conference for me. I love her work ethics. I love the way she helps other authors. And I love the way she writes. I've learned through her how to do suspense well. At least I hope I have.
So… Do you have a secret desire to write, too? Or are you happy enough just to read? One lucky commenter will win an e-copy of GHOSTLY LIAISON, book 1 of the Ghostly Encounters series.
New release: GHOSTLY INTERLUDE, book 2 of the Ghostly Encounters series.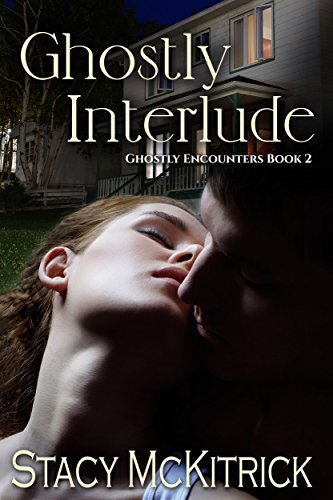 Maggie Russell—legal assistant by day, horror writer by night—gets the scare of her life when she wakes up in a strange café without any idea of how she got there. But if she tells anyone about her sleepwalking escapades, she could lose her grandmother's house, and she'd fought so hard to keep it.
Dean Parker is a private investigator whose office is next door to Maggie's law firm. He's been eyeing the pretty brunette ever since she started working there, but getting involved with anyone isn't in his game plan. When he finds out she's been having sleeping problems, he suspects her money-grubbing cousin is involved. Instead, he discovers something worse: a ghost is living with Maggie and it appears another may be possessing her.
Dean is determined to help Maggie rid her home of the uninvited guests. He just never figured his attraction to her would be reciprocated. Keeping his distance is no longer an option, though. If he fails, Maggie could very well be possessed forever.
Romance Paranormal [Mystical Press, On Sale: February 27, 2018, e-Book, ISBN: 9781370817047 / ]
Stacy McKitrick fell in love with paranormal romance, decided to write her own, and found her passion in life. She used to work in accounting, now she spends her time with vampires and ghosts, and is the author of the Bitten by Love and the Ghostly Encounters series. Born in California, she currently resides in Ohio with her husband.