There's something about the cold and gloom of winter that makes it the perfect time to snuggle up by the fire or the heater with a hot beverage and a novel about "the Dark Ages." Far enough from the present to be wrapped in myth and mystery, the extent record of events sketchy enough to allow inventive novelists much room to spin stories, the medieval period is full of fascinating, larger-than-life characters. Along with a queen, the A-named heroines of the books we'll look at today are lesser figures who play their parts on the same grand stage as their more famous contemporaries.
We begin with THE CANTERBURY PAPERS by Judith Koll Healey. Our heroine is well-known to followers of the Eleanor of Aquitaine/Henry II saga–Alaïs, sister of the king of France who is sent to England as a child as Eleanor's ward, intended to become the bride of the Prince of Wales—but becoming instead the mistress of Eleanor's husband, King Henry. This novel skips over that well-known triangle to pick up Alais's story years later, after she has returned to the court of France. She receives an unexpected summons from Aquitaine, where the aging former Queen of England has taken refuge after her estranged son John seizes the throne. Eleanor promises to give Alais information she desperately wants if Alais will go to England and retrieve for her a packet of letters Eleanor has hidden inside the Cathedral of Canterbury. Taking with her only a few trusted knights, Alais undertakes the mission, fighting abductors and the intrigues of several different courts along the way. Filled with compelling descriptions of castles, cathedrals, Knights Templar and the famously dysfunctional Plantagenets, Healey's novel provides a richly-detailed and interesting take on a well-known historical figure.
Alais Capet #1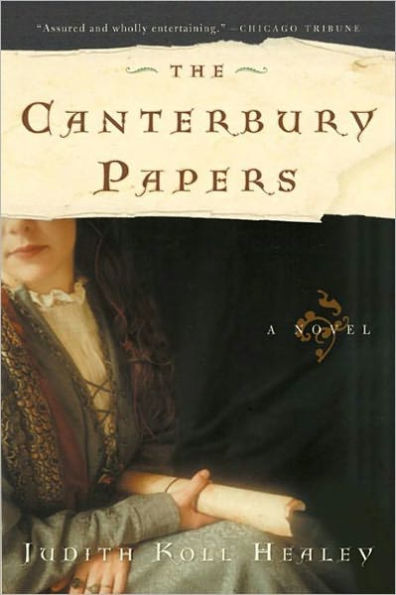 Filled with intrigue and peopled with compelling legendary figures.
The only thing I felt was a strong hand around my neck, another around my waist, and — before I could cry out — I smelled the thick, sweet scent of a mandrake-soaked cloth. Unforgiving hands clapped it against my face, and all went dark.
Alaïs, the king of France's sister, is abducted while on her mission for the wily Eleanor of Aquitaine, the former Queen of England, to retrieve hidden letters that, in the wrong hands, could bring down the English king. In exchange, the French princess was to receive long-heldand dangerous information. Now Alaïs, along with help from the very intriguing leader of the Knights Templar, must unravel a tangled web of family secrets and lies.
Mystery Historical | Mystery Woman Sleuth [Harper, On Sale: January 1, 2005, Paperback / e-Book, ISBN: 9780060773328 / eISBN: 9780062196804]
For those fascinated by the intrepid Alais, Healy provides another story of her adventures in THE REBEL PRINCESS. This time, it is her brother, King Phillippe of France, who asks her aid in ferreting out what is going on at the court of his cousin and rival king in Toulouse. With Phillippe caught up in the on-going religious wars, her aunt having disappeared, and against the wishes of her betrothed, William, Alais rides to Toulouse, once again braving peril as she uncovers a scheme to change the political landscape of France.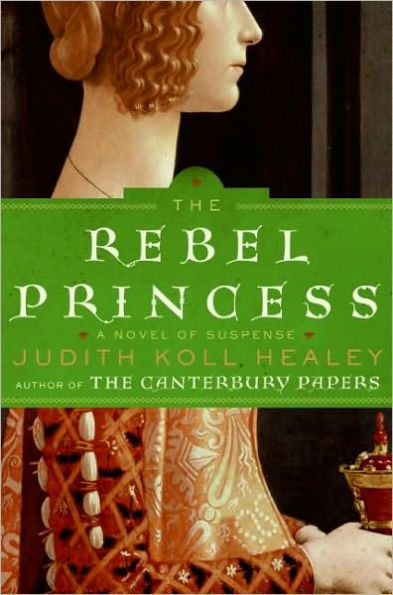 Alaïs, the spirited and indomitable princess of France, returns for another thrilling adventure in this historically rich, mesmerizing sequel to The Canterbury Papers
When I settled back among the velvet cushions, the scenes from the cathedral replayed themselves before my unwilling eyes: the odd chalice, the way Constance looked at it, the interruption of Mass by the armed knights, the strange response of Chastellain to the king's inquiry.

A whisper within me matched the clap-clap of the horses' hooves on the stones of the Paris road: There is more here; there is more here.
Paris, October 1207. There is nothing that Princess Alaïs of France wants more than to settle down with her lover, William of Caen, and to reveal to his ward, Francis, that she is his mother.
But intrigue is afoot in the palace: two monks have arrived from Rome on a mission to compel her brother, Philippe, the king, to help them battle a dangerous breakaway Christian sect in the south known as the Cathars. At the same time, Alaïs's aunt, the dowager countess Constance of Toulouse, is causing trouble in court, and Etienne Chastellain, the king's chief official, appears to be up to something more sinister than usual.
Tensions are pushed to the brink when the St. John Cup, a relic much prized by the Cathars, is stolen, and then young Francis goes missing. Frantic for his safety, Alaïs will risk life and limb to find the boy. Donning a disguise, the royal princess must outwit cunning enemies and make her way into unfamiliar territory to save her son, and perhaps even prevent her beloved France from a bloody holy war.
From the opulent halls of Paris to austere monasteries in the south of France, The Rebel Princess combines history and suspense in an unforgettable tale involving one of the most enigmatic and intriguing female figures in medieval history.
Mystery Historical | Mystery Woman Sleuth [William Morrow, On Sale: July 1, 2009, Hardcover / e-Book, ISBN: 9780061673566 / eISBN: 9780061891632]
We now turn to veteran novelist Pamela Kaufman, who presents another heroine from the world of Eleanor, Henry and Richard the Lionheart. Daughter of a English border baron, Alix of Wanthwaite's family is killed in a Scottish raid, forcing her to flee her home. Her only hope of reclaiming her heritage is to appeal to the king. Disguising herself as a boy, the intrepid Alix sets off for London. She arrives to discover that Henry has died and the new king, Richard, is in France, preparing to go on Crusade. Undeterred, accompanied by Enoch, a young Scotsman bound for the University of Paris she met on the road to London, she sets out to join Richard's Crusade. She succeeds in becoming Richard's favorite page—facing both the dangers of the battle for Jerusalem and the rumors of Richard's preference for pretty young men.
The adventures of Alix continue in BANNERS OF GOLD. With her husband Enoch off at war, Alix is alone at Wanthwaite when a messenger arrives, recruiting her to serve as one of the nobles whose lives will be collateral for the ransom of King Richard, who has been captured. But she finds herself instead delivered to Queen Eleanor of Aquitaine, who has quite different plans for her. With Richard estranged from his Spanish wife Berengaria, both the Queen—and Richard—want his former favorite page to become his mistress and produce the Plantagenet heir Eleanor wants so badly. Fleeing this honor across Europe, Alix is pursued by both Richard's angry Queen and his angry mother, finding refuge in a nunnery and with a wily healer.
The trilogy concludes with THE PRINCE OF POISON. Escaping Europe, Alix returns home, only to find that her husband and true love, Enoch, thinking her dead, has remarried. If that weren't bad enough, Richard has died and his brother John, now king, believes that the child Alix carries was sired by Richard—and is therefore the rightful heir to the throne. Marked for death by King John, Alix and her new son Theo call on the assistance of the powerful friends to safeguard their lives—and find her way back to Enoch.
We round out this collection of novels with Kaufman's THE BOOK OF ELEANOR, a "novel" look at one of our stage's central characters—Eleanor (Alienor) herself. Most novels (and history) present Henry II as her greatest passion, but Kaufman's story, an "autobiography" narrated by Eleanor during her imprisonment by Henry after she tried to have his sons overthrow him, names a different man as the love of her life—her cousin, Geoffrey III of Rancon. Left after the death of her father, the Duke of Aquitaine, as the wealthiest heiress in Europe, Eleanor wants to wed Rancon, but political forces compel her to marry instead the aging King of France. However, she manages to get Rancon to serve as her army commander when she accompanies Louis on crusade. After the pope agrees to annul that marriage, Eleanor once again plans to wed Rancon, but is kidnapped by the ambitious Henry of Normandy, who seeks her lands and wealth in his successful bid to become King of England. Peopled with all the great figures of the age, from King Louis VII to Abbot Sugar, encompassing battles, international politics, court intrigue, and the struggle between two powerful, strong-willed people, this tale told by Eleanor presents a new perspective on a well-documented life.
Ready to delve into the passion and intrigue of our three wily women? Grab your mug, light the fire, settle into your chair and prepare to be transported!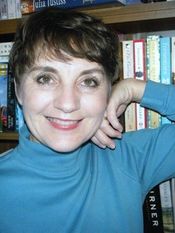 Real, intense, passionate historical romance
After twelve years as a vagabond Navy wife, an adventure that took her from Virginia Beach, VA, to Monterrey, CA, to Tunis, Tunisia to Oslo, Norway and back, Julia Justiss followed her husband to his family's East Texas homeland. On a hill above a pond with a view of pasture land, they built an English Georgian-style home. Sitting at her desk there, if she ignores the summer heat, she can almost imagine herself in Jane Austen's Regency England.
In between teaching high school French and making jaunts to visit her three children (a Seabee in Gulfport, MS, a clothing buyer in Houston and a mechanical engineer in Austin, TX) she pursues her first love—writing historical fiction.
Series: Regency Silk & Scandal | Hadley's Hellions | Ransleigh Rogues
The courtesan's courtship
Pursuing a role in Parliament, Christopher Lattimar needs a virtuous marriage to make society overlook his roguish past. When beautiful and disarming Ellie Parmenter offers to reform and refine him, he's too tempted to say no.
Once a courtesan, Ellie knows a thing or two about polishing a diamond in the rough. She has no designs on Christopher—or any man in search of a wife—but their best- laid plans begin to tumble once lessons in respectability turn to seduction…
Hadley's Hellions
Four friends united by power, privilege and the daring pursuit of passion!
Romance Historical [Harlequin Historical Romance, On Sale: September 1, 2017, e-Book, ISBN: 9781488021695 / eISBN: 9781488021695]