"How silly you are," Nicolas murmured, surprised at the measure of amusement he felt. She wanted him to kiss her. Flicking his eyes over the ridiculous list once more, he amended that: she wanted him to ruin her.
Ah yes, he recalled that the next plan she'd been about to discuss with her brother was how to escape a marriage. With a low chuckle, Nicolas replaced the note in his pocket and left the study.
He took his time walking down the hallway, hugging to the shadows so that he remained unidentified to the few guests he passed in the hallway. At the wide-open doors that led to the ballroom, he paused, keeping to the edge and scanning the room. There. It did not take long at all for him to find her.
She stood with a group of young ladies on the sidelines, speaking with animation. It was clearly a habit of hers to push her spectacles up the bridge of her nose, but such a charming one. She must have been out in society for some time now, yet he had never seen her before.
If not for her returning to the garden with that shovel, perhaps she would not have attracted his attention beyond their unusual encounter. A nameless face in the crush of a ball, or someone he might walk past in the shopping district. And he wouldn't have taken a second glance.
Now that something about her had captured his regard, Nicolas had an odd sense that he might never unsee her, that she would be a prickly thorn in his side he might never be able to dislodge.
She lifted her chin and with uncanny perception stared right back at him. It was impossible for her to see him in the darkness of the doorway, yet she stared as if she could. For a brief moment, he stepped into the light and her eyes widened, her hands fluttering to her throat. A delicate and protective gesture.
Even with the distance, it felt as if something shifted in the air between them.
They stared at each other across the expanse of the ballroom. Her gaze seemed to linger on his mask, and from where he stood, he discerned the curiosity of her mien. She wanted to know his identity. He offered her a short, mocking bow, not understanding what possessed him.
Liar. Nicolas wanted her to know that he knew her identity.
A smile curved her lips, and he spied the unusual beauty of it, and that it held a dare. But a dare to do what?
Then she lifted her chin, hauteur and confidence settling over her like a second skin, and she returned a mocking curtsy. So bold, yet so wonderfully oblivious to the dangers of a man such as himself. Something primal in his gut stirred, a direct response to that unique defiance peeking back at him.
Three of her friends turned around, no doubt wondering to whom she bowed. Before their gazes could narrow in on him, Nicolas was back in the shadows, melting away from the ball and the unusual temptation of a wallflower.
Be careful what you wish for, Lady Maryann, for I am of a mind to be wicked with you, too.
Excerpted from Her Wicked Marquess, by Stacy Reid. Entangled Publishing, 2020. Reprinted with permission.
***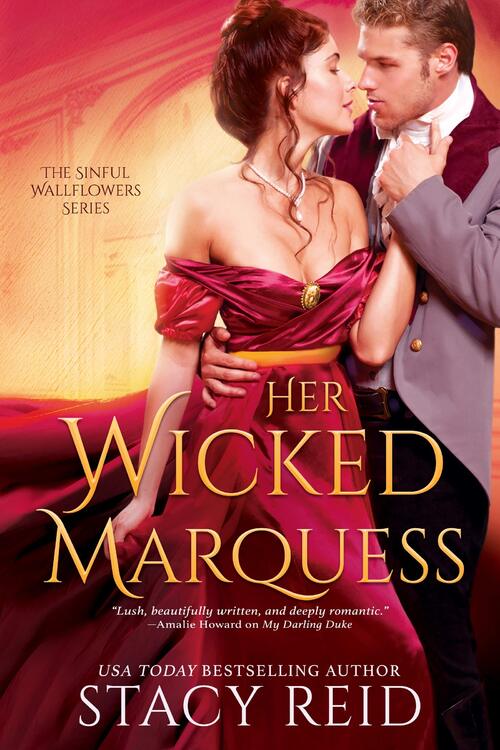 Miss Maryann FitzWilliam is too witty and bookish for her own good. No gentleman of the ton will marry her, so her parents arrange for her to wed a man old enough to be her father. But Maryann is ready to use those wits to turn herself into a sinful wallflower.
When the scandal sheet reports a sighting of Nicolas Ives climbing out the chamber windows of a house party, Maryann does the unthinkable. She anonymously claims that the bedchamber belonged to none other than Miss FitzWilliam, tarnishing her own reputation—and chances of the dastardly union her family secured for her. Now she just needs to convince the marquess to keep his silence.
Nicholas Ives, Marquess of Rothbury has purposefully cultivated a reputation as the most ruthless, unprincipled libertine, all so he can slip beneath the guards of those whose vile actions caused him to lose the only girl he's ever loved. Despite his intrigue, Nicolas is determined to ignore the deceitful and enticing Miss FitzWilliam. However, his enemies are drawing close, and he soon discovers he must keep her closer to protect her. Nonetheless, she rouses a soul-burning passion within him, causing him to question who will protect her from his devilish wiles.
Romance Historical [Entangled: Amara, On Sale: December 29, 2020, Paperback / e-Book, ISBN: 9781682815199 / eISBN: 9781682815205]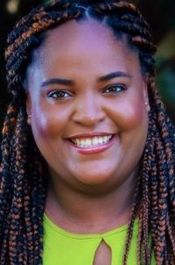 Stacy is an avid reader of novels with a deep passion for writing. She especially loves romance and adores writing about people falling in love. Stacy lives a lot in the worlds she creates and actively speaks to her characters (out loud). She has a warrior way, never give up on her dreams. When Stacy is not writing, she spends a copious amount of time drooling over Rick Grimes from Walking Dead, watching Japanese anime and playing video games with her love, Dusean Nelson.