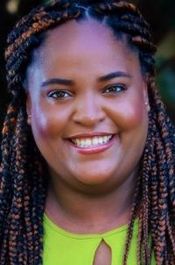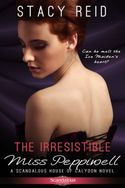 "You captivate me. I admire your thirst for adventure…your joy for freedom, your vivacity. I want you because you rouse me as no other woman has done in years, if ever. And I want to burn in the passion I see beneath your cool gaze, a passion I suspect will satiate my every need. I want to see you bound to my bed with silken ropes as I spank you, fulfilling your every dark fantasy. Then I want to ride you hard and deep, until neither of us can move for spending."
These are the words that my hero Lord Anthony Thornton whispered to Miss Phillipa Peppiwell in a moonlit enclosed garden at the Countess of Blade's midnight ball in my latest release THE IRRESISTIBLE MISS PEPPIWELL. Anthony is a charming, sweet, and an honorable rogue who has some edgier sexual needs, one that he felt free to pursue with the tantalizing Miss Peppiwell because he felt he had finally met his match in a woman as passionate, sensual, and scandalous as himself.
Anthony is an eclectic reader and he possesses a collection of naughty erotic books in his library which he reads and shares with his lovely Miss Peppiwell on their adventure of love. In his collection are most of the classical erotica written originally in Greek and Latin, and the bawdier naughty novels of the late Victorian era. These novels were highly improper and scandalous and most were bought and devoured clandestinely. Here are some of Anthony's favorites!
MEMOIRS FOR A WOMAN OF PLEASURE (popularly known as FANNY HILL) is an erotic novel by English novelist John Cleland, first published in London in 1748. It details the life of a now married Fanny Hill, who now in possession of wealth, joy and respectability, looks back at her early life & disreputable adventures. Cleland and his publisher were arrested and charged with "corrupting the King's subjects." The book, though, was highly popular in Victorian times.
THE TALE OF TWO LOVERS written in 1444 by Aeneas Sylvius Piccolomini before he became Pope Pius II, is full of scandalous and tantalizing erotic imagery. Lord Anthony has a very rare first edition on his bookshelf!
THE FORTUNES AND MISFORTUNES OF THE FAMOUS MOLL FLANDERS (commonly known simply as MOLL FLANDERS) is a novel by Daniel Defoe, first published in 1722. It purports to be the true account of the life of Moll, detailing her exploits from birth until old age. Lord Anthony reads this book for more than its exoticness, but because it showcases the strength of a woman who went through hell to survive in a harsh world.
THE ROMANCE OF LUST is an unabashed classic erotic drama, it is considered by critics to be an unparalleled and wholly satisfying reading experience and it was first published anonymously in 1873. Gifted to Lord Anthony by his friend the Earl of Calvert on his Twenty second birthday! Lord Anthony devoured this tale of lust and love while on his Grand Tour.
CRUISING UNDER FALSE COLORS, a Tale of Love and Lust.
A young man disguised as a nun entered a convent and suffice it to say fun ensued. It was purchased by Lord Anthony on a whim and he has not regretted. In fact, he gifted his brother, Sebastian Thornton, the Duke of Calydon a copy on his 30th birthday much to the Duke's chagrin.
VENUS IN FURS is shockingly provocative and one of Lord Anthony's favourite classics.
PHILOSOPHY IN THE BOUDOIR, OR THE IMMORAL MENTORS, by Marquis de Sade. Anthony's thoughts whenever he reads this! Shocking, delightful, evocative….and shocking again.
THE LUSTFUL TURK. Lord Anthony was quite shocked when his staid brother the Duke gifted him this copy saying he thought he would enjoy such a sensual and depraved tale…and the Duke actually had a twinkle in his eyes!
THE KAMA SUTRA. The first and only book so far Lord Anthony has read to his Miss Peppiwell. He has much fun, curled before the fire in his library with her head pillowed on his chest, while they explore the images together and he translates for her. It would only be the following year he procured the English translation so his intrepid love can read for herself! They have had many steamy nights together exploring this particular text!
Hope you enjoyed the peek at Lord Anthony's erotic collection. I have added them to my to be read shelf for I am more than intrigued to know what captivated him!
To comment on Stacy Reid's blog please click here.
Leave a comment about Lord Anthony's erotic colleciton (or your own) and be
entered to win a copy of Stacy Reid's novella, THE DUKE'S SHOTGUN WEDDING.
And buy your copy of THE
IRRESISTIBLE MISS PEPPIWELL today!