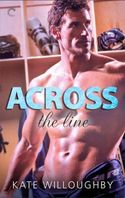 When I began writing hockey romances, I discovered that NHL players love to play pranks on each other. For instance, here's a video showing Patrick Sharp and Adam Burish ordering an unwanted breakfast for two of their fellow Blackhawks. Some might find these type of hijinks immature, but I find them amusingly endearing.
Like Sharp and Burish, my hockey players are intense competitors who train and play hard, but I like to balance that by showing their playful side, like in this scene from my book ACROSS THE LINE, book two from the In the Zone series. Calder Griffin has enlisted the help of his teammates to play a trick on one of the rookies…
"Okay, guys. Listen up," Mac said, turning to face everyone like a flight attendant. "It's time to give Fishy the tie."

Calder and Mac hadn't been able to give a heads-up to everyone about the prank, but the guys all knew Mac. When he said or did something crazy like this, he was up to something, and unless you wanted to be on the butt end of his next joke, you went along with it. Plus, it was always funnier to see the thing played out to its conclusion.

Rookie Ryan Fischer looked up. "Give me what tie?"

"This tie." With a flick of the wrist, Mac unfurled the orange tie with the goalie masks all over it. Calder had roughed it up a little so it didn't look brand new.

Fischer didn't say anything. He didn't reach for it either. Calder didn't blame him. It looked like an accessory for a Halloween costume.

"This tie is no ordinary tie," Mac said. "Do you know whose tie this is, kid? It's the great Kurt Wolfheim's tie."

Hall of Famer Kurt Wolfheim was one of the original Barracudas from back in 1967 when the league expanded. He was the first Barracuda to score a fifty-goal season and his franchise record for consecutive games played still stood. Not only was his name on several NHL trophies, his jersey hung in the rafters of the Mesa Arena.

Mac went on, "And it's a Barracuda tradition for a rookie to wear it for good luck."

Fischer still hadn't said anything and Calder imagined him mentally recoiling from the idea of appearing in public wearing that monstrosity.

"You're bullsh*tting me," Fischer finally said, with a respectable amount of confidence. Calder gave him credit for that.

Mac raised his eyebrows. "Are you calling me a liar, Fischer?"

Fischer cleared his throat. "No. I…I just think you're mistaken."

"You know what's a mistake, kid?" Alex Sullivan yelled from the back of the plane. "Calling a d*ckhead up from the AHL who doesn't show respect for one of the greatest hockey players that ever lived."

Calder said loudly, "You got that right."

"Come on, guys." Fischer rose halfway out of his seat so he could look around the plane. "This is a joke, right?"

Sullivan spoke again. "No. This is not a joke. Pasta, you wore it last year, right? You and Whiner shared it. Forty-one games apiece."

Last year's rookies "Pasta" Primavera and "Whiner" Weinrich, both in on the joke, confirmed that. "If I had to wear it, he has to wear it," Primavera said.

Fischer took the tie with obvious reservations. "I'm supposed to wear it all year?"

"All year," Mac said, stony-faced. "Otherwise, you f*ck up the team mojo."
Poor Fishy. I feel a little sorry for him, but on the other hand, when you get pranked, it's a sign that your teammates have accepted you into the group, and in hockey, teamwork is paramount.
If you would like to win a copy of either of the In the Zone books—ON THE SURFACE or ACROSS THE LINE—please comment below. The winner of the contest will be contacted after August 31. Good luck!