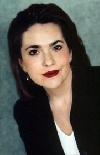 After the attacks of 9-11, the Department of Defense gathered top novelists and screenwriters and asked them to put their heads together to come up with worst-case scenarios, trying to stay one step ahead of what terrorists might be planning. I think that speaks volumes for the value of imagination.
A few years ago I took the coursework to become a private investigator in the state of Georgia, strictly for research. I was the thorn in all the instructors' sides because they would explain how something was done and I would raise my hand and ask, "How could a person get around that?" or "How could that go wrong?" I was always trying to figure out how a criminal might try to get away with something or how a situation could be made worse by a loophole in the law. When one of my instructors found out I was a novelist, he remarked that, like writers, the best private investigators and detectives have a fertile imagination.
That got me thinking about how many skills overlap the two occupations.
Now, you've got to find out how they overlap, so click here to finish!