I love sprinkling little bits of the "real world" into my books, whether it's a real place or landmark, a real story or a real bit of dialogue that I've heard with my own ears. It's those fine little details that make a book memorable, both for me and my readers. But how do you know what's real and what's not? Well, I'm here to spill the beans…
The "Naked Pirouette Incident" from BETTING THE BAD BOY
Paige tells Noah about a time when she drank too much tequila and accidentally walked naked into the wrong bedroom in her share-house. Then she did a 'naked pirouette' to spin around and run out of the room. Real or fake? Yep, this was a real event. My good friend is the real Naked Pirouette legend, but I'll be keeping their name a secret.
The "Chihuahua Lock-Out" from TAKEN BY THE CEO
Emmaline gets locked out of her car by an evil Chihuahua and calls on the hero, Parker, to borrow his phone so she can call someone to unlock her car. Real or fake? Fake…kind of. The evil Chihuahua is loosely based on my mother's dog, who isn't evil…but she's a bit of a cheeky devil and would totally lock someone out of a car given the chance.
The "Dragons" from BETTING THE BAD BOY
Paige and Noah head to Southbank in Melbourne to see a lightshow which involved flames shooting out of tall columns, making it look like the breath of dragons. Real or fake? Real! This lightshow is a nightly occurrence outside the Crown Entertainment Complex in Southbank. Fun fact: I used to live in that area and could see the lights from my apartment. My husband was the one who started calling them "dragons" so I put it into the book as a way to remember our time living there.
The videos game in A DANGEROUSLY SEXY AFFAIR
Quinn and Aiden are both avid gamers and this book had a lot of references to video games and game design companies. But were they all real? Some were and some weren't. There were plenty of references to Super Mario Bros. which is possibly my favourite game franchise of all time. But others like "Slayer's Faith" were inspired by real games and I used a slight twist on their names. Can you guess which game inspired this one? (Answer: Assassin's Creed.)
I hope you enjoyed finding out a little more about the fact versus fiction in my books. Here's an excerpt from BETTING THE BAD BOY to whet your appetite. Is this scene based on a real life event? I guess you'll never know 😉 Happy reading!
Excerpt:
A low whistle cut through the air, followed by laughter. A group of young guys in suits were drinking beers in a booth, and they all had their heads turned in Paige's direction. She was cute as hell, there was no denying that, but usually the customers of First were well behaved…well, at least at this time of day.

He shot the group a stern look. "So," he said, holding the partition open that led to the staff area. "You really have worked in a café before?"

"My parents own a café back home, that's no word of a lie." She rattled off the name of the place, but he'd never heard of it. Noah was a city guy through and through.

"You're a country girl, then?"

"Born and raised." She grinned.

"I'll let you do your thing," he said, stepping out of the way. "If you need to know where something is, just ask."

"Got it." She turned and immediately picked up the single-shot portafilter.
That's when Noah understood why everyone had been staring at her. The fabric of her black skirt was tucked up into the waistband of her underwear, exposing the perfectly rounded curve of her butt. A piece of black lace held the skirt in place, and he had perfect line of sight from the firm, pale flesh right down to the pencil-thin point of her heels. Fuck. That was a vision of heaven if he'd ever seen one.

He sucked in a breath and tried to figure out how to tell her with coming off like a creep. "Uhh, you have—"

"I've got it under control," she said, pulling on the grinder tab. "You just stand back and watch."

He cringed at her choice of words. In any other situation he would have loved to watch, but this was still technically an interview and he was playing boss. "I really think…"

She shot him a look over her shoulder that silenced him. "Trust me, I got this."

"Okay." Who was he to interrupt a woman on a mission?

She leaned forward to scrape the excess coffee grounds into the knock box. The action made her bend at the hips, thrusting her ass ever so slightly up. Noah felt his blood migrate south, and he adjusted himself.

Show's over. Look away now.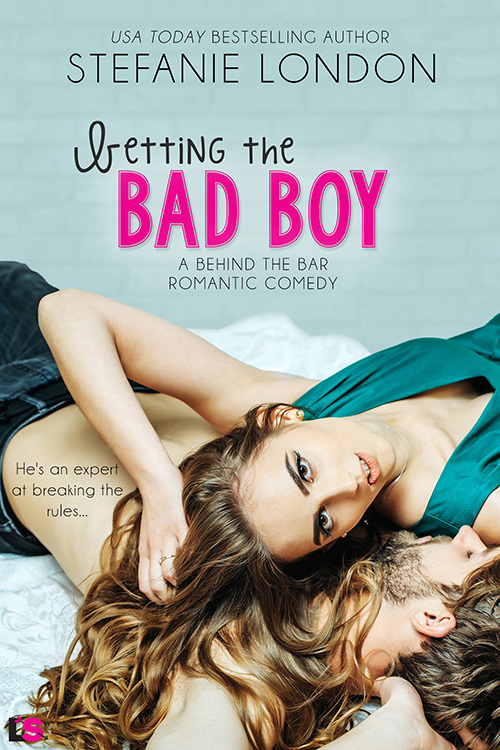 BETTING THE BAD BOY
" width="300″ rel="share" >
Self-confessed perfectionist Paige Thomas isn't used to failing. But when a critical error in romantic judgment sends all her big city career dreams crashing down, she scrambles to find a job—any job—to make ends meet.
Noah Reid may as well have "trust issues" tattooed on his forehead. Being raised in the foster system didn't give him a positive outlook on relationships, but now he's looking after his best friend's bar for one month, and he can't do it alone.
Things get steamy when Noah hires Paige, but she's determined not to repeat her mistakes and she bets Noah that she can keep her hands to herself while they're working together. Too bad for her, Noah is an expert at breaking the rules…
Romance Contemporary [Entangled Lovestruck, On Sale: May 8, 2017, e-Book, ISBN: 9781633759510 / eISBN: 9781633759510]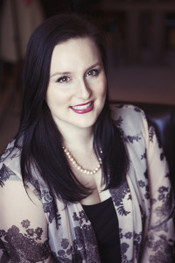 USA Today bestselling author of over ten contemporary romances with humour, heat and heart.
Originally from Melbourne, Australia Stefanie now lives in Toronto, Canada with her wonderful husband. She's doing her best to travel the world. In her spare time, Stefanie loves to read, collect lipsticks, watch zombie movies and drink coffee.
Her bestselling book, Pretend It's Love, is a 2016 Romantic Book of the Year finalist with the Romance Writers of Australia.