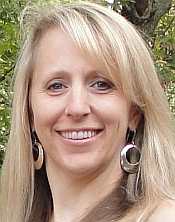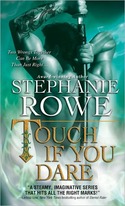 Top Ten Reasons why readers will fall in love with Jarvis Swain, the hero of TOUCH IF YOU DARE.
10) He wears leather & carries a sword.
A black leather jacket stretched across broad shoulders, worn from years and years of battle, his scent tangled deep inside those soft fibers, mixed with the smell of leather and soap. His hand fisted around the hand of a jeweled sword with a deadly blade. That flexed forearm as he readies the weapon. The creak of the leather as he raises his arm to defend the woman he loves…Um, yeah. Leather and sword. Always a good thing.
9) He's the Guardian of Hate.

Think of this way: this immortal warrior is keeping the most awful, most destructive emotion in the world bottled up inside him to protect all of humanity from it. It's been eating away at him for 150 years, and eventually it will destroy him, and yet he will give his soul and his life for his duty.
8) He's loyal to his team.

You gotta love a man who will sacrifice himself for his teammates. Through torture, through death, through all the worst that life has to offer, it's an admirable man who will always, always put his team's well-being as his number one priority.
7) He loves his brother.

Yeah, sure, his brother is the Guardian of Love, so you'd think it would be easy to share the love, but life's not that simple when the Guardian of Love has actually betrayed his duty and abdicated so that he can become Death's newest assassin. Cupid has turned into not such a nice guy, and it takes a big heart to be able to stand by family when they go AWOL.
6) He's suffered. Oh, has he suffered.

How is it that a warrior can be tortured ruthlessly for a hundred and fifty years, and somehow come out of that experience (a) alive, (b) with a sense of humor and (c) with the ability to nurture the woman who touches his heart? Where does that kindness come from? How did he manage to hold the ability to love intact in his heart when he was living in darkness and pain? And how in heaven's name is he able to dig deep enough into his soul, past the scars, past the nightmares, and past the memories, to offer tenderness and love to her? Maybe Reina Fleming knows, because she's the one who's finding the way to his heart.
5) He can't knit.

He's a big, strong immortal warrior that can save the world from Hate. He can take down the world's most notorious assassin to protect his woman. He can go one-on-one with any opponent and come out the victor. But this poor guy can't knit to save his life. Yes, yes, he's supposed to be able to knit. That was the skill that was assigned to him while he was imprisoned in the Den of Womanly Pursuits, the talent that was supposed to give him peace and help him tap into his sensitive side. All his other buddies have their talents to keep them sane, but not poor Jarvis. He just can't get those needles to behave, and when you're the Guardian of Hate, you are SO in need of a little emotional soothing. Good thing he's got Reina to help him out…
4) He can do your hair.

Yeah, sure, Jarvis can't knit, but he can French braid, whip out an updo to die for, or just ease his woman's hair back into a loose sexy bun at the nape of her neck. Those strong fingers in your hair, sifting through your locks, his breath warm on the back of your neck while he loses himself in the art that is your hair…oh, yeah…baby. Bring it on.
3) His state of denial.

Nothing makes a woman sigh like a warrior that tries to hide his mushy side. Jarvis, the poor man, is in utter denial about his talent with a woman's tresses. He uses a sword, not a curling iron. He scents blood, not the avocado in your conditioner. And he slices through opponents, not bangs that need layering. Or at least that's his claim. Lucky for Jarvis, Reina Fleming is able to see right through all that bluster to the soft, mushy man beneath, and she is ready to help him embrace his true calling.
2) He's a great lover, and his true love is the only one he'll ever be able to make love to with without suffering. There's only one woman for him. Ever.

Jarvis was trained in how to be a fantastic lover, but it was pain, not pleasure, a past he doesn't want to ever remember. And even worse, every woman he's been with has been contaminated by his hate, turning each intimate moment into a hellacious experience. But when he's with Reina, all that goes away. She's not affected by his hate, and her heart is so full of love that she enables him, for the first time, to see and feel the magic that making love is supposed to be. She is, in so many ways, his first, and she will be his last.
1) He has a great cover.

Just look at the cover. No other words need to be said. Other than that I think I want to get Jarvis's cover painted on the ceiling of my bedroom, so I can lie in bed and night and stare at him, imagining that he's all mine and…Um, well, you get the picture.
So, now that we've seen why Jarvis Swain is to die for, tell me about a hero you read recently that you adored. What was it about him that made him swoon-worthy? TWO commenters will be chosen to get a copy of TOUCH IF YOU DARE.
TOUCH IF YOU DARE BY STEPHANIE ROWE—IN STORES JULY 2011
He's just about the hottest warrior she's ever seen…
Reina Fleming really appreciates a man who's on a mission—especially when he's a badass warrior doing his best to impress her. And Jarvis is charmed by the way Reina's magic touch can soothe his dark side.
But when Jarvis's attention puts her job, her home, and her family in danger, Reina has to decide whether love is worth the price…
Enter the nonstop, action-packed world of Stephanie Rowe's love stories—you'll never think of the manly arts in the same way again.
ABOUT THE AUTHOR
Four-time RITA Award nominee and Golden Heart Award winner Stephanie Rowe is an award-winning and national bestselling author of paranormal romance, and has written more than twenty-five novels. Stephanie has charmed reviewers with her unique blend of humor and otherworldly magic. She lives outside Boston, Massachusetts, where she is working on Book 3 in the Soulfire Series, HOLD ME IF YOU CAN (January 2012). For more information, please visit www.stephanierowe.com
To comment on Stephanie Rowe's blog please click here.