Somehow we have come to the end of another Summer BBQ Recipe Roundup! We are so appreciative of everyone who has commented and, of course, to the authors and publishers who took the time to share recipes and about their new books. Camille Aubray is here today with a look at her historical fiction novel and a fresh, summery recipe with a great drink pairing–enjoy! 
And if you haven't already, be sure to take a look at the amazing authors, recipes, and books we've celebrated all week long: 
Day 1 with Minerva Spencer
Day 2 with Sera Taíno
Day 3 with Jennifer L. Wright
Day 4 with Alicia Hunter Pace
Day 5 with Camille Aubray
***
CAMILLE AUBRAY'S Cocktails and Canapés Recipe
A reviewer once said about my previous novel, "Don't read this book on an empty stomach, because you will soon be hungry for the French cuisine in the story!"
And now, my newest novel, THE GODMOTHERS, serves up some delicious Italian meals. THE GODMOTHERS is about four remarkable women from very different backgrounds who become sisters-in-law, and godmothers to one another's children, in New York City from the 1930s through the 1950s. Each godmother has a secret from her past that she'd rather leave behind, but as you know, secrets have a way of surfacing at just the wrong moment.
The four godmothers are: Filomena, who escapes World War II Italy; Lucy, an Irish nurse; Amie, a sensual French girl; and Petrina, a Barnard graduate and the only daughter in this prosperous Greenwich Village family. They don't quite trust one another at first, but soon they learn to put aside their differences to protect their family. They eat together, laugh and cry together, and eventually run the family business together. Along the way, they are confronted by the most notorious real-life figures of their day, including the Bosses of the Five Families of crime! But the godmothers are smart, brave, funny, and lovely, so they rise to the challenge.
I always take a deep dive into research for my novels, and that includes working with Michelin-starred chefs to discover the secrets of great food. One of the things I've learned is that cocktails and canapés are more than just a nibbling diversion. When they're done properly, they actually help your body and mind relax and get ready for the meal ahead. A canapé should be savory—a little salty, a bit spicy. It's all good chemistry!
And now that summer is here, we all want to relax and have fun, including the chef! So here's a lovely, easy way to enjoy the season. Even if it's just for you and your husband or a friend, let's simply celebrate love and good times!
For the cocktails: Note: If you want a non-alcoholic cocktail, just substitute a good, cold, sparkling water for the champagne, and you can use an unsweetened fruit juice like cranberry or cherry or blueberry instead of the gin.
CAMILLE AUBRAY'S SEASIDE SUMMER COCKTAIL (recipe serves one)
1 ounce of good-quality gin approximately
4 ounces of cold, dry champagne
the juice of 1/2 of a freshly-squeezed orange, lemon or lime
1/2 teaspoon of Aperol orange liquer
1/2 of a fresh peach, washed, peeled and sliced
2 fresh cherries, pitted, or dried (please don't use maraschino cherries!)
In a large martini glass, stir the gin, Aperol and citrus juice together. Then drop in the peach slices and the cherries. Add 3 ice cubes, then fill the glass with cold champagne. It's ready as soon as the glass frosts up and the drink is cold.
Serve with these canapés:
CAMILLE AUBRAY'S SUMMER SOLSTICE Canapés:
Historical tidbit: It is said that canapés are bits of food that sit on their little platform in the same way that people perch on a sofa! You can serve these "perched" on crackers, but I like to make my own "sofa."
For the "sofa": I take 6 slices of white bread. Then I use a small glass or a third-of-a-cup measurer like a cookie-cutter, to cut out bread circles that should be about 2 and 1/2 inches in diameter. Take a large, heavy flat skillet and warm it to about low/medium heat. Place a small tab of unsalted (sweet) butter on each round, and place them butter-side down on the warm skillet. While they are browning gently, place another small tab of butter on the topside, so that you can turn them once and brown the second side. (They should be a golden, toasty color on both sides.) When done, place the bread rounds on a platter, leaving room in the center for the salad greens.
For the toppings:
Top half of the bread rounds with a bite-sized chunk of goat cheese. Top the remaining rounds with fresh sliced mozzarella cheese (the kind that comes in soft round mounds. Be sure to pat dry the mozzarella before you slice it.) You can substitute parmesan, gruyere, cheddar and cream cheese here, but I find that goat cheese and fresh mozzarella work best.
On top of the mozzarella: Place thinly-sliced rolls of prosciutto or ham (with the fat removed) in delicate little curls and press gently to hold in place. Then place fresh basil leaves on or inbetween the mozzarella rounds.
On top of the goat cheese: Place a walnut and a dried fruit like a cherry or a raisin, pressing in slightly.
In the center of the platter: Place washed, fresh baby lettuce (I grew these in my garden!) and then top with sliced cherry tomatoes. Sprinkle with a few drops of lemon juice and olive oil and a pinch of salt.
Alternative Toppings: Instead of cheese, you can substitute chick peas, smoked salmon or chopped hard-boiled eggs for the toppings if you like.
Have a few small bowls of extra-virgin olive oil with little serving spoons on hand for dipping or sprinkling. And give your guests some small forks and small plates so they can have the salad greens with their canapés; and provide everyone with cocktail napkins.
This platter works as a "tea time" or late-night snack. If serving it as an appetizer, your main course should be either something that you can cook quickly, like steaks on a grill, or something that you can leave in the oven to roast, like beef, chicken, or a whole fish.
That way, you can sit with your guests and watch the sun set, while you enjoy your cocktails and canapés and salute the lazy summer days!
For more ideas, visit my novels, THE GODMOTHERS and COOKING FOR PICASSO. And you can "meet" me at my online virtual events; for signup info, plus photos, recipes, and the locales that inspired my books, come to my website at camilleaubray.com.
***
COMMENT TO WIN: Many thanks to Camille and William Morrow for today's post! For a chance to win a copy of THE GODMOTHERS, leave a comment and tell us your own go-to summer BBQ recipe! We love to leave our readers with recipes to file away for future use, so let's keep it going in the comments. 1 winner, US & Canada only, GOOD LUCK! 
***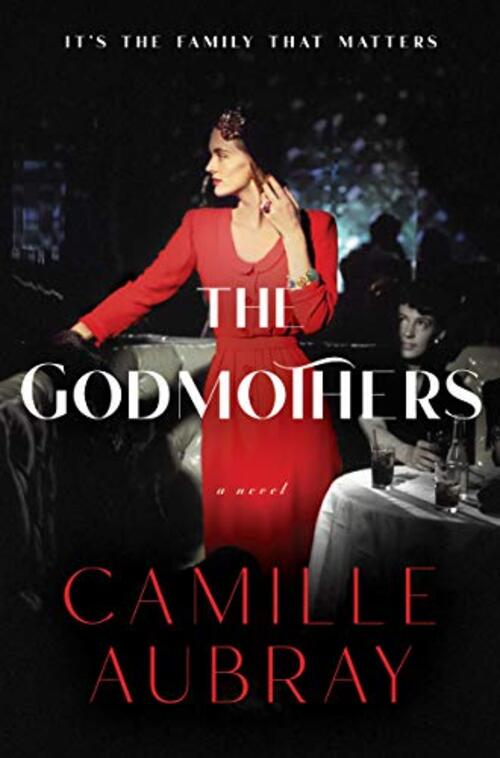 Big Little Lies set in World War II era Greenwich Village! An irresistible, suspenseful novel about four women who marry into an elegant, prosperous Italian family, and then must take charge of the family's business when their husbands are forced to leave them during the war.
Meet the Godmothers: Filomena is a clever and resourceful war refugee with a childhood secret, who comes to America to wed Mario, the family's favored son. Amie, a beautiful and dreamy French girl from upstate New York, escapes an abusive husband after falling in love with Johnny, the oldest of the brothers. Lucy, a tough-as-nails Irish nurse, ran away from a strict girls' home and marries Frankie, the sensuous middle son. And the glamorous Petrina, the family's only daughter, graduates with honors from Barnard College despite a past trauma that nearly caused a family scandal.
All four women become godmothers to one another's children, finding hope and shelter in this prosperous family and their sumptuous Greenwich Village home, and enjoying New York life with its fine dining, opulent department stores and sophisticated nightclubs.
But the women's secret pasts lead to unforeseen consequences and betrayals that threaten to unravel all their carefully laid plans. And when their husbands are forced to leave them during the second World War, the Godmothers must unexpectedly contend with notorious gangsters like Frank Costello and Lucky Luciano who run the streets of New York City.
Refusing to merely imitate the world of men, the four Godmothers learn to put aside their differences and grudges so that they can work together to protect their loved ones, and to find their own unique paths to success, love, forgiveness, and the futures they've always dreamed of.
Historical [William Morrow, On Sale: June 15, 2021, Hardcover / e-Book, ISBN: 9780062983695 / eISBN: 9780062983718]
Camille Aubray is an Edward F. Albee Foundation Fellowship winner. A writer-in-residence at the Karolyi Foundation in the South of France, she was a finalist for the Pushcart Press Editors' Book Award and the Eugene O'Neill National Playwrights Conference. She studied writing at the University of London with David Hare, Tom Stoppard, and Fay Weldon; and with her mentor Margaret Atwood at the Humber College School of Creative Writing Workshop in Toronto. Aubray has been a staff writer for the daytime dramas One Life to Live and Capitol, has taught writing at New York University, and has written and produced for ABC News, PBS, and A&E. The author divides her time between Connecticut and the South of France.