The start of summer…and so it begins, my renewed search for more books. It's an addiction and it never rests. I sometimes wished I'd get more enjoyment from watching television or movies but to be terribly honest there is nothing like a good book to satisfy the longing inside me of finding a new world, one that exists only in the imagination of a storyteller and writer. A good book takes me far away from my every day life to an exotic world that is exciting and yet "real." A great story telling can uncover nuggets in a world I may inhabit and interact with daily yet never noticed the truths beneath the surface. Yes, I read to escape and to be entertained.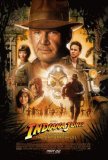 This weekend was the US release of the latest Indiana Jones movie, so of course we had to go and see it opening weekend — at least we went matinee since prices are outrageous in my opinion. And it was cooler than being out doors in the 90 plus heat, yes, summer has officially arrived in Texas. The anticipation was palpable after all it had been nearly 20 years since the "Last Crusade" and this one with the longest title ever promised "Great Adventure."
Uh, make that fizzled aftermath. Yes, the action began almost immediately and never let up — thank goodness otherwise I may have fallen asleep. Which can be so embarrassing if I start to, uh, snore in a lady-like manner. And the pace was frenetic, non-stop action, most of it totally unbelievable for mature men to perform. Bless the business of stunt men and doubles! At least the women held up their side of the screen! Was I disappointed? A bit, but then it was the "catch-up" movie and it did that, jumping ahead to 1957 and a different world. It was a bit preachy and disjointed, but worse of all was the story. I missed a story. I wasn't taken back into a world of adventure, I went into a world of "effects." But it was nice to see Harrison Ford and Karen Allen one more time. Even the photographs of "Marcus" and "Henry Jones, Sr." were a welcome treat!
To finish off our Indiana Jones fix, we indulged in a marathon of DVD watching and made it through two of the three movies.
The Adventures of Indiana Jones (Raiders of the Lost Ark/ Temple of Doom/ Last Crusade)
I suggested we skip "Temple of Doom" but was out voted so I picked up The Third Circle to finish off. Between being whisked back to late Victorian England and a group of mesmerists and characters with enhanced psychic abilities and watching adventures in a mine it was an enjoyable evening. In fact, I think I prefer the opportunity of reading a book while watching a movie. It fills in the gaps and allows me to indulge … in my addiction of reading.
So, how did you spend your Memorial Day weekend?