Hi there! Did the title of my blog hook you? I hope so. Titles are important, right? When it comes to a book's title, the author always hopes for one that will intrigue prospective readers and also resonate with readers who have enjoyed the book. A self-published author chooses her/his title, but when you write for a publishing house as I do, the editor and marketing people make the final decision.
When I suggested RING OF FIRE for the title of my seventh Caribou Crossing Romance, everyone agreed it was perfect.
Why? To start with, Lark Cantrell, a fiercely independent single mom, is the town's fire chief. Next, Major Eric Weaver was injured in Afghanistan by an IED that also killed his sergeant and caused a fire.
The book opens with a middle-of-the-night fire at the old farmhouse where Eric is staying, a fire that triggers his PTSD and threatens his life. You can probably guess who saves him—and how the battle-toughened soldier feels about needing to be saved.
In case you're wondering, yes, Johnny Cash's song itself plays a part in the book.
This time, he could hear the words properly, and realized the man was singing about falling in love, and how it was a fiery thing pulling him into its blaze. Taking away his control.
Fire could do that. Eric had learned it in Afghanistan, and had the lesson repeated on Tannen Road. If that was what love was like, it was just as well he never planned to fall in love.
On the other hand, if he fell in love with a firefighter—
No, what was he thinking? He and Lark were friends and casual lovers. That was all either of them wanted. They had plans for their lives. Plans that did not include a life partner.
Through various means, Eric learns to deal with his PTSD and decides that he's fit to resume his career. But is he ready to leave Lark and her adorable son? No, because he's learned a lesson: sometimes, falling into a burning ring of fire can be just the beginning of a happily ever after!
I'd love to hear your thoughts on book titles, my new release, Johnny Cash's song, or anything else that this blog brings to your mind.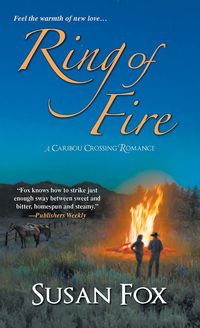 No one is a stranger in Caribou Crossing, a small Western town made for healing and second chances…
She's raising her son on her own, but that's just fine with Lark Cantrell. Caribou Crossing's fire chief comes from a long line of strong, independent women—who have lousy luck with men. Lark's ex-husband walked out when Jayden was born with cerebral palsy. No matter—Jayden, now ten, is a bright, terrific kid, and the love of her life. When it comes to men, Lark is content with the occasional casual hookup; there's no room in her heart for more disappointment.
Major Eric Weaver is in Caribou Crossing for one reason: to complete his rehabilitation so he can return to active service. Haunted by what went down in Afghanistan, his wounded soul isn't healing as quickly as his body. But it's almost impossible to resist the appeal of the sexy, feisty fire chief and her plucky son—not to mention the friendly, caring small town way of life. In Lark's loving arms, the scarred soldier begins to believe he may finally have found his true home…
About SUSAN FOX
International bestselling author Susan Fox, who also writes as Susan Lyons and Savanna Fox, writes "emotionally compelling, sexy contemporary romance" (Publishers Weekly). She is currently published by Kensington Zebra. Her books have won numerous awards and Love Somebody Like You (Caribou Crossing Romance #6) is a 2016 RITA® finalist. Susan is a Pacific Northwester with homes in Victoria and Vancouver, British Columbia. She has degrees in law and psychology, and has had a variety of careers, including perennial student, computer consultant, and legal editor. Fiction writer is by far her favorite, giving her an outlet to demonstrate her belief in the power of love, friendship, and a sense of humor. Visit her at her website  and on Facebook.