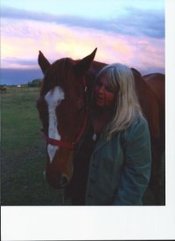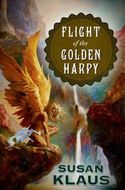 I'm just learning the ropes, so bare with me since I'm new to blogging and a debut author. My first thriller, SECRETARIAT REBORN, came out last Oct. My first fantasy, FLIGHT OF THE GOLDEN HARPY, was released in June, and my second thriller, SHARK FIN SOUP, hits bookstores this August. It's been one heck of a rollercoaster ride with two publishers bringing out three novels in two different genres within the last ten months. Although my novels are in the thriller and fantasy genre, they have also been called romances. So much so that before Tor Books bought the fantasy, my agent suggested selling it to Harlequin, saying it was really a love story. Since my novels are multi-genre, let's talk about it and if romance should play a part in other genres.
First off, all my novels have one thing in common. The protagonist is always mid-twenty and a lanky, gorgeous man or in the case of the fantasy, a male harpy. Sorry, but I can't write a word and get interested in a story unless my juices are flowing, and I'm in love with him. I've tried writing other books without a hot guy. Even with a great plot, I've managed a few chapters and then get bored and quit. With this dilemma, I'd never make it as a ghost writer. The problem is that after years of being unimpressed with many movies and books, I started writing these novels to entertain myself. Besides a unique action-packed plot, I also want the male eye candy, Christian in my thrillers and Shail, the golden harpy, in my fantasy.
So given that these protagonists are young, healthy, attractive males, it'd be unrealistic if they didn't seek female companionship. Sex, at least in their thoughts, would be as natural as eating and breathing. I've read other thrillers where the author spends a page describing a weapon but never mentions sex. I've still enjoyed these books, the tough hero solving the crime, bringing down the killer, but it made me wonder. Don't these protagonists get horny? Maybe it's a female author thing, and male authors are targeting male readers. Funny, though, men seem to like my books despite the romance. Obviously, not every book is for everybody and many don't shares my point of view when it comes to putting romance in a thriller or fantasy. I even caught flack from an editor who told me to remove the girlfriend from a story, of which I refused, but I did have to tone down the bed scene, darn. The bottom line, my protagonists are typical young males. They might go through hell in the adventure, but romancing a woman is always on the back burner. It's normal.
Besides romance, my novels have been labeled with numerous genres. I wrote FLIGHT OF THE GOLDEN HARPY and said it was a fantasy. My editor said with a futuristic planet and a little space travel, it was really a science fiction. I changed it and it won the Royal Palm Literary Award for Best Science Fiction. Tor bought and changed it back to a fantasy. The publisher describes the novel on Twitter as a romantic fantasy. Reviews have also called the novel a mystery, a thriller, and a love story. Because it's an adult read with a few aspects of cruelty and sexual assault, one review said it could fit into the horror category, although I disagree. My thriller, SECRETARIAT REBORN faced the same multi genre scrutiny. Magazine reviewers said it was more of a suspense novel with a romantic subplot, and others claimed it was a mystery.
If my genres are all over the place, I'm falling back on the fact I'm a new author. My stories are set in current and futuristic times and have the unpredictable twists of a mystery and the danger of a thriller, but mostly I want my protagonist to have some happiness, kiss and make love to the girl. He's not the big unfeeling rogue with all the smart moves, but a guy with insecurities and desires, trying to survive the story and come out in one piece. He's earned a little romance.
To comment on Susan Klaus's blog please click here.