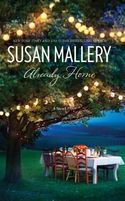 Susan Mallery has entertained millions of readers with her witty and emotional stories of women and the relationships that move them. In her latest novel, ALREADY HOME, Jenna Stevens, still reeling from a recent divorce, is unpleasantly surprised by the arrival of her birth parents, who seem to want her to feel a family bond immediately. She was perfectly happy with the loving, traditional parents who raised her. Can she learn to love a second mother without damaging her relationship with the woman who raised her? Join Susan's Members Only area at www.susanmallery.com for exclusive sneak peeks, short stories, and more.
Recently, a friend recommended a cookbook to me. She said the chocolate chip cookie recipe in her favorite cookbook was to die for. Thick, soft, chewy, chocolatey goodness. I'm a sucker for chocolate chip cookies, so I ordered the book.
This is a cookbook for someone who loves cooking. The thing is, though – and I'm letting you in on a big secret here – I don't love cooking. I understand my friend's mistake. After all, the heroine of my latest book, ALREADY HOME, is a chef. During the course of the book, she reconnects with her creativity in the kitchen and creates fabulous, innovative recipes such as Jenna's Mocha Chili and Curry Chicken Enchiladas. I included the chili recipe at the back of ALREADY HOME, and I've posted the recipe for Curry Chicken Enchiladas to the recipes page of my website.
In an ideal world, I'd have an invisible personal chef who left delicious food in my oven for me at mealtime. Since that's not possible, I cook. And I share my original recipes with my readers because they seem to love them, especially the slow cooker recipes. Slow Cooker Cheesy Potatoes seems to be a particular favorite.
When I buy a cookbook, I want quick and easy recipes. I want ingredients I can find easily. I want pictures so I know what the food is supposed to look like when I'm done. My friend's favorite has virtually no pictures! Plus, they tell you all the variations they tried and why those variations didn't work. The Fettuccine Alfredo, for example, comes with three full pages of preamble.
I wish I were interested… but I'm not.
My two favorite cookbooks are the TASTE OF HOME COOKBOOK, and Debbie Macomber's CEDAR COVE COOKBOOK. They put a checkmark in all my boxes. Easy, fast home cooking with lots of colorful pictures. If that's the kind of cookbook you enjoy, then I hope you'll check out my Recipes page, and take a peek at the Mocha Chili recipe at the back of ALREADY HOME.
I will keep my friend's favorite cookbook, though. The chocolate chip cookies really are out of this world. If you want to know the title of it, send me an email through my website.
Do you love to cook, or is it a chore for you? Do you like to read about cooking in your books? When you do cook, do you prefer a recipe that challenges you, or something quick and easy?
To comment on Susan Mallery's blog please click here.