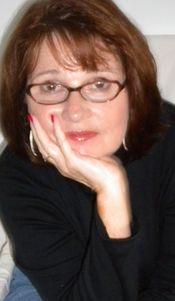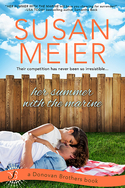 I remember the day I came up with the idea for HER SUMMER WITH THE MARINE. I was on the phone with my friend Paula, talking about how every book idea had been done to death. And having written over 50 books (at the time), a lot of those done-to-death stories had been done to death by ME. LOL! I longed to do something fresh and interesting, and that day I came up with the fresh, unusual aspects of Ellie and Finn's story.
But at its heart, HER SUMMER WITH THE MARINE is the story of a woman coming home, meeting up with the boy – who is now a man – who'd been her high school nemesis, and learning that everybody grows up and time really can heal all wounds – if we let it.
It's also a story about sexual attraction. Finn and Ellie had been in each other's social sphere the whole way through twelve years of public school education. It's only when he returns home after 'finding himself' as a marine, and she returns home a well respect advertising executive, that they realize their competition might have been a bit more about unrequited romantic feelings than a true desire to be the best.
And that's when the fun starts. They try to keep their desire for each other in perspective, calling it lust, calling it purely physical, but deep down they are falling in love. Sometimes sweetly. Sometimes wickedly. Sometimes normally. But always in a way that will tweak your heart and make you long for them to be able to work out all the troubles caused by being competitors in a small town. Especially when both desperately need to be the one to succeed. Even though it means driving the other out of town.
Add a cast of quirky characters – the kind you really would find in a small town – who will worm their way into your heart and make you glad there are two more Donovan Brothers novels in the works so you can see them again – three brothers working to get their mom away from their abusive father, and a beautiful small town tucked in the mountains of Western Pennsylvania, and you'll have a place you really will want to return to again and again.
Because love stories aren't just about a hero and heroine finding love with each other. They're about people. People who influence the lives of the lovers and people who provide the backdrop of a real world.
HER SUMMER WITH THE MARINE combines everything I love with some things you won't expect. Some things that might make your heart race. Some things that might make you laugh…but always, always sigh with happiness.
So what about you? Do you love books that are part of a series? Do you love revisiting favorite small towns with loveable characters?
I'm giving away a $10 Amazon gift card to someone who comments. (US residents, though. I don't know how to get into foreign Amazon portals!
But they're competing for business now, and the townspeople know them an "enemies."
To comment on Susan Meier's blog please click here.