When I began the duet, The Princes of Xaviera, I thought I'd do something fun with two princes who are forced into marriages of convenience. As part of a treaty, the first prince, Dominic, is promised to marry a princess from Grennady, but he gets a one-night stand (Ginny) pregnant and their child will be heir to Xaviera's throne. So Dom and Ginny must get married.
So what happens to the princess and the treaty? Well, Dom's younger brother Alexandros is forced to take Dom's place. A playboy who has no desire to reign or marry? He's not happy at all.
But we have two princes forced into marriages with women they don't really know. Lots of fun!
Both books are filled with the glitz and glamour of the life of a royal. In book 1, PREGNANT WITH A ROYAL BABY, Ginny is an American school teacher, forced to fit into the kind of life she'd never even dreamed of. Royal hairdressers, dressmakers and chefs are enough to put her in awe. Outside the palace with sightseers and the press, things are even more difficult. But Ginny's got the American spirit that she can overcome any obstacle and ultimately she prevails…Except along the way she also falls in love with Dom…the guy she's only staying married to a few years. Just long enough for Xaveria's future king to have a proper beginning to his life.
The last person Dom thinks he should be married to is an average American girl. But she's smart and fun. And he hasn't had any fun in his life in decades. Still, he's also a future king and the eyes of the entire world are sometimes on him. Can he ever reconcile fun and duty?
Alex's book WEDDED FOR HIS ROYAL DUTY is totally different. Alex has himself prepared to spook Princess Eva into dumping him when he learns there's a plot to assassinate her. Then the simple playboy suddenly becomes her greatest protector. But is he willing – or even able – to be the husband of a QUEEN? He's a bad boy. A play boy…A guy who vowed never to lose his heart. How can a man made to have fun settle down with a woman so important that "someone" doesn't want to see her make it to the throne?
Both books are lush with the pomp and circumstance and glamour of royalty, but both princes are very human, very sexy and lots of fun.
But a something a little odd happened at the end of book 2. I realized there was a third book. Not a romance of a royal this time, but Princess Eva's personal assistant and a billionaire she wants to lure to their country. A rural kingdom, Grennady needs a company to bring jobs. Can the assistant to royalty pull off the coup her boss and her king couldn't?
I guess we'll have to wait for book three to find out!
PREGNANT WITH A ROYAL BABY is available as of February 1. WEDDED FOR HIS ROYAL DUTY is available July 1…And book 3, which doesn't yet have a name…It's a Christmas story which brings back both royal families to celebrate the holidays with you…will be out in October or November!
Happy Reading!
Susan Meier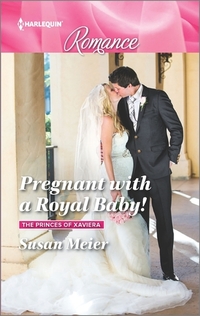 Marrying for the baby's sake
Prince Dominic Sancho has always lived up to his family's royal expectations. Until one irresistibly spontaneous night with teacher Ginny Jones has dramatic repercussions—she's now carrying the next heir to Xaviera's throne! There's only one solution—a royal wedding
A marriage of convenience is Ginny's worst nightmare, but for their baby's sake, she says "I do." And as the royal couple jet off on their honeymoon, she begins to realize that beneath the royal etiquette, Dominic is a daddy—and loving husband—in the making!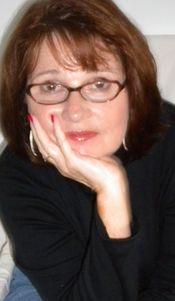 In 2013 Susan Meier lived one of her career–long dreams. Her book, THE TYCOON'S SECRET DAUGHER was a finalist for RWA's highest honor, the Rita! The same year NANNY FOR THE MILLIONAIRE'S TWINS was a Book Buyer's Best Award finalist and National Reader's Choice finalist.
Susan is the author of over 50 books for Harlequin and Silhouette, Entangled Indulgence and one of Guideposts' Grace Chapel Inn series books, THE KINDNESS OF STRANGERS.
One of eleven kids, Susan never lacks for entertainment or amusement from her over thirty nieces and nephews. Her family'sWednesday Morning Breakfasts are the highlight of her summer. And with lots of her nieces and nephews now in their twenties, wedding season is in full swing!
Susan loves to teach as much as she loves to write and is a popular speaker at RWA chapter conferences. Can This Manuscript Be Saved? and Journey Steps, No Frills Guide to Plotting! are her most requested workshops. Her article "How to Write a Category Romance" appeared in 2003 Writer's Digest Novel and Short Story Markets. Susan also gives online workshops for various groups and her articles regularly appear in RWA chapter newsletters. In 2012 she debuted four new online workshops, Let Conflict Tell Your Story for You, Conflict and the Category Romance, Sweet Romances: Keeping the Tension Alive Without Sex and Self–Editing.
Her popular Monday morning blog, Dear Writers, features weekly writing lessons taken from her experiences with submissions, revisions and successes.