Can't wait until April? We can't either because it's when Samantha Chase's new book releases! You can pre-order LOVE WALKS IN now, which we highly recommend, and as a treat–don't we all deserve one in February–here is an exclusive sneak peek!
It took a full minute for Hugh to realize he was staring at nothing but his window before he shook his head to clear it and made his move. In a flash he was silently through the window, and his sexy intruder hadn't noticed. She was looking around the dimly lit room and unfortunately, he couldn't get a good look at her.

Standing in the corner, he continued to observe. If she was going to try and steal something, he wanted to be certain to catch her in the act. In a perfect world, he'd hit the lights as soon as she took something that clearly didn't belong to her so he could press charges. He hated people touching his belongings—especially when they so blatantly held such little regard for his privacy.

But who was she? Why was she here in his office?

"Finally," he heard her mutter. Stepping closer to his desk, he reached for the small lamp there and turned it on. A small scream escaped her at the intrusion of light.

"Is there something I can help you with?" Hugh asked with a calmness he didn't feel. As soon as his eyes adjusted to the light, he felt as poleaxed at the sight of her face as he had at the sight of her climbing through the window.

The first thing to register was the fact that she was wearing more than the hot pink thong. She had on a strapless white dress. It hit mid-thigh and showcased a curvy body and tanned limbs. Her hair was long and blonde and she looked like some sort of beach goddess.

Huge blue eyes stared back at him. One hand covered her heart as the other covered her belly. "Who…? What are you…?"

"Doing in my own office?" he supplied. "I believe that's what I should be asking you. How about explaining why it is you're in here and why you decided to climb in through the window? Some call it breaking and entering." Hugh watched the play of emotion on her face as she lowered her hands to her sides. He expected tears. He expected apologies. He certainly didn't expect attitude.

"You stole my suitcase," she snapped at him.

"Excuse me?"

"You heard me," she said, crossing her arms over her chest and cocking a hip. "That suitcase right there? It's mine. You had no right to take it."

Hugh was stunned speechless. He owned the damn resort—didn't this woman realize that? "You left it out in the middle of the property. I brought it here to keep it safe. Anyone could have grabbed it and taken off with it. I was simply making sure nothing happened to it."

She rolled her eyes. "Yeah, yeah, yeah. Whatever. It wasn't your responsibility. I left it there for a reason."

He cocked a brow at her. "Oh, really? And what was it?"

"None of your business," she said evenly, then looked at the watch on her slim wrist. "Look, are we cool here? Obviously the luggage is mine so…can I go?"

Was this woman for real? "Actually, it's not obvious the luggage is yours. There's no tag on it, no identification. And if you knew it was in here, why didn't you go to the front desk and ask for it?"

A little of her bravado seemed to fade. "They were busy and…and…I needed to get it so I can go."

"Leaving already? Were you even a guest here?"

She nodded. "I really need to go. What's it gonna take to prove to you this suitcase is mine?"

The resort was small enough Hugh normally recognized his guests. He didn't recognize this woman and God knew she was attractive enough that had he seen her before, he definitely would have remembered. "I don't believe you."

"About what?" she asked incredulously.

"About being a guest. I know all of our guests. I never saw you before."

She rolled her eyes again. "We'd just checked in this morning. What are you, resort security?"

"No," he said smugly. "The resort owner."
Lovely, isn't it? Don't you want to know what happens next?
And our friends at Sourcebooks are also giving away copies of MADE FOR US (the first book in the Shaughnessy Brothers series). Three lucky winners! Just tell us what you think is the reason she's sneaking in to retrieve her suitcase?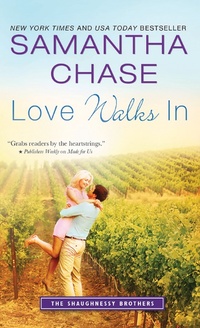 Book #2 in New York Times and USA Today bestselling author Samantha Chase's dazzling new series: The Shaughnessy Brothers are back
He lives by a schedule
Aubrey Burke is on the run from an about-to-be-disastrous mistake when resort owner Hugh Shaughnessy catches her climbing through his office window. Until Aubrey tumbled into his life, Hugh had relied on work and discipline to safeguard a heart damaged by family tragedy.
Now his careful world will never be the same.
She lives for the moment
Hugh's approach to life and love is the opposite of Aubrey's, but she soon finds herself falling hard for the handsome hotel mogul. There's a darker reason behind her "live for today" attitude than Hugh could possibly know, but for the first time Aubrey dares to hope this man's love might make it worth taking a chance on the future.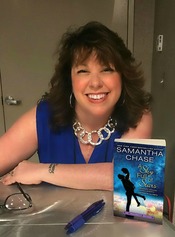 New York Times and USA Today Bestseller/contemporary romance writer Samantha Chase released her debut novel, Jordan's Return, in November 2011. Although she waited until she was in her 40's to publish for the first time, writing has been a lifelong passion. Her motivation to take that step was her students: teaching creative writing to elementary age students all the way up through high school and encouraging those students to follow their writing dreams gave Samantha the confidence to take that step as well.
When she's not working on a new story, she spends her time reading contemporary romances, playing way too many games of Scrabble or Solitaire on Facebook and spending time with her husband of 25 years and their two sons in North Carolina.