PROTECTING THE FUTURE is the last book in the SEAL of Protection Series. I've had many people ask me why I'm ending the series when it's been so popular. For one thing I never intended the series to be thirty books long. I think I, and the readers too, would get bored. I also don't want to be pigeon-holed into being a writer who only writes "SEAL" books.
"But Susan, the series is popular, you're crazy to end it when everyone loves it!"
Maybe, but I'm hoping my readers will read my other books as well. Heck, I'm addicted to the "damsel in distress" trope and even though Cookie and Benny and the others won't have books about them anymore, my Heroes will always have someone to rescue (and need to be rescued in their own way right back).
"Maybe you can write about their KIDS!"
Nope. I don't particularly like writing (or reading) about the kids of my Heroes and heroines, because that means that those Heroes and heroines will get OLD….gasp! Can't have that! I want them to live on in my mind exactly the same age they are on the pages of the books.
"But I'm gonna MISS those SEALs!"
Honestly? Me too. BUT, they will continue to make cameos in my other books. Heck, Tex? He's in everything! You'll see Mozart and Summer in an upcoming book…and the others will make appearances too.
It's about keeping the story lines fresh and exciting, and I never want a reader to think to themselves, after the 30th SEAL book, "I've read this before" or "This sounds exactly like Protecting Alabama" or whatever.
Caroline lay in bed with one arm slung over her husband's chest and idly ran her fingers over his nipple. They were both content and sated after making love for the second time that night.

"Do you think they'll ever find her?"

"Who, darlin'?"

"Penelope. That woman who was kidnapped in the Middle East."

Matthew "Wolf" Steel shifted under his wife and kissed her forehead lightly. "Probably not." He felt Caroline sigh as she turned her head into his chest and nuzzled farther into him.

"I can't help but imagine myself in her place," Caroline said sadly.

"Ice, I can't—"

"No, I know. It's not the same thing really at all, but every time they've shown that video of her and how she's probably being forced to say all those horrible things, all I can think of is that her tone doesn't match the look in her eyes."

"What do you mean?" Wolf asked, genuinely curious.

"She sounds meek and serious, but I swear, Matthew, her eyes look pissed. As if she's just waiting for her chance to turn around and kill all those men who are keeping her captive. And I see it because I know just how she feels. When I was kidnapped and that jerk was filming me, I was saying one thing, but deep inside felt something way different. And I was doing everything I could to send a message to you, and whoever else might watch that video, through my eyes. I know, it was stupid to think you could actually read what I wanted to say in my eyes, but inside I was thinking about how much I loved you. I was trying to tell you where I was, and I was pleading for you to come and find me. I could be wrong, but it's obvious, at least to me, that Penelope Turner is trying to say many of the same things."

Wolf turned until Caroline was on her back and he loomed over her. He braced himself up on an elbow and brushed a strand of her dark hair behind her ear with his other hand. She grabbed his biceps and looked up at him with such love, he still had to pinch himself sometimes to make sure it was real.

Three years had passed since he'd made her his wife, and every day since then he thanked his lucky stars they'd found each other. She made him happier than he'd ever been in his life.

"Yeah, I saw it back then as I watched you on tape, and I see it in Sergeant Turner now."

Caroline bit her lip, then asked, "Do you think they're…hurting her?"

Wolf kept his voice low and tried to sound reassuring. "It's hard to say. They're certainly keeping her for a reason, probably because she's small, blonde, and a woman. They want to force the world to pay more attention to them and take them seriously."

"You mean the bombing of that wedding last month didn't do it?" Caroline's tone showed her irritation.

Wolf shook his head, amazed that he could fall in love with his wife more every time she opened her mouth. He loved that she didn't take things at face value, that she felt deeply and wasn't afraid to speak her mind. "Unfortunately, no. They need something bigger than that. And kidnapping a group of Americans isn't big, not like on the scale that 9/11 was, but if they keep the U.S. distracted—and putting a beautiful, petite woman on television and making her say anti-American and anti-British things is distracting—perhaps they can work their way up to another grand gesture."

"I love you, Matthew."

Wolf smiled down at Caroline, not surprised at her change in subject. "I love you too, Ice."
In PROTECTING THE FUTURE the reader will meet a whole 'nother Special Forces team (who gets their own series) as well as Penelope, a firefighter from San Antonio. Basically the next 20 books or so that I have planned will all "cross-over" each other. The cops will talk with the firefighters, who will cross paths with the Delta Force members, who have worked with the SEALs. I'm hoping that PROTECTING THE FUTURE won't seem as much like the END of a series, but the START of a whole new adventure!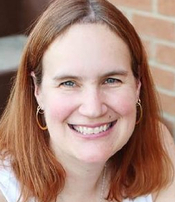 New York Times, USA Today, and Wall Street Journal Bestselling Author, Susan Stoker has a heart as big as the state of Texas where she lives, but this all American girl has also spent the last fourteen years living in Missouri, California, Colorado, and Indiana. She's married to a retired Army man who now gets to follow her around the country.
She debuted her first series in 2014 and quickly followed that up with the SEAL of Protection Series, which solidified her love of writing and creating stories readers can get lost in.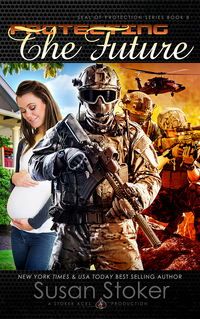 Wolf and his fellow SEAL team members have saved many lives, and been in even more harrowing situations, but their latest mission might prove the most difficult of all. Charged with rescuing American soldier, Sergeant Penelope Turner, from the clutches of ISIS, the men infiltrate the refugee camp where she's believed to be held. The conditions are horrific, the search nearly impossible, but Penelope herself could prove the key to their success if the SEALs can interpret her clues.
An unforgiving desert, perilous mountain terrain, a rising body count and insurgents on the hunt all of this and more stands between the SEALs completing their mission and returning home to their women, left to bravely deal with fears of their own stateside.
Sometimes a mission is more than one team can handle. With a little help from newfound friends, the SEALS won't stop until they've won the day. Failure is not an option.
** Protecting the Future is the 8th and final book in the Seal of Protection Series. Each book is a stand-alone, with no cliffhanger endings.