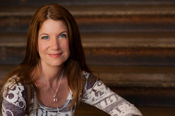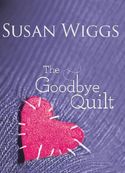 "How do you say goodbye to a piece of your heart? If you're a quilter, you have a time-honored way to express yourself.
"A quilt is an object of peculiar intimacy. By virtue of the way it is created, every inch of the fabric is touched. Each scrap absorbs the quilter's scent and the invisible oils of her skin, the smell of her household and, thanks to the constant pinning and stitching, her blood in the tiniest of quantities. And tears, though she might be loath to admit it…."
That's a quote from the beginning of THE GOODBYE QUILT, a story about letting go, leaving home, and obviously, quilting.
I am not a quilter, but I'm a quilt-appreciator. The background of the author photo for this book is a family heirloom quilt, which is about a century old, yet just as sturdy now as when it was stitched. A really good quilter knows how to make things that last.
When my own daughter was leaving home, I made her a scrapbook. However, The Goodbye Scrapbook doesn't resonate in quite the same ways as THE GOODBYE QUILT. In the novel, the narrator, Linda, creates her quilt from the bits and pieces her daughter Molly has left behind–a favorite dress, a school uniform, an award ribbon–the kind of thing we don't want to throw away, but can't justify keeping, either. Incorporating all these things into a quilt design is a way to hang and let go all at once.
I'm not a quilter, but many of my friends are. One of the best I know is Joan, who created an original quilt design, which can be found in the back of the book. Her whimsical yet practical instructions are the perfect grace note at the end of the book. Also, her blog and Etsy shop are incredibly charming and not to be missed!
The novel is my gift to readers. And I'm guessing some people will want to give it as a Mother's Day or Graduation gift, since the publisher made it so pretty. There's lots more for readers on my web site. Click here to request a beautifully letter-pressed and signed book plate and bookmark. And here to view a lovely song by Alice Peacock and slide show with images that inspired the book.
Question for readers of this blog–what did you get Mom for Mother's Day?
To comment on Susan Wiggs's blog please click here.