This year marks the publication of the 25th China Bayles mystery, THE LAST CHANCE OLIVE RANCH. Gosh—it seems like yesterday when the first book, THYME OF DEATH, came out. But that was way back in 1992, the same year that Bill Clinton became president, Hurricane Andrew bulldozed across South Florida, and Clint Eastwood's Unforgiven cleaned up at the Oscars. To tell the truth, I never imagined that China and Ruby would be still be sleuthing, 25 books later. But I'm glad they are, for they've given me, as their partner-in-crime, many wonderful (and challenging) hours of writing fun.
Back in the day, those early China Bayles mysteries broke some new ground. For one thing, regional mysteries were fairly new to readers, and I was a little worried that a small town in the Texas Hill Country might not be appealing. What's more, China was a shop owner, an herbalist, and a gardener, the first of her kind in the U.S. (British mystery author John Sherwood had already written several books in his Celia Grant horticultural series but there were none in America.) China's mysteries were also among the first to feature recipes (Diane Mott Davidson began doing this at about the same time). And China Bayles herself was the first ex-lawyer (a criminal attorney) coupled with an ex-cop boyfriend/husband.
To my mind, it was China's background as a lawyer that made her different from other female amateur sleuths—and still does. She's had experience with lots of different bad guys, which gives her an eye for criminals and a pretty strong sense of who isn't telling the truth. She knows the law and is trained to spot the ways people—both bad guys and good—use the legal system to their advantage. Her relationship with Mike McQuaid has given her an insight into the way cops and professional investigators think and work, and her friendship with Sheila Dawson, Pecan Springs' first female chief of police, provides a strong connection to local law enforcement. On the other hand, her longtime friendship with highly-intuitive slightly-wacky Ruby Wilcox gives her a different view of what's going on.
And of course, the plants themselves made the series different back then, and still do. Herbs—used for good or for ill, wisely or ill-advisedly—are powerful medicine, and each of China's adventures has taught me a great deal about the wide, wonderful world of plants. THE LAST CHANCE OLIVE RANCH is no exception. For while the olive has been a delicious and nutritious mainstay in diets across the centuries, science is only beginning to understand all of its medicinal properties. Olive oil (more accurately, the juice of the olive) has been used to prevent cardiovascular disease, breast cancer, colorectal cancer, and rheumatoid arthritis. It is reported to be beneficial in treating constipation, high cholesterol, high blood pressure, and blood vessel problems associated with diabetes. Topically, olive oil is applied to the skin to ease minor burns and wounds. It has also been used as an important lubricant and as a fuel for lamps and other—
But we won't go into that. It might spoil the story for you. So I'll just invite you to pour a cup of tea, grab a handful of your favorite cookies (maybe Ruby's Hot Lips Cookie Crisps*), and settle in with THE LAST CHANCE OLIVE RANCH. It has all the elements that make China Bayles a true Texas original: an amateur sleuth with a green thumb and a serious nose for prime-thyme crime. I hope you enjoy it!
*Ruby's Hot Lips Cookie Crisps
1 cup soft shortening
2 cups brown sugar
2 eggs
1 tsp vanilla
1½ cup finely chopped cashews
1½ cups whole wheat flour
1½ cups unbleached flour
½ tsp soda
1 tsp baking powder
½ tsp habanero powder
Preheat oven to 325°F. Cream butter and sugar. Add the vanilla and eggs and mix well. Mix the dry ingredients together with the nuts, and stir into the creamed mixture. Chill. Shape into a log about 2″ in diameter, slice, and bake until golden.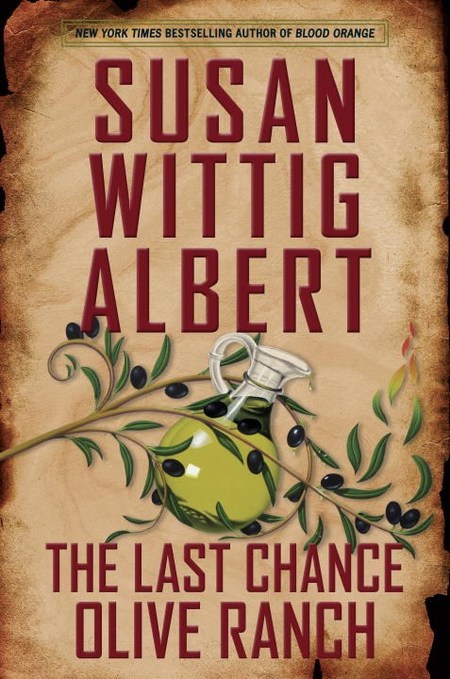 In this exciting new mystery from New York Times bestselling author Susan Wittig Albert, China Bayles fears for her husband's life as an escaped convict targets him…
Max Mantel, the killer McQuaid put away years ago, has busted out of the Huntsville prison and appears to be headed for Pecan Springs. McQuaid knows there's only one way to stop the vengeful convict—set a trap with himself as bait.
China wants to stay by her husband's side and keep him from harm. But McQuaid insists that she get out of town and go to the Last Chance Olive Ranch, where she's agreed to teach a workshop on herbs.
When China and her best friend arrive at the ranch, she learns the owner, Maddie Haskell, has her own troubles. She inherited the ranch and olive oil business from the late matriarch, Eliza Butler, but Eliza's nephew is contesting the will.
While China throws herself into helping Maddie, McQuaid's plan backfires when Mantel executes a countermove he never saw coming. Now McQuaid's life is not the only one at stake—and this time may really be his last chance…
Mystery Cozy [Berkley Prime Crime, On Sale: April 4, 2017, Hardcover / e-Book, ISBN: 9780425280034 / eISBN: 9780698190283]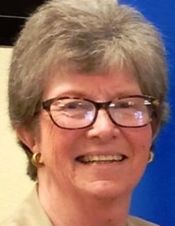 Susan Wittig Albert is the New York Times bestselling author of four Prime Crime series: China Bayles, The Darling Dahlias, The Cottage Tales of Beatrix Potter, and (with her husband, Bill Albert) the Robin Paige Victorian Mysteries. She also writes historical fiction. Recent titles: THE GENERAL'S WOMEN, LOVING ELEANOR, and A WILDER ROSE. Her website: www.susanalbert.com