Romance tropes, cute dogs, and Scottish vacations – oh my! Enjoy the chat between author Talia Hibbert and editorial manager Danielle Dresser!
Welcome to the Fresh Fiction blog! Can you tell us a little bit about the Ravenswood series?
Hi! Thanks so much for having me. ☺ Ravenswood is a small English town where things aren't as sweet and simple as they seem. The series follows four prickly, guarded women who have become Ravenswood's outcasts, and the strong, loving heroes who support them on their journey to happiness. I'd say the Ravenswood series is very steamy, very tropey, funny and mildly dramatic. It also features issues like family illness and looking after your mental health in a compassionate way.
As a woman of color, I love and appreciate the diversity among your characters and couples! Rae and Zach have different backgrounds, life experiences, and not to mention a significant age difference – how did their love story develop for you?
Thank you! Diversity of all kinds is very important to me.
I knew from the moment I introduced Zach in A Girl Like Her (Ravenswood book 1) that he would have his own story, but I didn't know who his heroine would be. Then one day, while writing Untouchable (book 2), I 'overheard' some Ravenswood residents gossiping about a new woman in town who was older, divorced, and supposedly scandalous. That's how Rae came about. After writing a few of her scenes, it just hit me—obviously, she and Zach needed each other. Their differences, to me, were like the differences between two puzzle pieces. They fit.     
Rae's dog, Duke, completely stole the show for me during THAT KIND OF GUY, though admittedly, I'm a cat person is real life 😉 Do you have any pets?
I'm a cat person too… but I'm actually allergic to cats and dogs! I can survive short-haired dogs with a daily antihistamine, but cats are a total no-go, which broke my heart as a kid. So my only pet is my little sister's rabbit, CC (short for Chocolate Chip). Sometimes we share broccoli and discuss the state of the environment.
Genuine connections and sexuality are explored in this book. Zach comes out as a demisexual and Rae finds it hard to truly open up to Zach and other characters. How did these two aspects frame the narrative of your novel?
Zach coming out as demisexual is a vital part of his journey because his people-pleasing nature has made him deny his sexuality for most of his life. When he finally accepts himself, it affects more than his sex life and relationships. It shows that he's truly putting himself first on every level.    
In turn, the way Zach experiences attraction forces Rae to face her trust issues and accept affection. Once their relationship becomes physical, she has a choice: she can either hurt Zach by denying who he is and what he feels, or finally believe that someone could really care for her. Since she loves Zach, the latter choice is her only option. So it's another case of their differences making them fit!
Overall, I think the exploration of connection—from friendship to trust to sex—helped emphasise the book's theme of acceptance. Whether it's accepting yourself or accepting what's been done to you so you can overcome it, finding the truth is key.
 Friends-to-lovers is possibly my favorite romance trope, and forced proximity and fake relationship are also high on my list. I was so thrilled to see all three of these scenarios combined in THAT KIND OF GUY! Do you have a favorite romance trope? What are some recent romances you've read and LOVED?
Hot damn, do I love tropes. Friends to lovers and forced proximity are two of my absolute faves! I also love marriage of convenience, rivals to lovers, fated mates… ugh, tons. I'm rereading Nalini Singh's Psy-Changeling series, which has heaps of forced proximity. I also loved the forced proximity in Naima Simone's Passion and Ink, and the geeky friendship in Alyssa Cole's Can't Escape Love!       
 I saw on Twitter (@TaliaHibbert) that you recently visited Scotland! What was your favorite part of your trip? [feel free to share a photo or two, if you'd like!]
I did! It was so much fun, and I heard a lady use the word 'ken' in casual conversation, which was great. It's hard to pin down my favourite part… Oh, we discovered this amazing restaurant (my priorities are really shining through here) that let you build your own burgers or wraps, which was great for me as a vegetarian. And then there were the ruins—there are so many in the north. Exploring them was super fun, and it gave me a lot of ideas for my next paranormal romance. Three words: brooding Scottish werewolf.
 What else can readers expect from you in the coming months?
I'm super flaky so I get nervous about sharing too much in case plans change, but a few things are set in stone. My next book will be an enemies to lovers m/m romance starring Olu, who's a reader favourite from my Just for Him series. Then, at the end of the year, my first romcom with Avon is coming out. It's called Get a Life, Chloe Brown and it has some mild enemies to lovers vibes, forced proximity, a mischievous cat, and chronic illness representation.
 Rapid Fire Random Questions
Favorite animal: Penguins!
Coffee or tea: (Fruit) tea. I used to be a barista and now I hate coffee.
Favorite book to re-read: Never Sweeter by Charlotte Stein.
Beach or mountains: Beach, baby. The Scottish mountains were lovely, but hiking is not one of my strengths!
When you were younger, what did you want to be when you grew up?: Funnily enough, I wanted to be a writer.
Dream vacation: Oh, I'm easy. Sunshine, regular food, and absolutely nothing else.
Aside from reading and writing, what are your hobbies?: Listening to music and playing with makeup. Anything that involves sitting in my bedroom alone, really.
Five people you'd invite to your book club (dead or alive): Eartha Kitt, Whitney Houston, Queen Esther, Beverly Jenkins, and Lizzo. Then I'd sit in silence while they sparkled everywhere.
Favorite movie: Fried Green Tomatoes!
You have a totally free afternoon – no deadlines, no obligations, no Twitter notifications! What do you do?: Bake cookies, burn the cookies, eat the leftover dough and read a book.
Ravenswood #3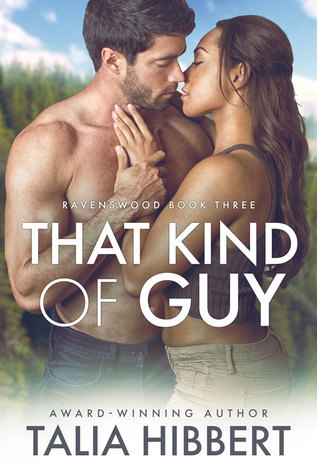 She wants a fake relationship. He needs something real.
If there's one thing Rae can't stand, it's pity. She's forty, frazzled, and fed up—so attending an awards ceremony alone while her ex swans about with his new wife? Not an option. To avoid total humiliation, Rae needs a date of her own. And her young, hot-as-hell new best friend is the perfect candidate…
Zach Davis, king of casual hookups, has a secret: the notorious womaniser craves emotional connection, and anonymous encounters leave him feeling hollow. After years of performance, Zach's desperate to be himself. So why does he agree to play Rae's fake boyfriend? And why does it feel so easy?
When the line between pretence and desire blurs, Zach's forced to face an unexpected truth: there's nothing phoney about his need for Rae. But the jaded divorcée's been hurt by playboy men before. Can a weekend of faking it prove that Zach's for real?
Romance Contemporary [Nixon House, On Sale: May 2, 2019, e-Book, / ]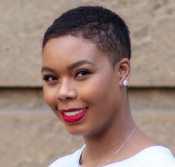 Talia Hibbert is an award-winning, Black British author who lives in a bedroom full of books. Supposedly, there is a world beyond that room, but she has yet to drum up enough interest to investigate.
She writes sexy, diverse romance because she believes that people of marginalised identities need honest and positive representation. Her interests include beauty, junk food, and unnecessary sarcasm. She also rambles intermittently about the romance genre online.
***
Fresh Fiction Editorial Manager Danielle Dresser is an avid reader, lackluster-yet-mighty crafter, and accomplished TV binge-watcher. Once upon a time, she was a publisher publicist and continues to cultivate her love of books and reading by chatting with the best authors in the business. She lives in Chicagoland with her very own romance hero husband, darling daughter, and two tempestuous cats. Follow her on Twitter and Instagram, @dj_dresser.