Inspiration can come from the most unusual places.
As I began to lay the foundation for my latest novel, Where Dandelions Bloom, several factors were easy. I already knew I wanted to base the heroine on the story of real-life Civil War hero and spy Sarah "Emma" Edmonds. Cassie Kendrick was birthed from Emma's struggles . . . running from an abusive, alcoholic father determined to marry her off to an even more abusive man. To escape a fate that seemed worse than death, Cassie dons the uniform of a soldier and enlists in the Union Army.
The hero, Gabriel Avery, was completely fictitious but inspired by Civil War photographers like Mathew Brady and Alexander Gardner, whose work completely changed how war was reported to the public. Gabriel is running from the darkness of his past by trying to find his worth in recognition.
I came up with the idea for young, precocious Jonah Pfifer when I stumbled across some fascinating research. The youngest soldier in the American Civil War was only nine years old! Most people assume children were only used as drummer boys and buglers, but as the war dragged on, and casualties increased by alarming numbers, recruitment offices became desperate. Children worked as errand boys, musicians, and even scouts. These curious youngsters must have livened up camp considerably.
Here is an excerpt from the scene where Cassie (disguised as Thomas Turner) first meets Jonah.
"How old are you, Jonah?"
"I'm ten." He raised his chin as if daring her to refute him.
Cassie grunted. "Hmm. I would have guessed thirteen or fourteen." A wispy expression of pleasure hovered over Jonah's mouth. "What's your job, soldier?"
"Errand boy." He frowned. "I was wanting to be a powder monkey for the navy. Trained for it and everything, but I couldn't get my sea legs." He sighed melodramatically. "I sure was looking forward to blowing stuff up."
She suppressed the mirth bubbling for release. "Sounds like an interesting job . . . if you take away the queasy stomach."
Jonah tossed a rock into the fire and smiled with satisfaction when it made the logs shift, causing the wood to snap and whistle. "I like that sound. What makes burning wood whistle like that?"
"Don't know."
"Me neither."
Silence.
"How did you manage to enlist? Being underage and all?"
Jonah's face turned dark. "Schoolmaster Howe encouraged the recruitment officers to give me a try. They take on drummer boys, so why not?" His little jaw tightened. "I'm an orphan." He turned to her with a scowl. "That don't make me lonely or sad or anything like that, you know."
"Of course not."
Straightening his spindly shoulders, Jonah scratched the straw-colored hair crammed under his kepi. "No, Howe thought he was getting rid of me, but what he didn't know was that I hoped to join up. I wanted to join up." Jonah glowered. "I was thrilled to get away from that old man."
"I take it you two didn't see eye to eye."
"No, sir." Jonah shook his head. "He hated me and I hated him."
"Why?"
He shrugged. "Don't know. He called me a poor little orphan boy a lot, and that made me fighting mad. Also called me the devil's son from time to time." Jonah turned to Cassie with an incredulous glare. "Now how could I be an orphan and the devil's son at the same time?"
She somehow managed to keep a straight face. "Doesn't make much sense."
"'Xactly. He sure could get mad. Like the last day, he took a switch to me. I asked him a question and called him 'Teacher.' He didn't like that none. He wanted us to call him Schoolmaster Howe." Jonah snorted. "He stopped in his tracks and said, 'Mr. Phifer, can you be so kind as to call me by my respectful name?' So I says, 'Of course, Schoolmaster Howe'd-he-get-so-ugly-and-mean.'"
When it came time to find the spiritual symbolism for the story, I drew a blank. For weeks . . . nothing. After one particularly trying day, I slumped against my chair and prayed. "God, please teach me what you want me to know, what to say in this story."
Frustrated, I walked outside and knelt in my front flower bed to pull weeds. That's what I do whenever I'm stuck for an idea or overwhelmed.
Plunging my fingers into the dark earth, I pulled the stubborn weeds free, giving room for the hydrangeas and hibiscus to grow and bloom. Sunlight warmed my shoulders as I yanked.
I edged to the corner and stopped when I saw the carpet of dandelions peppering the flower bed. I ran my fingers over the silky yellow petals. Bits of sunshine against rock. Oh, how I hated the thought of plucking them.
I smiled remembering my grandmother and her distaste for the resilient flower. She had wrinkled her nose at the buttery heads poking up in her flower bed.
"Ugh! Dandelions." She always mentioned them as if tasting something sour.
"Don't you like dandelions, Grandma?"
She shook her head. "No, honey. They are ornery little things."
"Why?"
She frowned as she plucked the offensive blossom from the dirt. "Because there's no taming them. Those white fuzzies scatter all over, sprouting weeds everywhere imaginable."
That very trait is what makes this little flower—some would say weed—so unstoppable. You can mow them down, but they come back over and over again. They grow and bloom in the harshest of conditions. The taproot that allows them to burrow in green meadows also allows them to flourish in concrete and brick.
But where Grandma saw a weed, I saw wishes. Beauty. Fluffy magic.
I straightened, blinking.
There against the corner of the brick-edged walk was a dandelion blooming in concrete.
I smiled and looked up at the sky. "Thank you, Jesus."
I thought about the lies, the pain Cassie, Gabe, and Jonah had endured and how God showed them the power of forgiveness and the promise of new beginnings, no matter how terrible their pasts might be.
Hope springs eternal, despite turmoil, darkness, or difficulties. Seeing the beauty in our circumstances depends on our perspective.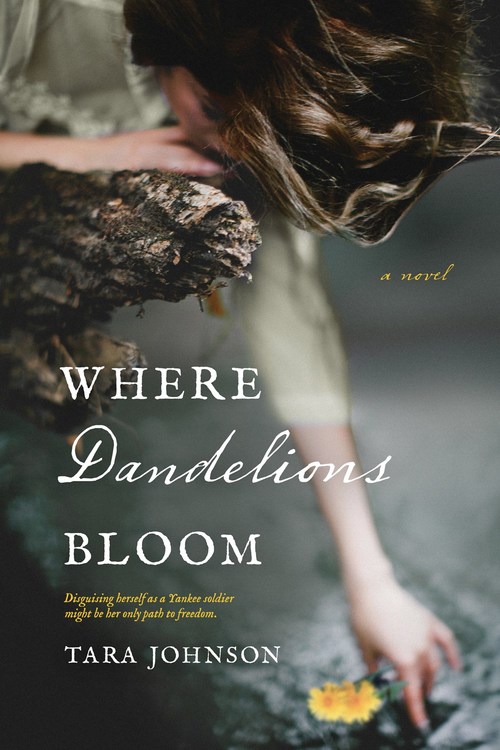 Cassie Kendrick is on the run. Her abusive father arranged her marriage to a despicable man, but she's discovered an escape. Disguised as a man, Cassie enlists in the Union army, taking the name Thomas Turner. On the battlefields of the Civil War, keeping her identity a secret is only the beginning of her problems, especially after she meets Gabriel Avery, a handsome young photographer.
Anxious to make his mark on the world and to erase the darkness and guilt lurking from his past, Gabriel works with renowned photographer Matthew Brady to capture images from the front lines of the war. As Gabriel forges friendships with many of the men he encounters, he wonders what the courageous, unpredictable Thomas Turner is hiding.
Battling betrayal, their own personal demons, and a country torn apart by war, can Cassie and Gabriel learn to forgive themselves and trust their futures to the God who births hope and healing in the darkest places?
Romance Historical | Inspirational Historical [Tyndale House Publishers, On Sale: July 1, 2019, Trade Size / e-Book, ISBN: 9781496428356 / eISBN: 9781496428370]
Tara Johnson is an author, speaker, and passionate lover of stories. She loves to travel to churches, ladies' retreats, and prisons to share how God led her into freedom after spending years living shackled as a people-pleasing preacher's kid.
From the time she was young and watched Gone with the Wind with her mother for the first time, the Civil War has intrigued her. That fascination grew into all aspects of American history and the brave people and stories who make up its vibrant past.
She says, "History is crammed full of larger-than-life characters. Doc Holliday, Annie Oakley, Helen Keller, Daniel Boone, George Washington, Amelia Earhart, and Frederick Douglass are just a few examples of flawed, wounded humans who battled their demons with determination and left an indelible mark on the pages of history. I suppose that's why people are so fascinating. No matter the era, we all battle the same wounds. Abandonment, abusive fathers, overprotective mothers, loss, grief, rejection, addiction, crippling anxiety, loneliness, or the yearning for unconditional love, to name a few. We all battle the same junk and have to decide whether to fight or cave. Run or stand. Cry or smile. That's what great characters do. They are a reflection of our struggles, our own wounds. Our own need. And, when written well, they remind us whom we need to turn to for healing."
Tara has written articles for Plain Truth magazine and has been a featured guest on Voice of Truth Radio and Enduring Word Radio. Tara is a member of American Christian Fiction Writers. She and her husband, Todd, live in Arkansas, and the Lord has blessed them with five children: Bethany, Callie, and Nate, as well as Taylor Lynn and Morgan Lane, who are with Jesus.
Visit her website at www.TaraJohnsonStories.com and connect with her on Facebook and Twitter (@TaraMinistry).