For as long as I can remember, I've loved Christmas. In many ways, the holiday season can be a bit hectic, with shopping and gift-wrapping and decorating, but it's also a treasured time for family, friends, fond reminiscences, and creating new memories.
One of my favorite Christmas traditions centers around decorating the house. My hubby rivals Clark Griswold with his passion for exterior illumination, and despite his efforts to decorate our house with a coordinated theme, our outdoor holiday décor is not complete in my eyes until I put out my illuminated penguins. After years of exposure to snow and wind, they're looking a little worse for wear—one of them looks rather like he got into a brawl with some bigger, meaner penguins, but I have a soft spot for the little guys and display them every year. My hubby sighs and grumbles, but he knows that battle is lost.
My interior décor is rather eclectic. I wish I could say I have a unifying scheme that ties all my festive items together, but my approach to decorating the house can be summed up in one word: memories. Cherished ornaments hand-made by my sons when they were children are among my favorite possessions. I fondly remember helping my son gather gumtree balls from the backyard on a cold December morning before school. The prickly pods were used in an ornament that still occupies a prominent place on my tree. The stained glass ornaments made from a kit when my younger son was a little boy conjure many sweet memories. Other ornaments I prize were received as presents from my students when I taught elementary school and as gifts from dear friends and family. They all stir wonderful memories, and sometimes, bring a tear to my eye. It takes me a long time to decorate my tree as I reflect on the memories woven into each ornament. And aren't memories what the holidays are all about?
Listening to holiday music is one of my favorite traditions. I must confess, I have my radio tuned to the holiday station from Thanksgiving until New Year's Day. I love the mix of artists, and even though my singing talent is non-existent, I can really belt out a cheerful Christmas song while driving along with the car windows rolled up and the radio cranking out the songs. I love holiday songs by artists such as Harry Connick, Jr., Brian Setzer, U2, Darlene Love, Whitney Houston, Tom Petty, Kelly Clarkson, Wendy and Carnie Wilson (Hey Santa! is a big favorite of mine), and Trans-Siberian Orchestra. I look forward to this time of year when I can play these delightful songs without getting funny looks from other drivers surprised to hear Bono belting out Baby, Please Come Home on a hot summer day.
In my family, we always have fun with gift giving. One of my dad's favorite traditions was a Christmas treasure hunt. He'd place a gift in a unique container (such as a toilet paper tube), wrap it, then somehow conceal it in a place you'd never suspect. Once, he hid a beautiful ring for my mother in the freezer. Then he'd provide clues to find the gift. Thank heavens he never tried this with computer technology! Another gift giving tradition is the unwrapping of a gift on Christmas Eve. This was eagerly anticipated every year, and really set the stage for a memorable Christmas morning.
Of course, there are many other family traditions. Good food, fun movies, and precious time spent with loved ones all create fond memories to cherish throughout the years. What are some of your family's beloved holiday traditions?
This year, I'm celebrating a new book release during the holiday season. THE HIGHLANDER WHO LOVED ME will be available on December 12. Set in Victorian Scotland, THE HIGHLANDER WHO LOVED ME is the story of an American author who lives her own adventure when she joins forces with a Highland rogue to save a kidnapped child. I had a grand time writing this book, and I wonder at the holiday traditions Johanna and Connor might create after their hard-won happily-ever-after.
Thank you for having me as a guest, Fresh Fiction!
Award-winning author Tara Kingston writes historical romance laced with intrigue, danger, and adventures of the heart. A Southern-belle-out-of-water in a quaint Pennsylvania town, she lives her own love story with her real-life hero and a pair of deceptively innocent-looking kitties in a cozy Victorian. The mother of two sons, Tara's a former librarian whose love of books is evident in her popping-at-the-seams bookcases. It goes without saying that Tara's husband is thankful for the invention of digital books, thereby eliminating the need for yet another set of shelves. When she's not writing, reading, or burning dinner, Tara enjoys movie nights, cycling, hiking, DIY projects, collecting dolls, and cheering on her favorite football team.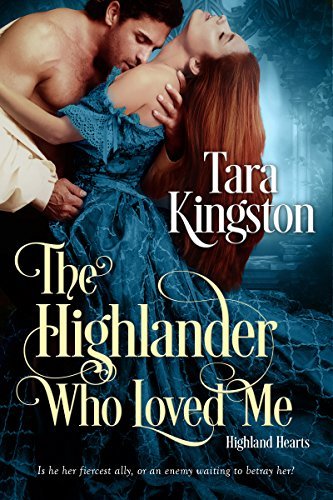 Is he her fiercest ally or an enemy waiting to betray her?
He may be her fiercest ally…or a scoundrel waiting to betray her.
Johanna Templeton is on a life-and-death quest. Swept into an intrigue that rivals the tales she pens, she joins forces with a Highland rogue to find the treasure that will save her kidnapped niece—a prize the Scot seeks for reasons that have nothing to do with ransom. Engaging the Highlander in a sizzling battle of the sexes, Johanna shields her heart.
Connor MacMasters, spy for Queen Victoria, is a man on a mission—keep a legendary gemstone from an evil man. Trailing an American novelist who holds the key to the treasure should've been simple, but Johanna awakens feelings he'd long thought dead. Torn between duty and desire, he wants her in his bed, but loving her would be a fool's game. Blasted shame his heart doesn't agree.
Romance Historical [Entangled, On Sale: December 12, 2016, e-Book, ISBN: 9781633757790 / eISBN: 9781633757790]