Every year, Sophie takes over the kitchen at Hope's Crossing Kennels to bake batch after batch of holiday treats for her friends and family. She could bake at her apartment, but the kitchen at Hope's Crossing is bigger. Boom loves to help out and all the adults like to pass through the kitchen to snitch a cookie or two as they go through their work day. There's always new recipes to try but she always bakes her meltaway snowball cookies.
And of course, Sophie bakes for the dogs of Hope's Crossing Kennels too. She'd never leave a soul out of the festivities.
* * *
Sophie's Melt Away Snow Balls (for humans!)
Ingredients:
2 cups Flour
1/2 cup powdered sugar
1/8 tsp salt
1 cup butter, cold
1 teaspoon vanilla
1 cup miniature chocolate chips
Powdered Sugar
Directions:
Heat oven to 400 degrees F
In large bowl combine flour, powdered sugar and salt.
Using pastry blender, cut in butter until mixture resembles coarse crumbs.
Add vanilla and or mini chocolate chips. Mix with hands to form smooth dough.
Using about a Tbsp of dough, shape into 1 inch balls.
Place on ungreased cookie sheets and bake at 400 degrees F for 14 to 17 minutes until firm to touch but not brown.
Cool 1 minute or less and remove from cookie sheets.
Carefully roll in powdered sugar while still warm.
* * *
Sophie's Holiday Dog Treats
(recipe source: mybakingaddiction.com)
Ingredients:
1 cup of canned or fresh sweet potato
1 3/4 cups whole wheat flour, brown rice flour, or gluten free flour
1 egg (beaten)
Instructions:
Preheat oven to 350°F.
Combine ingredients in a large bowl until dough forms.
Roll dough into small balls and place on a cookie sheet lined with parchment paper.
Press dough down slightly so the biscuits are about about 1/4 inch thick. You can get creative with shapes: hearts, bones, etc.
* * *
Play Find the Piper around the Internet for insight into her frequent travels and inspirations for her stories.
PiperJDrake.com | Facebook.com/PiperJDrake | @PiperJDrake | Instagram.com/PiperJDrake | YouTube.com/PiperJDrake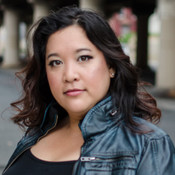 Piper J. Drake (or "PJ") began her writing career as "PJ Schnyder" writing sci-fi & paranormal romance and steampunk. She has recently received the FF&P PRISM award for her work as well as the NJRW Golden Leaf award and Parsec award.
Now, PJ is exploring the complexity of romantic suspense, incorporating her interests in mixed martial arts and the military into her writing.
Hot military heroes, the women who love them, and the devoted dogs that always have their backs. ABOSLUTE TRUST is the third book in a high adrenaline contemporary suspense series from Piper J. Drake published by Forever Romance. Fans of Jill Shalvis's Animal Attraction series and Cindy Gerard's One Eyed Jacks, will love this action packed romantic suspense series.
LOVE IS THE GREATEST RISK OF ALL
After multiple tours of duty, Brandon Forte returns to his hometown on a personal mission: to open a facility for military service dogs like Haydn, a German shepherd who's seen his share of combat and loss. It also brings him back to Sophie Kim, a beacon of light in his life . . . and the one woman he can't have. But Forte's success means he's made enemies in high places. Enemies who are now after Sophie . . .
When Forte enlisted and left without saying goodbye, Sophie did her best to move on. But with her first love back in town, looking sexier than ever, she's constantly reminded of what they could have had. Then after he risks himself for her, Sophie realizes she'll have to put her life in the hands of the man who broke her heart, knowing the danger -and the sparks between them- could consume them both.
Romance Suspense [Forever, On Sale: December 20, 2016, Mass Market Paperback / e-Book, ISBN: 9781455536085 / eISBN: 9781455536078]
Praise for Absolute Trust
:
"With an action-filled plot riddled with suspense and tension, Drake's latest in her True Heroes series is the best one yet. Steady pacing, engaging storytelling and genuine, vulnerable characters (coupled with the endearing heroic dogs that protect and love them) make this romance shine." ~
RT Book Reviews
Excerpt from ABSOLUTE TRUST:
Between one moment and the next, he was right there next to her, kneeling so they were face to face. She let out the air in her lungs in a rush, not sure of what she wanted to do or what he was planning to do. She parted her lips but didn't say anything, didn't want to put another question out there for him to address before he answered the one she really wanted to know.

Because she was hoping he was here for her—not his childhood friend—but for the very adult version of her who'd been waiting for him all this time.

Faster than she could react, his lips caught hers. The contact rushed through her in a lightning shot of surprise. Years of bottled-up frustration bubbled up and she leaned into him with a soft gasp.

And then he pulled back and she was left trying to catch her breath.

Slowly, carefully, he slid his arms around her back and under her knees. He cradled her against his chest and tucked her head under his chin. Circled as she was in his embrace, he held her close. He pressed his lips against her hair.

"That was too close yesterday, Sophie." His voice was low, gruff, and almost cracked with emotion. "The thought of losing you just about killed me."
Special Pre-Order Exclusive Story!
As a special gift, readers who have pre-ordered ABSOLUTE TRUST (A True Heroes Novel), will receive an exclusive short story, WINTER VALOR.
In WINTER VALOR, the people of Hope's Crossing Kennels are preparing for the holidays when a neighboring breeder confronts them. His best German Shepherd Dog is about to have puppies and he is sure one of the Hope's Crossing Kennels dogs is the sire. Atlas, Souze, or Haydn…who is the puppy-daddy of this holiday litter?
The Pre-Order Short Story offer is open internationally, through any vendor. All you have to do is fill out the form below between now and Midnight December 19th, 2016 EST with the required information and you will receive the story after December 20th, 2016.
ABSOLUTE TRUST will be released December 20th, 2016. If you haven't pre-ordered your copy, you can get it here:
**If you've already pre-ordered just fill out the form and share with your friends!**