I have a book due — well three chapters of it — and I can't seem to find a heroine. Or a hero, either, really. But I have two villains. And some dead people. And a missing woman and her almost four year old son. And to complicate matters, I have grown to like one of the villains, but he's done such heinous things that I can't redeem him. I've never been in this position before. But I have to find a way out because this is the third book in the Ivory Nation Trilogy — a series about a white supremacy organization.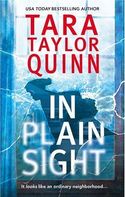 The first book, IN PLAIN SIGHT was a prosecutor's story. It was out last October. The second, BEHIND CLOSED DOORS, is a victim's story. It's out next month. My readers and I are going to need a third book. There are just too many questions unanswered, too much pain left unresolved. Too much fear surrounding us to allow us to just walk away. And here I sit with the words Chapter One staring at me and nothing more.
My heroine's name is Hannah. I don't know why. It just presented itself last week. I thought she was a judge. This book is the judge's story. I've known that for more than a year. But maybe the judge is a man. Maybe he's my missing hero. Or not. And maybe I don't need a hero AND a heroine. This book is a thriller. Suspense. Does it have to have a leading relationship? Maybe that detective down in Tucson — the one in BEHIND CLOSED DOORS — plays a part.
The answers aren't coming to me today. And I wonder, am I really a writer? I have to work. I have contractual obligations. Life obligations that will require me to be away from the work. And here I sit without words to write.
The story is there. I know that it is. I can feel so many parts of it, pushing inside me, needing to get out. So I'll sit here some more. Ask my questions. Wait for the answers. And hopefully, not too long from now, be able to tell you that book three of the Ivory Nation trilogy really does exist.
In the meantime, I hope everyone enjoys BEHIND CLOSED DOORS. For an excerpt visit www.tarataylorquinn.com. I'd love to hear opinions! Write to me at ttquinn@tarataylorquinn.com.