Meeting with reader groups and bookclubs has been my favorite thing for a long time, and when I had more time I belonged to two bookclubs of my own. From the author's perspective, at least this author's perspective, these are readers who are so focused on the story and characters, I learn more from them than they learn from me.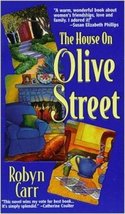 It's always great fun to hear what readers like about your work, that goes without saying, but the value to me as I continue to write is learning from them where the story didn't jive for them, where they wanted more and they are never shy about telling you what they want to see next. A favorite bookclub selection of mine has been The House On Olive Street – and one reader group took issue with the beginning, which several agreed was hard to get into. My immediate response was, "Oh yeah? Well you should've tried writing it!"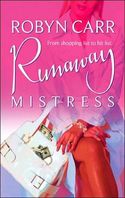 There have been some fun surprises. I was asked to join a church bookclub as they discussed my book, Runaway Mistress. Runaway Mistress for the church ladies? Oh man, I thought, they're going to chew me up and spit me out. While certainly a far cry from an erotic novel, that particular book wasn't exactly chaste. And then I faced twenty five women, the youngest of whom was perhaps forty, and thought, I'm toast. But they were all about plot and characterization, focusing on those scenes that added emotion and drama, what made them laugh, where they cried. There was a pet's death in that story and one woman who'd lost her beloved pet rather recently wept as she talked about how that made her feel. The love scenes never even came up. Unable to let sleeping dogs lie, I had to ask how they felt about those scenes. Was it too much? Where there too many? Too graphic? Did it ever seem gratuitous? They looked amongst themselves, shrugging, head shaking, like they hadn't thought about it much. Then one woman in her late sixties or early seventies said, "My dear, where do you think we get little Christians."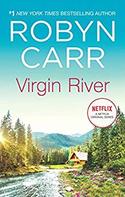 Since the release of the first Virgin River novel to the present, after all three have been available, I've had hundreds of letters. These readers don't hesitate to tell me exactly what they want. They're very clear about who their favorite characters are and who they'd like to see have a Virgin River novel focused on. I'm not just another pretty face, man – I listened. I have changed direction a couple of times to give my readers exactly what they want.
It's my pleasure to announce that the publisher wants at least three more Virgin River novels, a task I'm more than up to. I got a piece of news just a couple of days ago that has me walking on air – Virgin River will be listed as one of the ten best romances of the year by the American Library Association's Booklist Magazine. It doesn't get any better than that.
Robyn Carr
Whispering Rock, June 2007
Shelter Mountain, May 2007
Virgin River, April 2007
http://www.robyncarr.com/