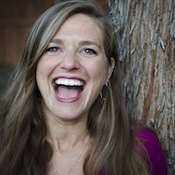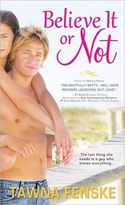 Since BELIEVE IT OR NOT hit shelves in early March, I've seen one piece of feedback pretty consistently: Cool character names!
It actually surprised me a little bit. To be honest, naming characters is one of those author tasks I always assume others have a much better grasp on than I do. Like maybe when the great muse handed out writer skills, I was off in the corner making penis jokes when all the other authors got the enviable ability to come up with clever names.
That's why I've been pleased by that particular piece of praise. BELIEVE IT OR NOT stars a hero named Drew, who owns a bar that features male strippers a few nights a week.
When I originally began noodling the story in 2008, I started off calling him Andy. It didn't take long for me to realize that was the wrong name. Andy plays tennis and has dimples. Andy wears polo shirts and never forgets to hold the door open for his date.
Drew on the other hand, is more jaded. He masks it with dry humor a habit of juggling quirky objects, but he knows what to do when someone needs a shoulder to cry on. He listens to '80s butt rock and critiques the performances of male strippers with no tinge of threat to his masculinity.
It's possible other writers or readers would have a different take on those names, but that's what they meant to me.
I settled on the name Violet for my heroine more easily. Drew first meets her in a dimly-lit room, and decides from her clothing and composure that her eye color must be amber.
The first stunning flash of her violet-hued eyes is his first clue Violet is seldom what she appears to be on the surface.
She wears buttoned-up silk blouses and sleek heels, but it doesn't take much to have her standing on a table hurling her bra at a male stripper. She's a straight-laced accountant who's spent a lifetime building a "normal" life for herself, but still desperately loves her kooky, psychic mother, Moonbeam.
Naming Moonbeam and her oddball friends was one of my favorite parts of writing this story. Coming up with wacky monikers for secondary characters was surprisingly easy. Butterfly. Petal. Marzipan. Raven. Salmonberry.
And my personal favorite, the character Violet dubs "Dreadlock Dude" after he explains, "I don't believe in names. They're like, too confining."
What do character names mean to you as a reader? Do you have a favorite? Has there ever been a time you loved or abhorred a name enough that it changed the way you read a book? Please share!
Do you believe in…accounting?
Numbers never lie, so Violet McGinn found safe haven in the most boring profession she could find. Until her renowned psychic mother lands in the hospital and Violet has to run her business. Now you can have your taxes filed and your aura read, in one convenient location.
Do you believe in…music?
Drew Watson is the jaded owner of the local hot spot next door, and doesn't need a single thing except a good crowd to dance to what he's spinning on Saturday night.
Do you believe in…love?
The only thing Violet and Drew seem to have in common is that neither believes in that psychic hoo—hah. Except Drew seems to play exactly the right song at exactly the right time. And truth be told, it makes Violet's heart dance just a little …
"Fenske hits all the right humor notes without teetering into the pit of slapstick in her lighthearted book of strippers, psychics, free spirits and an accountant." —RT Book Reviews
"Snappy, endearing dialogue and often hilarious situations unite the couple, and Fenske proves to be a romance author worthy of a loyal following." —Booklist starred review
"Fenske's sophomore effort (after Making Waves) is another riotous trip down funny bone lane, with a detour to slightly askew goings on and a quick u-ey to out-of-this-world romance. Readers will be enchanted by this bewitching fable from a wickedly wise author." —Library Journal
"Sexually charged dialogue and steamy make-out scenes will keep readers turning the pages." —Publishers Weekly
ABOUT THE AUTHOR
Tawna Fenske traveled a career path that took her from newspaper reporter to English teacher in Venezuela to marketing geek. Named a Writer's Digest 2011 Notable debut, Tawna blogs daily on "Don't Pet Me, I'm Writing," and lives in Central Oregon where she is working on her next romantic comedy. For more information, please visit www.tawnafenske.com or follow her on Twitter, @TawnaFenske.
Comment to win a copy of BELIEVE IT OR NOT, US / Canada addresses only
To comment on Tawna Fenske's blog please click here.