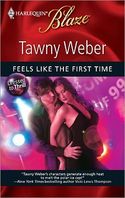 In my upcoming Blaze, FEELS LIKE THE FIRST TIME, my heroine is attending a class reunion costume party. The rule? To wear a costume that represents her career–without being obvious (ie: no police uniform for a cop). Zoe had a cute costume in mind. One that would show her sense of humor and prove that she was sexy yet fun. Sounds great, right? Just how I'd like to handle going back to see people after a decade. Except there was a little mix-up with Zoe's costume. Instead of cute and clever, she ended up with black leather and a riding crop. A studded dominatrix costume is hardly the impression she's looking to make on her old schoolmates. Even if it does bring out her strong-willed inner self.
And somehow, by wearing the dominatrix costume and being pushed out of her comfort-zone, Zoe digs a little deeper and faces her own strength–to say nothing of facing all the wildly sexy times her costume inspires with a gorgeous costumed hunk from her past.
How about you? What's your favorite costume idea? And what costume would you wear to represent yourself? Share your thoughts in the comments section by clicking here and we'll randomly choose one person to win a book of their choice from my backlist!