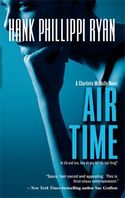 This time of year, my thoughts turn to love. Why? Because just this time of year, 14 years ago, I met Jonathan.
I had been invited to share a house with a group of friends in Nantucket. I was six months (or more?) out of a dead-end relationship (another story) and said–no thanks. And then I reconsidered. Why not take a fun trip? So I packed up my books and my bike and my tennis racket, and headed to Nantucket on the ferry. I was so–unready to meet someone, I didn't even bring any makeup. (I will pause while you howl with laughter. I've been a television reporter for thirty years. I live in make-up.)
Meanwhile, unbeknownst to me, another person sharing the house had invited Jonathan. And the other person didn't know I was coming.
To read more about Hank Phillipi Ryan's impromptu love match and learn about her character, Charlotte McNally click here.
One thing you do know for sure–it's contest time! Three commenters will be chosen at random to win their choice of an ARC of PRIME TIME,
FACE TIME(book one and two in the series) or the just-released-today AIR TIME! And three more winners will get limited edition Charlotte McNally Lip balms and an authentic reporters' notebook.